THE ANTIQUE CANNABIS BOOK
Chapter 15 - (2nd Edition)
Quack Remedies
Addendum 15a QUACK MEDICINES
THE KITTKEGE BONE OINTMENT:
---
THE KITTKEGE BONE OINTMENT:
The following is taken directly from the "Memphis Medical Record" -- Vol. III, August 1854 - pgs 86-87. It is all that we know about this ointment, which is included here because (A) it might have contained Cannabis, and (B) because it appears to have been sold on a Brand name basis.
Kittkege Bone Ointment.-This is a quack nostrum of olden time, having been in use in various parts of the New England states for upwards of a century, in the treatment of contusions, sprains, fractures, dislocations, phlegmonous inflammations, &c. In obstetrics, it is said to have been useful to lubricate the vagina and perineum, to facilitate dilatation, and mitigate the pain attending upon the passage of the fetus through the vulva. The tenderness of the vagina after parturition is relieved by an application of the ointment per vaginam. Dr. Hunton, of Vermont, to whom we are indebted for this recipe, remarks, that it is a farrago of narcotic and mucilaginous vegetables, and they appear to be taken hap hazard from the herbarium of some quack of limited knowledge of medical botany. Dr. H. thinks so highly of it, that he makes ten pounds for his own yearly use; but he is not particular about obtaining all the articles, it being essential only to secure the narcotic and mucilaginous qualities. He puts the herbs in an iron vessel, with a gill of water, adds the proper quantity of lard, and simmers over a slow fire for two days. The ingredients of the original recipe, are the following:

Vc Melilotus Officinalis, Lillium Flavum, rad.
Malva Sylvestris, Antlicmis Nobilis,
Salvia officinalis, Artemisia Absinthium,
Nicotiana Tabacum one large plug, Solanura Nigrum, American
Huruuhis Lupulus, fol. Nightshade.
Flantago Major. " Viola Tricolor,
Sarnbucus Canadens," Hypericum perforatnm St.
Aretium Lappa, " John's wort,
Rumex Acestus, " Sempervirens Tectorum,
Symphytnm Officinale, fol. Datura Stramonium,
Hyoscyamus Niger, " Prunella Vulgaris-a a pugil. Cannabis Sativa,"

---- Memphis Medical Record -- Vol. III, August 1854 - pgs 86-87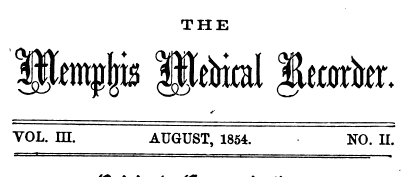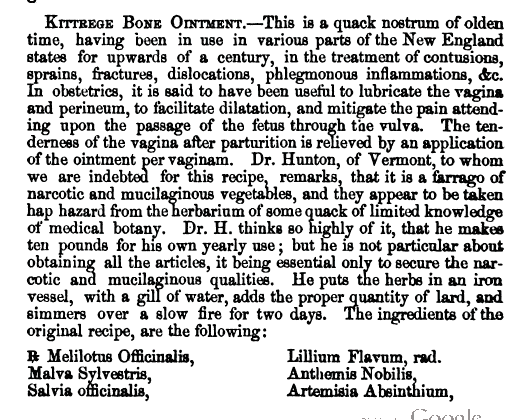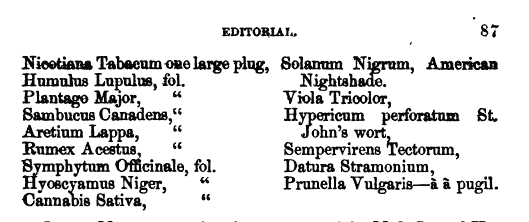 ---

WANT TO KNOW MORE:
=====================
Due to space / download time considerations, only selected materials are displayed. If you would like to obtain more information, feel free to contact the museum. All our material is available (at cost) on CD-Rom format.
CONTACT PAGE


---
---