BEFORE THE COMING OF THE ANTI-MEDICAL MARIHUANA LAWS:
---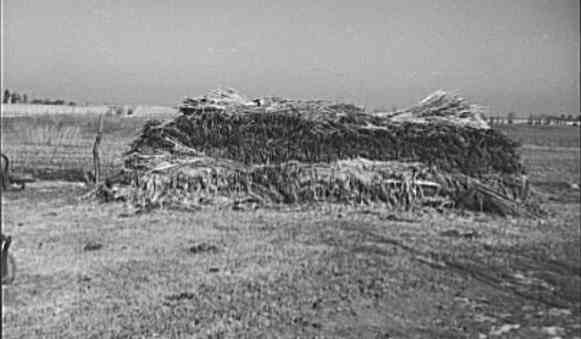 http://www.loc.gov/pictures/item/fsa1998022124/PP/
Library of Congress Photo Collection, 1840-2000
Stack of hemp grown on George Erickson's farm near Seneca, Illinois
Created/Published: 1937 Jan. -- LOT 1089



Here in Oklahoma we have a joke, the local narc's didn't just clean up the history of Medical Cannabis in Oklahoma, they SANITIZED it.   But what's not a joke, is how good of a job, they did of it.   Sometime in the 1970's, all mentions of Industrial hemp and medicinal use of Cannabis in Oklahoma (mysteriously) disappeared from public libraries, from Universities, from . . . boy these guys were good.   Today, you won't find a single prescription for Medical Cannabis in one single governmental archive, yet no one has any problems finding these prescriptions in private collections.

POINT BEING made; -- Someone, somewhere has messed around with the history books over here, and from all outward appearances, it appears that someone did the same in the State of Illinois.   Or putting it another way, somehow the Hemp History of Illinois has done a 23 skidoo!

BEFORE THE REEFER MADNESS CAMPAIGN:
Which was no easy thing to do as Illinois had a long association with Industrial Hemp -- According to the (1913) U.S. Agricultural Yearbook:
"Hemp was first grown at Champaign, Ill., about 1875.   A cordage mill was established there for making twines from the fiber, which was prepared in the form of long tow by a large machine brake.   The cordage mill burned and the industry was discontinued in 1902 because there was no satisfactory market for the kind of tow produced.

In Nebraska, hemp was first grown at Fremont in 1887 by a man from Champaign, Ill.   A binder-twine plant was built, but owing to the low price of sisal", . . . --- Yearbook (1913) of the Department of Agriculture p293
Thus one can see both the origins as well as the financial problems that Hemp Industry traditionally had.   With the acquisition of the Philippines, American Farmers were hard pressed to compete with the newly acquired and much cheaper labor force.   But that was all soon to change -- As can be seen from the following patents (ALL FROM ILLINOIS inventors), automated industrial machines could once more make Hemp profitable for American farmers to produce.




UNITED STATES PATENT OFFICE
(ILLINOIS INVENTORS)
| Patent number: | YEAR: | DESCRIPTION: |
| --- | --- | --- |
| 458,318 | 1891 | MACHINE FOR BREAKING AND CLEANING HEMP |
| 828,813 | 1906 | PROCESS FOR TREATING FLAX AND HEMP STRAW |
| 890,520 | 1908 | BOD-PACKING |
| 1,356,740 | 1920 | MACHINE FOR BREAKING |
| 1,342,771 | 1920 | MACHINE FOR TREATING OR BREAKING AND SCUTCHING HEMP |
| 1,342,772 | 1920 | MACHINE FOB BREAKING AND SCUTCHING HEMP |
| 1,385,917 | 1921 | HEMP HARVESTING AND SPREADING MACHINE |
| 1,410,416 | 1922 | Breaking and scutching Hemp |
| 1,415,930 | 1922 | FIBER-HANDLING MECHANISM |
| 1,448,391 | 1923 | PROCESS OF TREATING OR RETTING |
| 1,486,750 | 1924 | HEMP SCUTCHEB |
| 1,493,343 | 1924 | HEMP GATHER BINDER |
| 1,490,345 | 1924 | MACHINE FOB BREAKING |
| 1,678,134 | 1928 | Harvesting Machine for Hemp |

But, as we all know from history, the dream of reviving America's Hemp Industry was not to be.   As a new evil (in the form of Harry Anslinger and his Narcotics police) were to soon descend upon our nation.   And while many in this country just went about their normal lives, ignoring what to them was just another crop.   There were those who did care, and cared very much about (what we know term) Industrial Hemp.
---------------------------------------------------
Nov. 2, 1936
URGENT.
Mrs. Elizabeth Bass,
District Supervisor, Chicago, Illinois.

Dear Mrs. Bass:
Referring to your letters dated September 30 and October 5, 1936, please let me have a complete report as to the experimental farm including information on the following points:

1. Ascertain the demand for the machine that was used to harvest the MARIHUANA.

2. Find out places in the United States where there is such demand.

3. Find out just what the hemp is used for in those sections.

Would it be possible for you to obtain any information that would enable us to talk to the growers of the hemp, and to the manufacturers who use the material?
Very truly yours,
H. J. Anslinger,
Commissioner
[Letter taken from the Schaffer Library]
---------------------------------------------------
It would be interesting to know what came back from these and other such inquires? Obviously the D.E.A. (then known as the Bureau or Narcotics), wasn't interested in the truth, nor in free inquiry.   Instead they were only looking for information that they could use to outlaw Industrial Hemp -- in any of its forms.   Regardless if it meant denying our citizens proper medications or how much damage they were doing to our economy.

Letters like the following (from a paper packaging company) were quite common after the passage of the (M.T.A.) Marihuana Tax Act, and the reply letters were almost (almost threateningly) negative on the subject.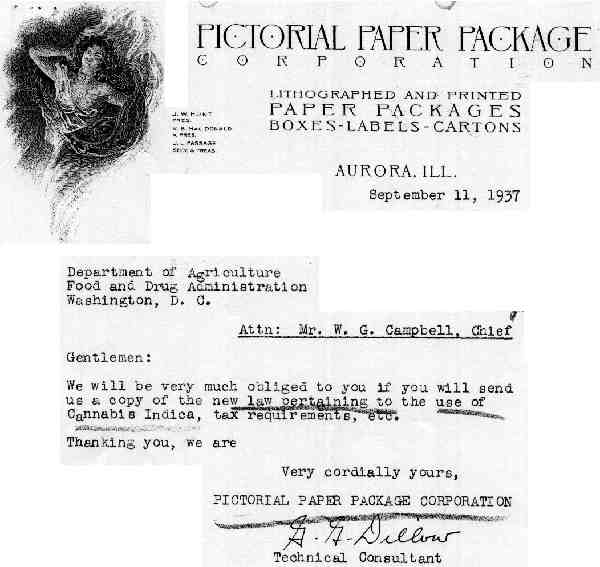 [ Pictorial Paper Company ]

PictorialPaperCoB.jpg

One can say that the replies to such inquirers were so negative that they just about (in fact did) destroy our entire Industrial Hemp industry.

HISTORICAL NOTE:
There is a joke about our first Drug Czar Harry Anslinger, that he looked a lot like Benito Mussolini (the Axis dictator), so much so that people are still confusing pictures of the two.



One was America's first Drug Czar, the other a Facist Dictator
-- Any questions?


HOWEVER, what is not a joke is the reality that by destroying our Industrial Hemp industry, Anslinger and his narc's were in effect doing the work of the Axis for them.   In fact, one of the big time problems that the US had during the Second World War, was our lack of a Hemp Industry.   One that during the war even required us to create an Office of the Hemp Czar.   YES, we actually did have a HEMP CZAR during the war.



---
HEMP FOR VICTORY
(DURING THE SECOND WORLD WAR)
http://www.votehemp.com/PDF/Illinois_Industrial_Hemp_Report.pdf
" With the onset of World War II, the United States desperately needed a viable fiber crop to be used in the manufacture of clothing, rope and tents.   The ban on hemp outlined in the 1937 Act was temporarily lifted to meet military needs.   Because hemp could be adapted and grown throughout the corn belt, Illinois hemp production flourished.   As a result several mills for extracting the fiber were constructed in northern Illinois by the federal government.   Each mill processed the industrial hemp from about four thousand acres.   Since the straw had to be transported to the mill, all industrial hemp was grown within twelve miles of each plant.   Growers had to sign a contract to sell their straw the Commodity Credit Corporation, purchase approved seed and rent special machines for cutting and binding the industrial hemp.   During World War II, the federal government subsidized industrial hemp for farmers who grew more than a million acres " --- Industrial Hemp Investigative and Advisory Task Force report / submitted to the Illinois Senate and to the Illinois House of Representatives, January 26, 2000
One is amazed to still find so many people who are in denial over America's (both medical as well as Industrial) Hemp past.   Many even question whether the Hemp For Victory era even occurred.   Yet as can be seen from the following Post-War advertisement (paid for by the Federal Government), such an era did occur AND Illinois (with Hemp factories in Earleville , Galesburg , Galva , Kirkland , Ladd , Lexington , Minok , Muncis , Polo , Shabbona, etc.), was in the very heart of it all.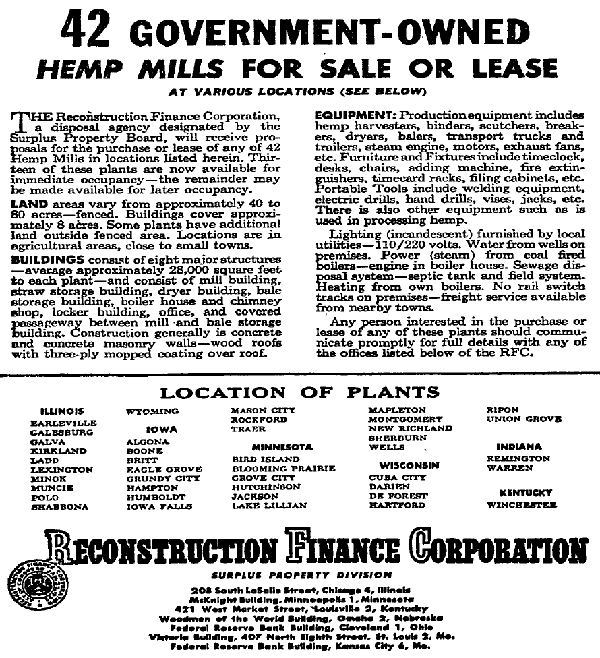 [ Wall Street Journal Aug. 23, 1945 ]
---
YES AMERICA, WE DID HAVE A HEMP CZAR:
Wall Street Journal - Dec 4, 1943 p1
Home-Grown Hemp
U.S. Revives Industry Of Colonial Days to Assure Supply in War
Midwest Prairies to Grow Rope Material Normally Imported From Far East
Plan 71 Processing Plants
By Walter H. Waggoner - Staff Correspondent of the Wall Street Journal

Washington---Hemp, an almost forgotten American crop, is being revived by the nation's farmers.

It was grown in Kentucky before the Revolution.   It was fashioned into homespun garments, twine and sacking.   Twisted into rigging and cables, hemp saw service with Perry's fleet on Lake Erie in the War of 1812.   New England shipbuilders sent American hemp over the seven seas aboard the Yankee Clippers.

Hangmen preferred hemp to any other fiber, because of its strength.

Now, after a 20th century decline from foreign competition, domestic hemp production booms under government guidance, with 150,000 tons of fiber as the goal.   In a way, it will once again make a hangman's noose---for the Axis.

Was Imported From Orient
Lack of cordage fiber---still needed for U. S. ship---has been a big handicap since war seized the Pacific.   Sources of such valuable hard fibers as abaca (Manila hemp), sisal and jute were cut off by Japanese conquest of the Philippines and the Netherlands East Indies.

"Imports from the Orient are virtually stopped," the Government asserted last March, "and there is no assurance that imports from Africa will continue."

The War Production Board, as a result, began cutting down on the wasteful uses of these now-critical fibers.

With Imports down to a disheartening dribble, officials early this year decided a domestic substitute would have to be found.   American hemp, though not as hard a fiber as abaca---better known as Manila hemp---or sisal, would fill the breach.

New "War Crop"
First official action was devising a program for vastly increasing, quickly and effectively.   U.S. hemp resources Secretary of Agriculture Wickard straightaway proclaimed it a "war crop."

Designation as such has little significance other than the permission it grants growers of wheat, cotton and other surplus farm products to turn their soil to hemp without suffering penalties under the agricultural adjustment agency crop allotment scheme.   This new distinction for hemp was conferred on February 24, 1942.

Since that time, farmers have been asked to sow at least 300,000 acres for hemp fiber and another 50,000 acres for hemp seed to assure 350,000 bushels of seed for continuation of the project as long as it is needed.

The extent to which farmers will have to switch to hemp is apparent in the comparison between this year's program of 12,000 acres and the new one of 350,000.

Many U.S. Agencies Play a Part
Although primarily a Department of Agriculture project.   a number of other government agencies are taking a hand in this biggest of all rope-making enterprises.

The War Production Board assigned preference ratings to steel and machinery and other necessary materials high enough, to assure construction in 1943 of 71 mills in the hemp-growing area for preparing the fiber for rope.

The Defense Plant Corp. issued a letter of intent for the financing of the mills.

The Commodity Credit Corp., sporting a new, division especially created for the purpose, will operate the mills.

In the background will be the Agriculture Department's Bureau of Agricultural Chemistry and Engineering and Bureau of Plant Industry, ready for expert consultation on any technical problems that might arise.

McCrory the Hemp "Czar"
Selected as director of the C.C.C. hemp division is genial, white-haired Samuel H. McCrory, a department expert since 1907, and until his appointment, with the Bureau of Agricultural Engineering and Chemistry.

Mr. McCrory, clasping his hands casually behind his head, reckoned he'd be doing a lot of traveling with his new job.   It will take him at least to Iowa, his home state.   Indiana, Illinois, Kentucky, Wisconsin and Minnesota, since "good corn land and the black prairie soils of the Middle West," are about all that's needed to grow a good stand of hemp.

Mills will be situated at points throughout these states to service about 4.000 acres of hemp each.   Exact locations aren't known in all cases, Mr. McCrory said, because farmer contracts haven't yet been completed.

Hemp Processing Plants
The, 71 new plants won't consume as much critical material in their construction as the large number might lead one to believe, according to the hemp director.   He protested against the popular Washington title of "Czar".

Driers, breaks, scutching and hacking machinery are, about all that is needed to prepare hemp for the rope plants, he said and they are of a fairly simple structure.

For those ignorant of hemp fiber-making, Mr. McCrory explains that:

Driers do what their name implies to the damp hemp stalk after It has lain in the field to be "dew-retted."

Breaks are fluted rollers through which the dried stalk is forced, crumbling the hard fiber outside away from the inside pulp and wood.

Scutches brush off the unwanted wood and pulp and scrub up the fiber generally.

Hacklers comb out the remaining fiber by tossing it over a row of rugged pins.

The mill's task Is practically finished at this point.   Fiber then is graded, baled and shipped to a textile or rope plant for manufacture into coast cordage, most vital need at the present times for next year's big crop.
---
A HISTORY REMOVED:
Wish that we could tell just some of the numerous tales that sprang up during the War among the farmers, factory workers etc.   But unlike "Rosie the Riveter," Helen the Hempstress, just didn't or, as is more likely the case, was eliminated from the history books.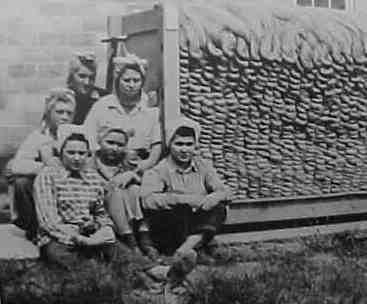 [ Wisconsin Hemp workers During the War ]



But their stories as well as their history during the war was there.   The following table (as per IRS open records) provides ample proof of this:



IRS RECORDS OF ILLINOIS HEMP GROWERS REGISTERED UNDER M.T.A.
| | 1938 | 1939 | 1940 | 1941 | 1942 | 1943 | 1944 | 1945 | 1946 |
| --- | --- | --- | --- | --- | --- | --- | --- | --- | --- |
| 1st Illinois Chicago | 0 | 1 | 1 | 0 | 1 | 2031 | 2293 | 836 | 0 |
| 8th Illinois Springfield | 0 | 0 | 1 | 0 | 0 | 1241 | 1038 | 98 | 0 |

Thus OBVIOUSLY someone within the State of Illinois was taking part in the war effort.

The sad part about this part of our history is that WE the American People have allowed it to have been erased from the History books.   And by ERASED we mean, deliberately and maliciously done so by the narcotics police.   Whose main goal seems to have been to silence any opposition to their Drug War by silencing its history.   And in that they did a good job; Example: Ask yourself, just how much do you know about Illinois and its Hemp history?



---
THE POLO HEMP MILL ; one given example
As much as it should bring us to shame, it was a High School student (yes, a High school student) who perhaps has written the best article on one of these War Time factories.   We reproduce it here in whole.
ILLINOIS HISTORY - (A Magazine for Young People)
Vol 46 No. 1 Dec. 1992 (Printed by authority of the State of Illinois)
Polo's Hemp Mill By Amy Buser (Mt. Morris High School)
http://www.lib.niu.edu/1992/ihy921210.html

The United States government paid northern Illinois farmers to grow hemp during World War II.   The hemp was used in making rope needed on American warships.

With the fall of the Philippines and Java to Japan, the major supply of hemp was cut off, and the government turned to the Midwest to raise hemp.   Criticism was directed toward the government for the reckless expenditure of money for the hemp program, but money meant nothing when rope fiber had to be obtained from somewhere.

The hemp mill program was assigned to the Department of Agriculture.   The program for planting and processing the hemp plant was directed by the Commodity Credit Corporation.   There were to be forty-two mills in the Midwest, eleven of which were to be in Illinois.   The plant in Polo, Illinois, was to be the pilot mill for the entire program.   It was the first of its kind.

The Polo Hemp Mill, which began operation on November 20, 1943, consisted of mill buildings, a dryer, storage buildings, and a boiler house.   The overall cost was $350,000.

At first, farmers were reluctant to raise hemp because they knew nothing about it.   They feared a labor shortage at harvest time and also feared that hemp prices would be lower than those of corn prices.   To acquaint the farmers with raising hemp, meetings were held at the Polo High School.   The farmers were reassured that the necessary equipment would be provided for every one hundred acres of hemp.   The farmers in the area then joined in the attempt to produce the fiber crop, something entirely new to the area's agriculture.

The first carload of Kentucky hemp seed arrived in Polo in April 1943.   Farmers were soon busy planting.   The hemp seed was drilled into prepared ground between oats and corn planting.   Soil which is suitable for growing corn is usually suitable for raising hemp.



[ Hemp mills cropped up throughout Illinois during World War II.   Here, mill workers in this Chicago plant are preparing the sisal fiber for spinning. ]



During harvest time in the fall, an implement similar to a grain binder was used to cut the stalks.   The cut stalks were then laid in rows at right angles to the direction the machine went.   A process known as "retting" then occurred while the sun toughened the outside fibers so that they could be separated from the rest of the stalk in the factory.   Then binders were sent out into the fields from the factory.   The hemp was tied in bundles and shocked in the field.   The shocks were then sent to the mill for processing.   German prisoners of war from Camp Grant, near Rockford, Illinois, worked in the hemp fields and stacked straw as it arrived at the mill.

The Polo Hemp Mill itself did not produce rope.   The processed hemp was shipped out in bales to be made into rope at other locations.   During 1943, 3,600 acres of hemp were harvested in the Polo area.   In 1944 and 1945 a total of 1,800 acres were processed.

Between the time the hemp project started and the time the mill actually went into operation, the fortunes of the United States in the Pacific had improved so much that the crop was halved the second year hemp was grown.   By the winter of 1944 it was apparent that the Japanese were being defeated and that it was only a matter of time before the Philippines would be liberated.   That spelled the doom of the Polo Hemp Mill and other mills scattered throughout the Midwest.

Twenty-eight plants in the Midwest were closed.   Four mills in Illinois, including the mill in Polo, were to remain in operation.   But farmers in the area feared that the government might not buy their hemp and refused to sign contracts pledging acreage.   Without farmers to grow the hemp, the mill would be a failure.

After having processed approximately 16,000 tons of hemp straw, the Polo Hemp Mill was turned over to the Reconstruction Finance Corporation on September 29, 1945.   The factory on Illinois Route 26 is still standing.   It houses Imeco, Inc., a company that produces industrial refrigeration systems.

Sources:
From Bicentennial History of Ogle County;
"First Hemp Fiber," Tri-County Press, Feb. 24, 1944;
"Hemp Crop Brought $435,000," Tri-County Press, Feb. 10, 1944;
"Polo Hemp Mill Closes Saturday," Tri-County Press, Oct. 4, 1945;
"Pot Growers Once Dotted Area," The Rockford Register Star, Sept. 24, 1989.
---
Labor shortages during the war forced America to use POW labor: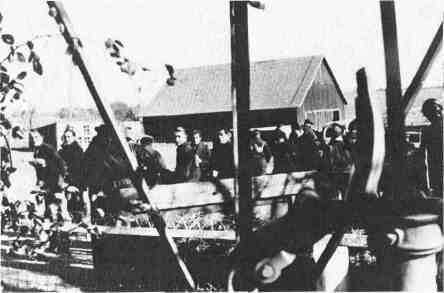 [ These German prisoners of war, pictured here at a farm in southern Illinois, prepare for a day of harvesting hemp, an important material used in the war effort.   -- http://www.lib.niu.edu/1995/ihy950460.html ]



FOR THOSE so interested, the following pamphlet can be located via the Internet:

Hemp An Illinois War Crop Circular No. 547
By J. C. Hackleman and W. E. Domingo
Published by University of Illinois, College of Agriculture, Extension Service in Agriculture and Home Economics, 1943.


MUSEUM COMMENT:   In all fairness it should be stated that NOT ALL published articles during the war were favorable to Hemp growth.   The following is an example of one such statement in the form a letter written by the Rev. Robert Devine.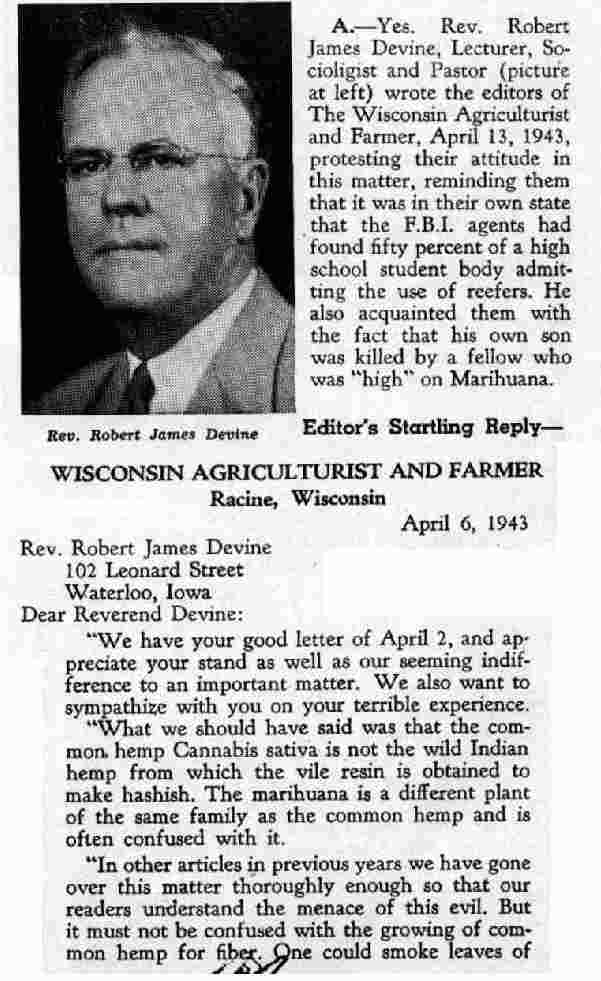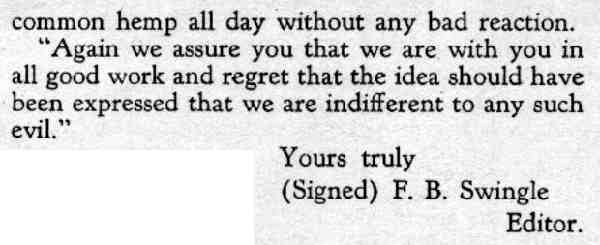 HOWEVER, the second world war did not last forever and neither did the federal governments tolerance for Hemp farmers.



---
FROM " REEFER MADNESS " TO " HEMP FOR VICTORY " AND BACK AGAIN:
From an historical perspective, what occurred during the war was out and out hilarious.   Here (before the war) was something our narcotics police were terming "The Assassin of Youth".   Yet during the war, they were now encouraging youngsters (specifically the 4-H's) to go out and plant the stuff.   And as soon as the war ended, it was back to Marihuana, "The Killer Drug".   Perhaps the following (bit's and pieces) of a more modern day Marihuana (the dangerous drug) leaflet can best say what has become of industrial Hemp today.   It's title - Wanted : your help in locating marijuana grown in Illinois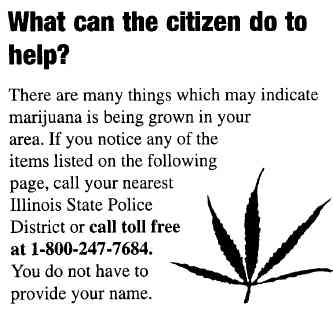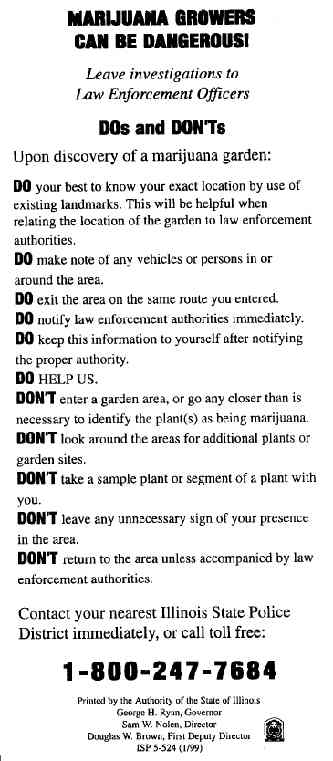 The rest of the leaflet, only talks about how bad the plant is, nowhere does it talk about the American Farmer, the economic importance of the plant, nor its medical uses, nor . . . . much about anything else,except how we MUST ERADICATE the horrible, horrible Medical Cannabis plant.   Oh, the leaflet gives no logical explanation of why anyone would want to eradicate it in the first place.




---

WANT TO KNOW MORE:
=====================
Due to space / download time considerations, only selected materials are displayed.   If you would like to obtain more information, feel free to contact the museum.   All our material is available (at cost) on CD-Rom format.  
CONTACT PAGE
---
---