THE ANTIQUE CANNABIS BOOK
Chapter 4 - (2nd Edition)
North Carolina
Pre-1937 MEDICAL CANNABIS USE
IN NORTH CAROLINA
Section 15 -
The S.B. Penick Co.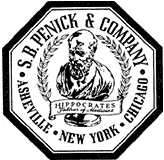 Penick logo circa 1950's:

It would be impossible to do a historical section on North Carolina, without mentioning the S.B. Penick & Co. According to their website, the following is true: [4]
"S.B. Penick, Sr. founded the Company in Marion, North Carolina in 1914. Its beginnings were humble, as merchants and millers of drugs of vegetable origin gathered from nearby fields and woods.

World War I created huge demand for the Company's products and led to significant expansion, acquisitions and the opening of a plant and offices in New York. The pattern of internal growth coupled with acquisitions continued into the mid 1960's when a multinational conglomerate corporation acquired the S. B. PENICK COMPANY. At the time of its acquisition S.B.Penick was considered by many to be the largest supplier in the world of botanicals for pharmaceutical and allied uses.

Unfortunately the acquisition led to the S.B. Penick Company being broken up into many pieces with each one being sold over a period of about 20 years. The last remaining piece, known as Penick Pharmaceuticals, was sold to a private investor in 1988."
However, this description does not do justice to the S.B. Penick name, but fortunately for us, one of the Penick family, "Elizabeth Penick Schmitz," had the foresight to write a first-hand biography about the company, [5] which seems to be finding a small cult following among pharmaceutical historians.

To keep things short, YES they did carry Medical Cannabis as part of their stores, -- right up until the end. When the Marihuana Tax Act [of 1937] made it all but impossible to do so. They did, however, continue to sell Hemp Seed Oil for some years there after.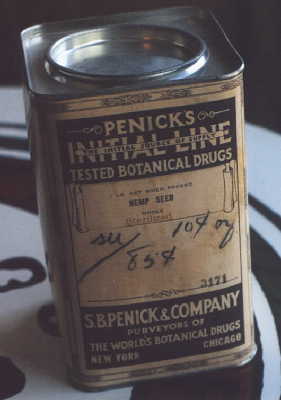 ===========
FOOTNOTES:
[4]-- http://www.penickcorp.com/history.htm
[5]-- Our own business: S.B. Penick & Company by Elizabeth Penick Schmitz [with Robert D. B Carlisle]


---

WANT TO KNOW MORE:
=====================
Due to space / download time considerations, only selected materials are displayed. If you would like to obtain more information, feel free to contact the museum. All our material is available (at cost) on CD-Rom format.
CONTACT PAGE


---
---