OKLAHOMA STATE

PRISON REPORT
PRISONER NUMBERS & COSTS INCARCERATION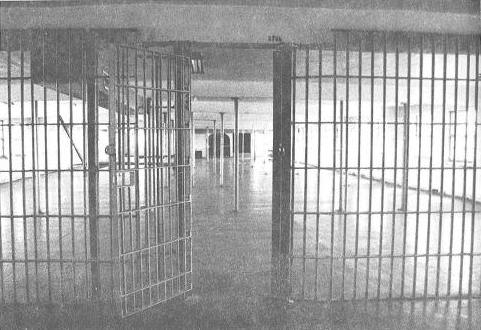 [ THEIR MOTTO: -- "PROTECTING YOU IS OUR MISSION" - Dept. of Corrections ]
---
MARIHUANA INCARCERATION
----THE ECONOMIC COSTS TO OKLAHOMA'S TAXPAYERS
---

1.0 - THE PURPOSE BEHIND THIS WHITE PAPER:
From its very inception of the 'Oklahoma Voters League', numerous individuals have come up to us, asking the same two questions, over and over again.
1. How many individuals are under state incarceration for Marihuana?

2. What is it costing us (as taxpayers) to incarcerate them?
Questions which (we ourselves), for some time been asking of others, with no satisfactory answers. In fact various inquiries to numerous Oklahoma state governmental agencies seemed to indicate that no one, anywhere, seemed to know the answers. Thus the purpose, the logic behind this White Paper; to answer the two above questions.

---

1.1 - SUMMERY OF FINDINGS:
This report (wherever possible) attempts to avoids moral issues and deals solely with the financial issues involved in the physical incarceration of individuals for Marihuana by the State of Oklahoma. A cost that this report tabulates as realistically being between $28 million and $36.5 million dollars per year. With 32 million per year being the most probable figure.

HOWEVER (as will be shown within these pages), the actual figure could technically range anywhere from $9.5 million all the way up to $88 million (U.S. dollars) per year. And unfortunately, these figures ONLY represent the physical/financial costs of actual prison incarceration by the State of Oklahoma. They DO NOT account for such things as:
Police enforcement time and costs
Court/Time Costs and expenses
County/Local Jail incarceration while awaiting trial etc.
Lost State Taxes (sales, income tax, etc.) revenues of inmates.
Costs of removing children (child protective services) from Medical Marihuana addicted parents
Any form of Federal detention (Military prisons, Federal prisons, ICE or immigration detention facilities, etc.), taking place within the state of Oklahoma.
Parolee monitoring costs and expenses, etc.
The report does dwell a bit into other revenue losses incurred due to incarceration, but then ONLY as it relates to the statewide tax revenue streams. These losses however only amount to a little over a million per year, and are somewhat offset by other factors such as "Drug Forfeiture Asset" seizures, prison Industrial labor productivity, etc.

INDIVIDUAL NUMBERS
In addition this report also deal with the EXACT numbers of individuals presently under incarceration for Marihuana within our state prison system. A number we tabulate as being 4,300 individuals, who are currently under incarceration for Marihuana, that is to say that Marihuana was at least one of their offences. And of that figure, some 25% to 37% (depending upon the interpretations and/or definitions used), are there SOLELY for violating Marihuana related laws. That is to say that if Marihuana were NOT against the law, than none of their other offenses (possession of drug paraphernalia, etc.) would have been against to law either.




SECTION I
ABOUT THE REPORT
2.0 - FORWARD
2.1 – HISTORICAL PERSPECTIVE OF THE PROBLEM:
2.2 – WHY THIS REPORT WAS PUT TOGETHER:
2.3 – BASIC TABULATION PROBLEMS FACE BY THIS REPORT:
2.4 – REPORT REASONING:
SECTION II
MATHEMATICAL METHODOLOGY
3.0 – MATHEMATICAL CALCULATIONS
THE VARIOUS METHODOLOGIES:
3.1 – CALCULATION AVERAGE COST PER PRISONER PER YEAR:
3.2 – DEFINING THE BASIC PRESUMPTIONS:
3.2.1 – DEFINITION - What Exactly Constitutes A Marihuana Prisoner?
3.2.2 – DEFINITION - What Constitutes A Partial Marihuana Prisoner?
3.2.3 – DEFINITION - What Constitutes A Sort of Marihuana Prisoner?
3.2.4 – DEFINITION – NON-VICTIMLESS, VICTIMLESS CRIMES
SECTION III
CALCULATING THE PRISONER NUMBERS
4.0 --- TABULATING THE EXACT NUMBERS
--- OF THOSE IMPRISONED FOR MARIHUANA
-- CRUNCHING THE ACTUAL NUMBERS
-- THE VARIOUS METHODOLOGIES USED TO OBTAIN THE FIGURES
4.1 – THE SIMPLE TASK OF ASKING:
4.1.1 - CONSPIRACY - THE SILENCE OF THE GRAVE

METHODOLOGY #1 – USING MATHEMATICAL STATISTICS
4.2 – THE MATHEMATICAL STATISTICAL METHOD:


METHODOLOGY #2:
4.3 – CONDUCTION A PHYSICAL PRISONER HEAD COUNT:
4.3.1 – SEEING THROUGH THE ACCOUNTING GIMMICKRY:
4.3.2 – THE ACTUAL HEAD COUNT, REVIEWING THE NUMBERS:
4.3.2.1 – PRISON POPULATION TOTALS (as of Feb. 24, 2014):

EXTRACTED DATA NUMBERS:
DEALING WITH LARGE ERROR FACTORS:
4.3.4 – THE TOTAL (ACTUAL HEAD COUNTS) FINDINGS:
4.3.4.1 – DWELLING MORE ON THE UNKNOWN CDS STATISTICS:
4.3.5 – ANALYZING THE TABULATED FINDINGS:


METHODOLOGY #3:
4.4 – USING HYBRID METHODOLOGY:
5.0 – TABULATING THE PRISON COSTS OF INCARCERATION:
5.1 – FINANCIAL NUMERICAL PRESUMPTIONS:
5.2 – CALCULATING AN ACTUAL VALUE:


SECTION IV
CALCULATING THE RESIDUAL COSTS
6.0 - EXAMINING THE NEGATIVE (FINANCIAL) IMPACTS
OF MARIHUANA RE-LEGALIZATION:
6.1 – OKLAHOMA'S PRIVATE PRISON GUARD INDUSTRY:
6.2 – PRISONER LOSSES AS LOCAL REVENUE LOSSES:
Aka Slave Labor:
6.3 - OKLAHOMA CORRECTIONAL INDUSTRIES:
6.4 - LOWER REVENUES DUE TO LOWER
DRUG FORFEITURE ASSET SEIZERS:
6.5 – OTHER NEGATIVE IMPACTS ON TAX REVENUES:

7.0 - EXAMINING THE POSITIVE (FINANCIAL) IMPACTS
OF MARIHUANA RE-LEGALIZATION:
7.1 – FOSTER CARE SYSTEM:
CHILDREN TAKEN AWAY FROM PARENTS:
7.2 – LOST INCOME TAX REVENUES:
AS A DIRECT RESULT OF INCARCERATION:
7.3 - STATE SALES TAX REVENUE LOSSES:
AS A DIRECT RESULT OF INCARCERATION
7.4 - LOST FARM REVENUES & TAX MONIES:
7.5 – OTHER PRESENT-DAY STATE REVENUE LOSSES:
8.0 – REPEAL -- ITS PHYSICAL/FINANCIAL IMPACT ON
FUTURE CRIME AND PRISON EXPENDITURES:
8.1 – REPEAL -- FINANCIAL IMPACT OF"
PRESENT-DAY VS: FUTURE CRIMINALITY :
8.2 – MARIHUANA PROHIBITION LAWS:
As the Gateway element to Cooper Thefts:
SECTION V
ADDING UP THE TOTAL COSTS
SECTION VI
CONCLUSIONS
10.0 – REPORT CONCLUSIONS:
10.1 – THE COSTS OF MARIHUANA INCARCERATION:
A SUMMATION:
10.2 – DRUG CRIME STATISTICS:
10.3 – FINANCIAL IMPACTS OF MARIHUANA LAW INCARCERATION:
10.3.1 - THE IMMEDIATE FINANCIAL IMPACTS:
10.3.2 - THE RESIDUAL (Long Term) IMPACT:
10.4 – CONCLUSION THE CONSPIRACY OF SILENCE:
YES IT DOES EXIST:
10.5 – SUGGESTIONS FOR CHANGE:
---
ADDENDUM A
Listing of known prisoners presently under incarceration solely for simple POSSESSION OF MARIHUANA,
-- A partial listing by head count

ADDENDUM B
Listings of Oklahoma's most offend used drug laws.

ADDENDUM C
SAMPLE INQUIRE LETTER ,
-- A sample inquire letter sent out to various state and governmental agencies . . .

ADDENDUM D
Dealing with ther Prison Labor Industries ,
-- Their side of the story as per their annual reports
---
---
---
---