ANSLINGER'S GORE FILE
Clemente Apolinar
(1921)
---
QUESTION: How did a case from dating all the way back to 1920 make its way into Harry Anslinger's Gore File -- A case that took place years before the start of the Reefer Madness Campaign?

IN ANSWER, we feel that the following (internal) memo's (located via the National Archives, College Park, Md.) are self-explanatory.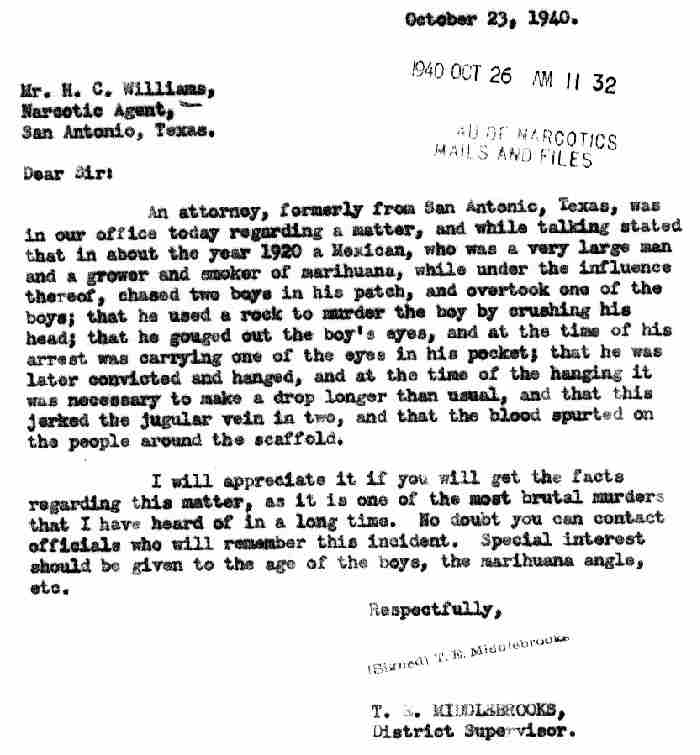 October 23, 1940
Mr. H. G. Williams
Narcotic Agent,
San Antonio, Texas,
Dear Sir:
An attorney, formerly from San Antonio, Texas, was in our office today regarding a matter, and while talking stated that in about the year 1920 a Mexican, who was a very large man and a grower and smoker of marihuana, while under the influence thereof, chased two boys in his patch, and overtook one of the boys; that he used a rock to murder the boy by crushing his head; that he gouged out the boy's eyes, and at the time of his arrest was carrying one of the eyes in his pocket; that he was later convicted and hanged, and at the time of the hanging it was necessary to make a drop longer than usual, and that this jerked the jugular vein in two, and that the blood spurted on the people around the scaffold.

I will appreciate it if you will get the facts regarding this matter, as it is one of the most brutal murders that I have heard of in a long time. No doubt you can contact officials who will remember this incident. Special interest should be given to the age of the boys, the marihuana angle, etc. Respectfully,
T.E. Middlebrooks,
District Supervisor.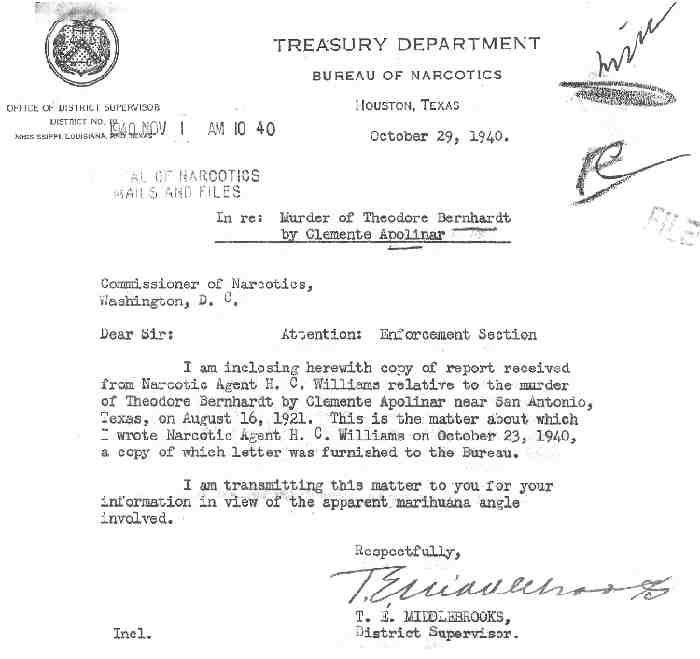 October 29, 1940
In re: Murder of Theodore Bernhardt
By Clemente Apolinar
Commissioner of narcotics,
Washington, D.C.
Dear Sir:
Attention: Enforcement Section

I am inclosing herewith copy of report received from Narcotic Agent H.C. Williams relative to the murder of Theodore Bernhardt by Clemente Apolinar near San Antonio, Texas, on August 16, 1921. This is the matter about which I wrote Narcotic Agent H.C. Williams on October 23, 1940, a copy of which letter was furnished to the Bureau.

I am transmitting this matter to you for your information in view of the apparent marihuana angle involved. Respectfully,
T.E. Middlebooks,
District Supervisor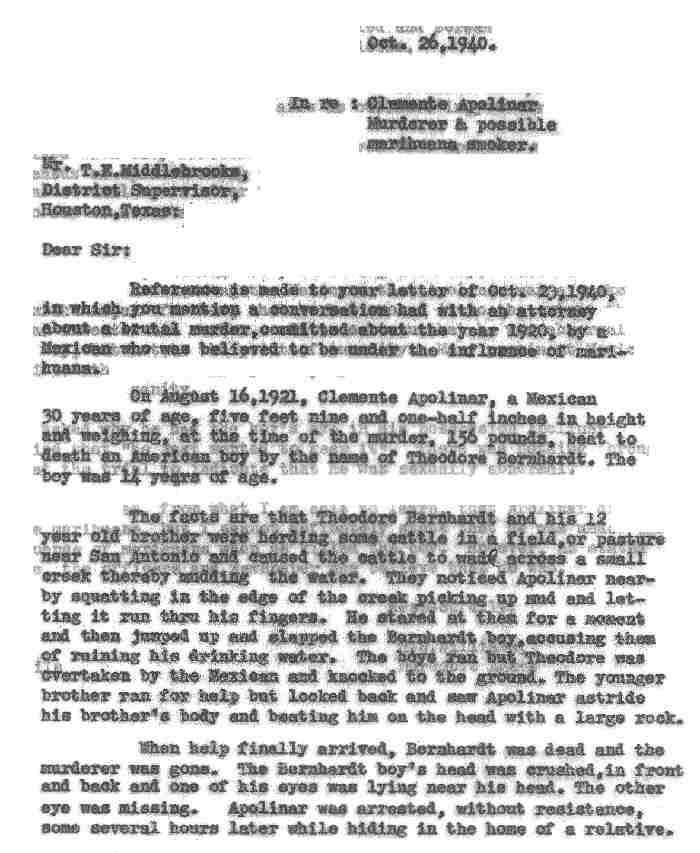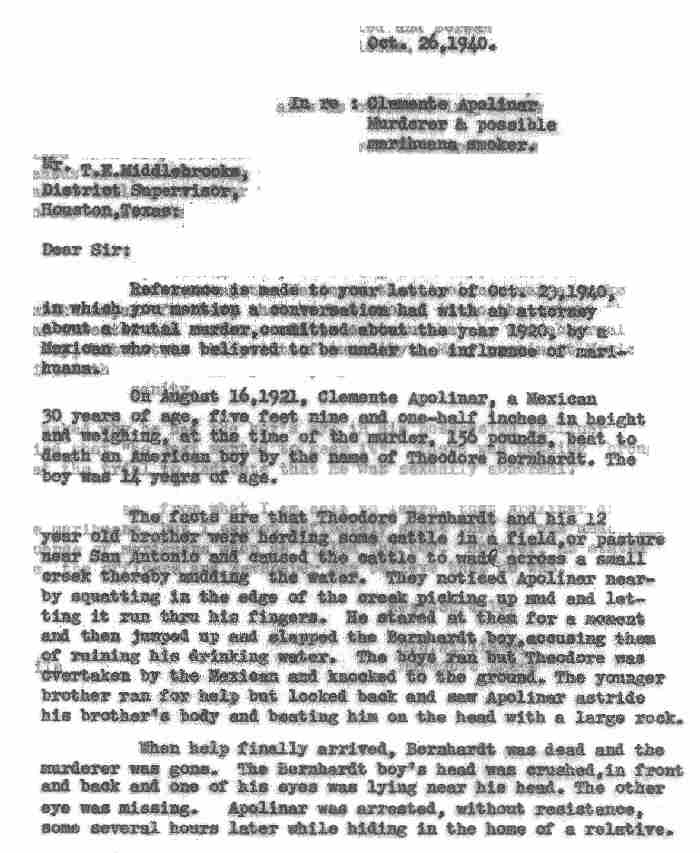 Oct. 26, 1940.
In re t Clemente Apoliner
Murderer & possible
Marihuana smoker.
Mr. T.E. Middlebrooks,
District Supervisor,
Huston, Texas:
Dear Sir:
Reference is made to your letter of Oct. 23, 1940, in which you mention a conversation had with an attorney about a brutal murder, committed about the year 1920, by a Mexican who was believed to be under the influence of marihuana.

On August 16, 1921, Clemente Apoliner, a Mexican 30 years of age, five feet nine and one-half inches in height and weighing, at the time of the murder, 156 pounds, beat to death an American boy by the name of Theodore Bernhardt. The boy was 14 years of age.

The facts are that Theodore Bernhardt and his 12 year old brother were herding some cattle in a field, or pasture near San Antonio and caused the cattle to wade across a small creek thereby mudding the water. They noticed Apoliner nearby squatting in the edge of the creek picking up mud and letting it run thru his fingers. He stared at them for a moment and then jumped up and slapped the Bernhardt boy, accusing them of ruining his drinking water. The boys ran but Theodore was overtaken by the Mexican and knocked to the ground. The younger brother ran for help but looked back and saw Apolinar astride his brother's body and beating him on the head with a large rock.

When help finally arrived, Bernhardt was dead and the murderer was gone. The Bernhardt boy's head was crushed, in front and back and one of his eyes was lying near his head. The other eye was missing. Apolinar was arrested, without resistance, some several hours later while hiding in the home of a relative. Apolinar had one of the eyes of the boy in his pocket when arrested. When placed in jail Apolinar howled and screamed and tore all of the furnishings of his cell to pieces.

His defense was insanity, but he was declared sane, and was duly hanged with all the gruesome details as outlined in your letter.

There were many people who believed that Apolinar was insane and that a crazy man was hanged. He had one of the largest funerals ever held in San Antonio.

I talked with city officers and with newspaper men, and it is the concensus(sic) of opinion among them that Apolinar smoked marihuana. It was several hours after the murder when he was arrested, and there is no way of ascertaining if he was under the influence of marihuana at the time he committed the crime.

Mr. D.A. McAskil, who was the prosecuting attorney, stated that it was generally known among the Mexicans that Apolinar was a smoker of marihuana, further, that he had smoked it to the extent that it had unseated his reason. It is certain that he was abnormal in some way, but not to the point of insanity. Many prominent Mexicans testified that, in their opinion, Apolinar was sane within the legal definition of sanity.

When asked why he had the boy's eye in his possession Apolinar replied that "he just wanted to keep it". There was nothing brought out at the trial to indicate that he was sexually abnormal.

It appears then, from what I am able to learn, that Apolinar did smoke marihuana, but I cannot definitely state that he was under the influence of marihuana when he killed the boy. However, as stated above, the officers and newspaper men believe that he was. Respectfully,
H.C. Williams,
Narcotic Agent

Note: Above documents have been doctored for quick download times. If needed for research purposes, feel free to ask the museum for original copies.



---

WANT TO KNOW MORE:
=====================
Due to space / download time considerations, only selected materials are displayed. If you would like to obtain more information, feel free to contact the museum. All our material is available (at cost) on CD-Rom format.
CONTACT PAGE


---
---