TEXAS - BELIEVE IT OR NUTS
---

ODD'S & END'S
From the Antique Andy's -- "Believe it or Nuts" --- Collection
---




#106
Antique Andy's - "Believe it or Nuts"


THE AMERICAN FARMER
- And the great AMERICAN Entrepreneurial DREAM
This is a story about the hard working American Farmer, an entrepreneurial spirit and a government agency that's JUST HERE TO HELP YOU.

Follow us now as we travel through
The Research;
The Investment;
And last of all through the Reward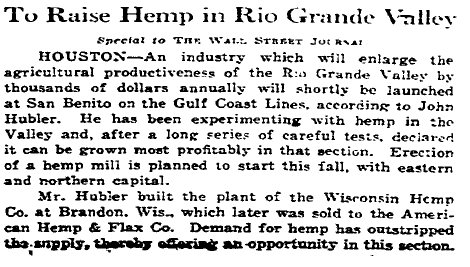 THE RESEARCH BEGINS


THE WALL STREET JOURNAL
Aug 19, 1925 p11 - "To Raise Hemp in Rio Grande Valley"
HOUSTON--An industry which will enlarge the agricultural productiveness of the Rio Grande Valley by thousands of dollars annually will shortly be launched at San Benito on the Gulf Coast Lines, according to John Hubler. He has been experimenting with hemp in the Valley and, after a long series of careful tests, declared it can be grown most profitably in that section. Erection of a hemp mill is planned to start this fall, with eastern and northern capital.
Mr. Hubler built the plant of the Wisconsin Hemp Co. at Brandon. Wis., which later was sold to the American Hemp & Flax Co. Demand for hemp has outstripped the supply, thereby offering an opportunity in this section.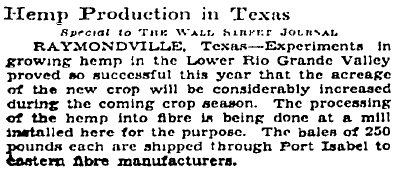 THE INVESTMENT IS MADE


THE WALL STREET JOURNAL
Dec 28, 1936 p10 - "Hemp Production in Texas"
Raymondville, Texas---Experiments in growing hemp in the Lower Rio Grande Valley proved so successful this year that the acreage of the new crop will be considerably increased during the coming crop season. The processing of the hemp into fibre is being done at a mill installed here for the purpose. The bales of 250 pounds each are shipped through Port Isabel to eastern fibre manufacturers.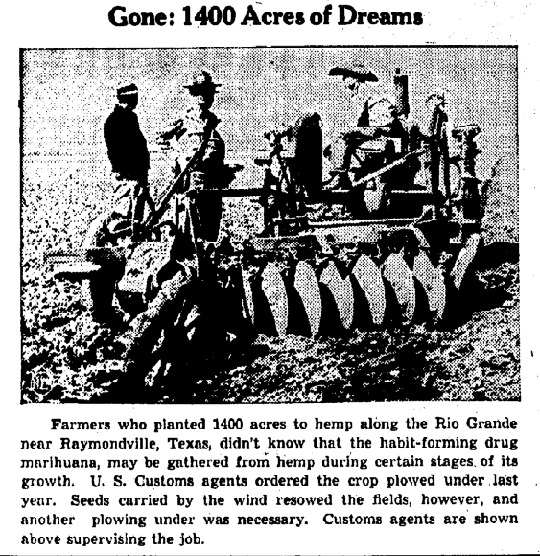 AND FOR ALL YOUR EFFORTS -- THE REWARD


Coshocton Tribune
Feb 3, 1938 p - "Gone: 1400 Acres of Dream Stuff"
Farmers who planted 1400 acres to hemp along the Rio Grand near Raymondville, Texas, didn't know that the habit-forming drug marihuana may be gathered from hemp during certain stages of its growth. U.S. Custom's agents ordered the crop plowed under last year. Seeds carried by the wind re-sowed the field, however and another plowing under was necessary. Customs agents are shown above supervising the job.


AH TEXAS, you've have done us all proud!
. . . "reducing tax rates restored the incentive to produce and create jobs, and getting government out of the way allowed people to be entrepreneurs. From there, the free marketplace operate(s) as it was supposed to. -- Ronald Reagan



Believe it or Nuts.



---
---

WANT TO KNOW MORE:
=====================
Due to space / download time considerations, only selected materials are displayed. If you would like to obtain more information, feel free to contact the museum. All our material is available (at cost) on CD-Rom format.
CONTACT PAGE


---
---