NEWSPAPER ARTICLES
FROM THE REEFER MADNESS ERA
---
---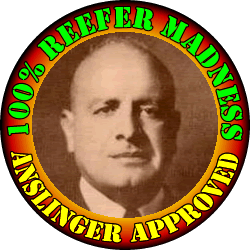 Below is the museum's Index of old Reefer Madness era Newspaper Headlines.
[S] ; indicates that we have an actual copy of the article.
[wanted] ; indicates that we have not as yet been able to locate a copy - But that it sounds about right.
[e] ; indicates that we have either hand transcribed it into MS-Word format or have an electronic copy of the article.
[NWR] ; Not Worth Reading ; indicates that the article (in general) is ('ah") , not worth reading.
[Gore File] ; Indicates that the article has something to do with on of Harry Anslinger's Gore File cases.
NOTE: Obviously NOT every Reefer Madness article is made referenced to below, nor can ALL of these articles (the subject being a subjective one) be considered by everyone as belonging to that genre. As far as indexes go, this is but a starting point. What we have done is to simply put together a quick (but as accurate as possible) list of as many articles as we were able to locate. The idea was to allow the reader / researcher, the greatest possible access to such information. Thus some of them are rather boring, having only a bare mention of Marihuana, while others sound like they could have been written by Harry Anslinger (America's first drug czar) himself.
---

ABLIENE DAILY REPORTER
[S]- Sep 13, 1911 - "Crazed with dope two men attacked"
[S]- Feb 20, 1927 p9 - "Students Suspected" [NWR]
[S]- May 26, 1929 p7 - "Accused Man Will Testify"
[S]- Aug 23, 1931 p2 - "Mexican Woman Held as Officers find Marihuana"
[S]- Sep 17, 1931 p6 - "Narcotic Weed Is Found at Coleman"
[S]- Jan 13, 1932 - "Marihuana Source sought at Midland"
[S]- Jan 17, 1932 p4 - "Loco Weed May be Cause of Hilarity"
[S]- July 8, 1932 p1 - "Cops Get Cache of Hidden Marihuana"
[S]- July 22, 1932 p2 - "Five Mexicans Held"
[S]- July 28, 1932 p3 - "Cultivation of Marihuana Leads to Court charges"
[S]- Aug 20, 1932 p3 - Crazed Man Kills Three in Juarez"
[S]- Oct 12, 1932 p10 - "Marihuana Blamed for Orgy of Man"
[S]- Mar 20, 1933 p8 - "Mexican Held on Marijuana Count"
[S]- July 10, 1935 p3 - "Bond Reduced in smuggling Case"
[S]- May 15, 1936 p11 - "Marijuana Raised by State Itself"
[S]- Feb 19, 1937 p5 - "Push Probe into Narcotics Ring"
[S]- May 19, 1937 p5 - "Youths Held For Selling Marihuana"
[S]- June 23, 1937 p1 - "Marijuana Farms In South Texas To Be Checked" - Lord HeHa
[S]- June 24, 1937 p12 - "Ranger Investigating Marijuana Reports" - Lord HeHa
[S]- June 25, 1937 p16 - "Hemp Industry Head Defends Valley Crop" - Lord HeHa
[S]- July 20, 1937 p12 - "Marihuana Found, Complaints Filed"
[S]- July 27, 1937 p10 - "Field of Marijuana Destroyed; Plant Banned In Texas" - Lord HeHa
[S]- July 27, 1937 p12 - "No Marijuana In Abilene Vicinity"
[S]- Aug 10, 1937 p9 - "State Rests Case Against Vince Boss" - Gore File
[S]- Aug 11, 1937 p1 - "Argument Starts in Boss Trial" - Gore File
[S]- Aug 12, 1937 p5 - "Aged And Toothless Mexican Arrested On Narcotic Charges"
[S]- Aug 14, 1937 p5 - "New Trial Motion Filed For Boss" -- Gore File
[S]- Aug 18, 1937 p12 - "Marihuana Seized"
[S]- Sep 10, 1937 p9 - "Uncle Sam Soon to Control Marihuana"
[S]- Oct 1, 1937 p7 - "Marihuana Tax Law Goes Into Effect Today"
[S]- Mar 17, 1938 p5 - "Vendor Fools Federal Men"
[S]- Mar 31, 1938 p1 - "El Paso girl Attacked"
[S]- April 26, 1938 p4 - "Narcotics Agents Arrest, Charge 125"
[S]- May 29, 1938 p6 - "Marihuana Seized"
[S]- July 20, 1938 p12 - "Weed Taken Here Will Be Analyzed"
[S]- July 20, 1938 p1 - "Dope Ring Quiz Strikes Snag"
[S]- Aug 2, 1938 p9 - "State Takes Life of Houston Youth" - Gore File
[S]- Aug 13, 1938 p6 - "State Continues Marijuana War"
[S]- Sep 23, 1938 p1 - "Legion Elects, Ends Conclave"
[S]- Nov 18, 1938 p16 - "Government Spy case Set Back"
[S]- Nov 26, 1938 p1 - "Sweet Dreams and Empty Pockets are Hop Head sole Possessions"
[S]- Dec 30, 1938 p11 - "Marijuana Probe Pushed at Houston"
[S]- Feb 3, 1939 p13 - "Dope Peddler may Deal in Small Lots, but as Wholesaler's Aid, He Isn't Small Time"
[S]- Feb 13, 1939 p9 - "Mexican Arraigned for Marijuana Sales"
[S]- Feb 14, 1939 p3 - "Mexican Makes Bond on Narcotics Charge"
[S]- Mar 10, 1939 p5 - "Bradbury's bill to Teach Effects of Drugs Praised"
[S]- June 17, 1939 p2 - "Suspect's bonds Set in Marijuana Case"
[S]- Sep 22, 1939 p10 - "Shine Boy Called Marijuana Source"
[S]- Nov 12, 1939 p10 - "Pair Blames Spree for Kidnap, Rape" - Gore File
[S]- Nov 29, 1939 p9 - "Treasury Agent cleard in Death"
[S]- Jan 24, 1940 p4 - "Negro charged With Marijuana Possession"
[S]- Feb 6, 1941 p4 - "Doctor Sentenced in narcotics Case"
[S]- May 27, 1941 p11 - "Woman Freed in Marijuana Case"
[S]- Mar 17, 1952 p1 - "Abienian Escapes Wichita Falls Jail"

ABILENE MORNING NEWS
[S]- Feb 28, 1931 p9 - - Texas Briefs - short
[S]- Mar 21, 1933 p4 - "Mexican Held on Marijuana Count"

AMERILLO GLOBE The Amerillo Globe
[e]- June 16, 1932 pg.11, C,2] "Charge Marijuana Sales to Youths"
[e]- Aug. 4, 1932 pg.3, C,4] "Mexican Jailed Here On Forbidden Weed Charges"
[e]- Nov. 15, 1934 pg.7, C.1] "Mexicans Held With Sack of Marijuana"
[Wanted] - July 26, 1938 - p2, C.2 - Jose Carroll is charged with marihuana possession
[e]- Feb. 22, 1938 pg.1] "Marihuana Found?"
[e]- Nov. 20, 1938 pg.1. C.6] "Arrests Mark Opening of Police Marihuana Drive"
[e]- Dec 1, 1938 pg. 1, C.1] "That Funny Reefer man' Scare here a Drive Continues"

" Incidents from the book "Marihuana Murder"
Victim = Dorothy Snelson: - Note - no mention of Marihuana is made.
[**]- May 29, 1944 - p1- Grill murder Suspects"
[**]- May 29th, 1944 - Reward for mad jack the ripper killer. as seen in the Book "Marihuana Murder". Killing took place the day before. victim = Dorothy Snelson
[**]- May 30, 1944 pg.1. Two Held for Murder Quiz
[**]- June 1, 1944 p1- "Stained Garments May Yield Murder Clue in Human Blood"
[**]- June 2, 1944 p 1 Widen Search for Clue - Doroth Snelson Case

DALLAS MORNING NEWS
http://nl.newsbank.com/nl-search/we/Archives?p_action=keyword&p_product=DMEC&p_theme=dmec
[Wanted]- March 2, 1893 Antera and Their Growth
[Wanted]- August 6, 1893 Billions of Cigarettes
[Wanted]- April 12, 1896 Texas Experiments
[Wanted]- June 6, 1899 Phorty Phunny Phellows
[Wanted]- July 11, 1899 Entral Texas Physicians
[Wanted]- August 28, 1899 Phorty Phunny Phellows
[Wanted]- October 1, 1899 Phorty Phunny Phellows
[Wanted]- October 8, 1899 King Boba's Biography
[Wanted]- October 16, 1899 King Bobadillo Coming
[Wanted]- February 19, 1906 Attacks on Pastors
[Wanted]- February 17, 1907Proposed Pure Food Law
[Wanted]- April 1, 1907 Texas Pure Food Bill
[Wanted]- May 4, 1907 Pure Food Act Construed
[Wanted]- June 20, 1907 Pure Food And Drugs
[Wanted]- July 14, 1907 Compounding of Prescriptions
[Wanted]- July 21, 1907 The Scrap Pile
[Wanted]- August 7, 1909 Attorney General's Ruling
[Wanted]- December 5, 1909 Questions and Answers
[Wanted]- April 5, 1913 Remedy for an Aching Corn
[Wanted]- October 13, 1913 Desperate Fight for Life by People on Burning Ship
[Wanted]- February 4, 1915 Awarded Carnegie Hero Medal for His Bravery
[Wanted]- August 29, 1919 Mexican Columns Sway in Saddles to Tune of Song "La Cucaracha"
[Wanted]- October 18, 1920 Fines Will be Imposed on Marihuana Growers
[Wanted]- April 13, 1921 Police Find Drugs in Raid in Little Mexico
[Wanted]- April 23, 1921 Marihuana Leaves Not Classed among Narcotics
[Wanted]- April 27, 1921 Smoking of Marihuana Investigated
[Wanted]- May 25, 1921 Lufkin Beats Cannabis
[Wanted]- June 11, 1921 Discovery of Narcotic Chop Leads to Arrest
[Wanted]- May 17, 1923 Diet and Health
[Wanted]- July 26, 1923 Mexican, Crazed by Smoking Marihuana, Uses Knife on Five
[Wanted]- January 26, 1924 Marihuana - Crazed Attempts a Holdup
[Wanted]- August 10, 1924 Drug-Bearing Tree Cut down and Stolen from Houston Owner's Yard
[Wanted]- September 20, 1924 Diet and Health
[Wanted]- October 3, 1924 Bad Liquor Sold Across Rio Grande
[Wanted]- December 7, 1924 Uncanny Methods of Dope Runners
[Wanted]- July 26, 1925 Crazed Youth Dares Death, but is Unhurt
[Wanted]- October 3, 1925 Two Men Beat up Girl, Then Attack Officer
[Wanted]- November 13, 1925 Marihuana Seized in Mexican Quarter
[Wanted]- January 7, 1926 Indians Plead with Moody Not to Put Ban on Plant Used in Rites
[Wanted]- March 14, 1926 The Candid Confessions of a Reducer
[Wanted]- October 23, 1926 Think Marihuana Being Sold
[Wanted]- December 31, 1926 Marijuana Use Spreads Fast
[Wanted]- October 20, 1927 99-Year Convict Denied Rehearing
[Wanted]- November 14, 1929 American Apocynoceous Plant, Otherwise Marihuana, Object of New Law Sheppard Proposes
[Wanted]- January 29, 1931 First Marijuana Charge in History in County Courts
[Wanted]- February 6, 1931 "Loco Weed" Peddler Gets Month in Jail
[Wanted]- February 24, 1931 Narcotic Law's Reform Asked of Legislature
[Wanted]- March 5, 1931 Marijuana's Use Spreading in U. S., Hobson Declares
[Wanted]- March 6, 1931 I See in the News This Morning That
[Wanted]- March 6, 1931 Marijuana Smallest Worry of Dallas in Narcotic Violations
[Wanted]- April 16, 1931 Sterling Requests New Narcotic Law
[Wanted]- April 18, 1931 Bill Giving Bonus to Rural School Districts Passes
[Wanted]- April 19, 1931 20 Days Left of Legislature Not Sufficient
[Wanted]- May 2, 1931 Narcotics Law Goes into Effect
[Wanted]- May 3, 1931 Juan and Family to Forego Annual Trip to Beet Fields
[Wanted]- May 4, 1931 Juan and Family to Forego Annual Trip to Beet Fields
[Wanted]- May 6, 1931 Dallas Woman Gets Pen Used to Sign Antinarcotic Bill
[Wanted]- September 16, 1931 Man Claims He Did Not Possess '' Mary Jane ' but Gets Two Years
[Wanted]- November 15, 1931 Mummy's Hand and Waterloo Shell
[Wanted]- November 15, 1931 Some Confessions of a Peyote Smoker
[Wanted]- January 5, 1932 Marihuana Seized and Mexican Held
[Wanted]- February 27, 1932 Drug Trafficking Found on Decline for Dallas Users
[Wanted]- March 27, 1932 Charge Marihuana Sold to Students
[Wanted]- March 30, 1932 Uncover Cache of Loco Weed, Lock up Seven
[Wanted]- June 5, 1932 Sneaking Weed to Pal in Jail Brings Reunion
[Wanted]- July 5, 1932 First Marijuana Crop Makes Grower Trouble
[Wanted]- August 2, 1932 Appeals Are Filed in Criminal Cases
[Wanted]- August 20, 1932 Three Shot to Death by Marihuana Smoker
[Wanted]- January 18, 1933 Plans for Robbery of Grapevine Bank Detailed in Court
[Wanted]- January 29, 1933 Loco Weed Found and Three Named in Court Charges
[Wanted]- March 12, 1933 Woman Files Appeal from Fine of $50
[Wanted]- June 24, 1933 Marijuana Blamed by Youths Given Theft Pen Terms
[Wanted]- January 22, 1934 Two Youths Arrested Possessing Marijuana
[Wanted]- April 23, 1934 Queen Mario, Metropolitan Soprano, to be Heard Monday over WFAA
[Wanted]- July 6, 1934 Large Marijuana Crop Destroyed in Little Mexico
[Wanted]- August 7, 1934 Stalk of Marijuana Seven Feet Tall is Found in Oak Cliff
[Wanted]- October 7, 1934 Picturesque Mexican Words Finding Way into Language Southwesterner Uses Daily
[Wanted]- October 12, 1934 The State Press
[Wanted]- August 22, 1935 Hemp Revival Seen as Crop is Mechanized
[Wanted]- August 24, 1935 Hemp Grown in Texas in 1928 at Sugarland
[Wanted]- September 25, 1935 Convict, after 12-Hour Denial, Admits 4-Year Mystery Slaying
[Wanted]- October 24, 1935 Japan Flooding World with Narcotics, Says White Cross Director
[Wanted]- October 27, 1935 Alleged Gangster Slayer of Eleven Found Strangled
[Wanted]- November 7, 1935 Convicts Are Given More Time to Serve for Prison Offenses
[Wanted]- November 17, 1935 Progress is Made in U. S. Battle on Deadly Marijuana
[Wanted]- May 10, 1936 Police Seize $1,000 Loco Weed
[Wanted]- June 10, 1936 Narcotics Flood City and 20 Addicts Jailed
[Wanted]- June 21, 1936 Reform Manana
[Wanted]- June 25, 1936 Marijuana Den with Open Air Resort Raided
[Wanted]- June 25, 1936 Marijuana Den with Open Air Resort Raided
[Wanted]- June 29, 1936 Letters from Readers
[Wanted]- July 6, 1936 Letters from Readers
[Wanted]- July 26, 1936 Downtown Amusements
[Wanted]- August 1, 1936 Dallas Film Starlet Welcomed Home after Absence of Two Years
[Wanted]- August 1, 1936 Majestic Shows Loy and Baxter in New Picture
[Wanted]- August 2, 1936 Capitol Proffers Film Vice Expose
[Wanted]- September 12, 1936 Uniform Narcotic Law for Texas Will Be Sought
[Wanted]- September 14, 1936 Marijuana Plants Destroyed by Police
[Wanted]- October 4, 1936 History and Science Began in United States in the Texas Region
[Wanted]- October 4, 1936 Use Vote to Save U.S. Woman's Club President Urges
[Wanted]- October 4, 1936 Medicine Resumes Its Role in Mexico after Long Lapse
[Wanted]- November 1, 1936 Marijuana Fags Pupil Has Start Police Inquiry
[Wanted]- November 20, 1936 Beaumont is Given P. T. Session; Child Labor Law Sought
[Wanted]- December 18, 1936 $1,350 of Ground Marijuana Found in Little Mexico
[Wanted]- December 21, 1936 Controlling Marijuana Traffic Keeping Dallas Police Busy
[Wanted]- January 6, 1937 Kitty Barrett Gets Contract for Film Work
[Wanted]- January 10, 1937 Club Federation Board to Convene at Capital City
[Wanted]- January 16, 1937 National Campaign Against Marihuana is Federation Aim
[Wanted]- January 26, 1937 Drunk Driving to Result in Murder Cases
[Wanted]- February 10, 1937 Grocer Killing Case Placed in Hands of Jury
[Wanted]- February 11, 1937 Inflation Threat
[Wanted]- February 12, 1937 "Marihuana" to Have Three-Day Astor Run
[Wanted]- February 16, 1937 Having Marijuana Fags Results in Prison Term
[Wanted]- February 19, 1937 Schoolboy Admits Selling Marijuana to Fellow Pupils
[Wanted]- February 21, 1937 Grand Jury Clears 14 and Indicts 8
[Wanted]- February 27, 1937 Tribute of $292,000 Levied Yearly Here by Thieving Addicts
[Wanted]- March 17, 1937 Seven Children See Mother, Held on Marijuana Charge, Saved from Term in Prison
[Wanted]- April 2, 1937 Texas Narcotic Conditions Worst in United States, Allred Declares
[Wanted]- April 14, 1937 Movie of Murder, Put on in Court, is Shock to Audience
[Wanted]- May 30, 1937 Ex-Bootleggers Lured By Marihuana Racket
[Wanted]- June 30, 1937 Marijuana Sufficient to Loco Thousands is Found Growing in City
[Wanted]- July 24, 1937 U. S. Starts Drive to Rid Country of Marijuana Patch
[Wanted]- July 24, 1937 U. S. Starts Drive to Rid Country of Marijuana Patch
[Wanted]- July 25, 1937 Marijuana Drive May Ruin Hemp Fields in Texas
[Wanted]- July 26, 1937 War on Marijuana Federal Men Wage Joined by Policemen
[Wanted]- July 27, 1937 580 Acres of Hemp, Base of Marijuana, Burned and Buried
[Wanted]- July 27, 1937 Marijuana Crusade
[Wanted]- August 11, 1937 Federal and State Officials to Back Marijuana Statute
[Wanted]- August 12, 1937 Marijuana Plants Burned 1
[Wanted]- August 20, 1937 Marijuana Possession Charged 1
[Wanted]- September 9, 1937G-Man Hoover's Crime Articles to Appear in News Magazine Endorsed by Gang Buster Lord
[Wanted]- September 24, 1937 Marijuana War to be Waged by Combined Army
[Wanted]- October 5, 1937 La Cucaracha Soon No Podra Caminar under New Federal Law to Regulate Marijuana
[Wanted]- October 13, 1937 Marijuana Seller Caught by Police
[Wanted]- October 16, 1937Marijuana Taking Liquor's Place as Contraband Item
[Wanted]- October 21, 1937 Police Nab Woman Marijuana Seller
[Wanted]- October 21, 1937 Marijuana Possession Puts Woman in Jail
[Wanted]- October 26, 1937 Negro Assaulter Indicted; Trial Scheduled Nov. 1
[Wanted]- October 26, 1937 Big Deal in Marijuana Flops as Police Raid Venture; $10 Stock Now $16,000 Liability
[Wanted]- October 26, 1937 Jurors Indict One Every 15 Minutes' Work
[Wanted]- October 27, 1937 18 More Indicted by Fast-Working U. S. Grand Jurors
[Wanted]- October 27, 1937 Drama Passes before Judge in Dope Trials
[Wanted]- October 28, 1937 Court's Speed Brings Protest from Attorney
[Wanted]- October 29, 1937 Drug Agents Arrest 19
[Wanted]- November 3, 1937 Narcotic Office Looks Like Haymow; All Kinds of Weeds Found in Marijuana Search
[Wanted]- November 9, 1937 Policy Games Are Broken up by Two Raids
[Wanted]- November 10, 1937 Mother Held, Boy Freed by Davis in His First Hearing
[Wanted]- November 11, 1937 Two Years Given Negro for Having Marijuana
[Wanted]- December 5, 1937 Marijuana Charge
[Wanted]- January 4, 1938 Wire-Tapping Evidence Ruled out, Jury Finds Defendant Guilty
[Wanted]- January 6, 1938 Five Years Assessed in Drug Law Violation
[Wanted]- January 9, 1938 Women Fight Marijuana Sale to Youth
[Wanted]- February 3, 1938 Yule Eve Thief Gets Five Years for Taking $215
[Wanted]- February 5, 1938 Drive on Narcotics
[Wanted]- February 5, 1938 Jury Disregards Alibi and Gives Bandit 99 Years
[Wanted]- February 17, 1938 Texas Woman Ranger Disillusions New Yorkers with No Six-Guns, Woolly Chaps or Boots
[Wanted]- February 19, 1938 Jury Indicts 43, Mostly Liquor, Dope Violations
[Wanted]- February 20, 1938 Marijuana New Threat in War on Narcotics
[Wanted]- February 21, 1938 The State Press
[Wanted]- February 23, 1938 Lost Lady
[Wanted]- February 23, 1938 Boys, Girls Found in Marijuana Den
[Wanted]- February 23, 1938 Used Marijuana as Water Cure, He Says; Jailed
[Wanted]- February 24, 1938 Negro Denies Having Marijuana Cigarettes
[Wanted]- February 24, 1938 Lost Lady
[Wanted]- February 24, 1938 The Marijuana Menace
[Wanted]- February 26, 1938 Lost Lady
[Wanted]- March 3, 1938 Lost Lady
[Wanted]- March 6, 1938 Gets Yale Appointment
[Wanted]- March 9, 1938 Lost Lady
[Wanted]- March 24, 1938 Marijuana Mere Tea, Suspect Says; Court Will Decide Claim
[Wanted]- March 31, 1938 Crazed by Marijuana, Rapist Attacks Girl, 20
[Wanted]- March 31, 1938 Undercover Work Alibi Fails Negro
[Wanted]- April 2, 1938 The State Press
[Wanted]- April 8, 1938 Parent Education Studied at Club Convention
[Wanted]- April 20, 1938 Charged in Marijuana Case
[Wanted]- April 24, 1938 Organization Activities
[Wanted]- May 8, 1938 Stiff Sentences Curb Traffic in Marijuana
[Wanted]- May 15, 1938 Marijuana Sale Charged
[Wanted]- May 26, 1938 Women's Clubs Back Big Bend Park Project
[Wanted]- May 26, 1938 War on Marijuana
[Wanted]- May 27, 1938G-Man Traces Beating of U.S. Prisoner
[Wanted]- June 22, 1938 Policeman Sniffs Air, Catches Marijuana Smoker, Three Others
[Wanted]- July 30, 1938 3,000 Pounds of Marijuana Seized by Raiders on River Bottom Farm
[Wanted]- July 31, 1938 Two Marijuana Farmers Free
[Wanted]- August 1, 1938 Cows Aim at Moon Hop; Blame Put on Marijuana
[Wanted]- August 2, 1938 Houston Man Pays Penalty for Slaying
[Wanted]- August 7, 1938 200 Marijuana Plants Worth $5,000 Burned near Mesquite
[Wanted]- August 7, 1938 Canaries Sing Too Well; Birdseed is Marijuana
[Wanted]- August 12, 1938 State's War on Marijuana Curbs Crime
[Wanted]- August 19, 1938 War on Marijuana
[Wanted]- August 25, 1938 Marijuana Charges Filed
[Wanted]- September 8, 1938 Campaign Against Marijuana Planned
[Wanted]- September 9, 1938 Marijuana Seized near Kerens
[Wanted]- September 9, 1938 Two Indicted in Waco Filling Station Holdup
[Wanted]- September 10, 1938 Marijuana Charges Denied
[Wanted]- September 15, 1938 Judge Bush to Talk to Cliff Kiwanians
[Wanted]- September 17, 1938 Seeds of Marijuana Sprout Trouble for Negro Giant
[Wanted]- September 18, 1938 Marijuana Cultivated to School Detectives
[Wanted]- September 20, 1938 Bonds Set for Three in Marijuana Cases
[Wanted]- September 24, 1938 That Body of Yours
[Wanted]- October 5, 1938 Boy Buys Marijuana, Seller Gets 10 Years
[Wanted]- October 6, 1938P.-T.A. Council Wars Against Gaming Devices
[Wanted]- October 12, 1938 Arrested Boy Needs CCC Camp, Not Prison, U.S. Official Pleads
[Wanted]- October 23, 1938 Letters from Readers
[Wanted]- October 30, 1938 Elaborate Program Prepared for Federation's Convention
[Wanted]- November 1, 1938 Marijuana Use is Increasing
[Wanted]- November 1, 1938 2-Year Search for Marijuana Peddler Ends
[Wanted]- November 5, 1938 Clubwomen Gather for State Meet
[Wanted]- November 15, 1938 Negro Charged with Selling Children Drug
[Wanted]- November 16, 1938 Negro Woman Caught Making Fags of Dope
[Wanted]- November 18, 1938 Negro Named in Marijuana Case Again
[Wanted]- November 18, 1938 U.S. Indictments Charge 56; Trials Set for Dec. 5
[Wanted]- November 21, 1938 Fifth District Legion Hails Radical Expose
[Wanted]- November 24, 1938 U.S. to Allow No Delays at Court Session
[Wanted]- November 27, 1938 87 to be Tried for Violating Federal Laws
[Wanted]- December 6, 193830 Draw Terms as U . S . Court Starts; Thug Floors Pal, Gets Another Year
[Wanted]- December 7, 1938 Nine Violators Feel Wrath of Federal Court
[Wanted]- December 8, 1938 Federal Government to Stamp out Sales of Marijuana Here
[Wanted]- December 9, 1938 Efforts of U. S. Agents Sought on Marijuana
[Wanted]- December 22, 1938 Two Arrested in Dope Sale to Students
[Wanted]- December 30, 1938 Two Captured in New Drive on Narcotics
[Wanted]- December 31, 1938 Agent Arrests Woman Seller of Marijuana
[Wanted]- January 5, 1939 School Tax Levy Again Advocated in P. T. A. Address
[Wanted]- January 8, 1939 Evils of Marijuana Topic for Electra Club
[Wanted]- January 14, 1939 Children Sell Dope on Street in New York
[Wanted]- January 17, 1939 Marijuana Evils Subject for Two P.- T. A. Lectures
[Wanted]- January 18, 1939P.-T. A. Council to Hear Talks on Marijuana
[Wanted]- January 20, 1939 Second Lecture due on Marijuana Friday
[Wanted]- January 25, 1939 It's Strong Evidence Official Agrees as Whifs Negro's Shoes
[Wanted]- January 27, 1939 Hard Luck Trails Him, Negro Says on Marijuana Arrest
[Wanted]- January 30, 1939 Science Briefs
[Wanted]- January 31, 1939 26 Persons Indicted on First Day by New Federal Grand Jury
[Wanted]- February 3, 1939 Marijuana Crops Growing on Vacant Lots of Dallas Top Federal Nuisance List
[Wanted]- February 4, 1939 66 Indicted by Federal Jury; Eight Named as Boxcar Theft Conspirators
[Wanted]- February 5, 1939 20 Sentenced for 31 Years by U.S. Court
[Wanted]- February 6, 1939 Dope Raiders Nab New York Ringleaders
[Wanted]- February 10, 1939 What other Papers Say
[Wanted]- February 14, 1939 Marijuana Possession Admitted by Negroes
[Wanted]- February 15, 193923 Get Sentences, 5 in Theft Ring, in Federal Court
[Wanted]- February 19, 1939 14 Varieties of Crime on U. S. Docket
[Wanted]- February 21, 1939Called Biggest since Dry Era
[Wanted]- February 25, 1939 Texas is Branded One of Three Dope Centers
[Wanted]- February 26, 1939 5-Year Term Assessed in Narcotic Case
[Wanted]- March 5, 1939 Hour's Custody Pays $30 Fine in Dope Case
[Wanted]- March 9, 1939 Effect of Dope Urged as College Course
[Wanted]- March 9, 1939 Swift Action Promised on 12 Federal Cases
[Wanted]- March 10, 1939 Gloomy Story of Innocents in New York
[Wanted]- March 14, 1939 4 Marijuana Arrests Made
[Wanted]- March 14, 1939 Dads to Hear Lecture on Drug Habit Evils
[Wanted]- March 17, 1939 Widening Use of Marijuana, New U. S. Laws Zoom Federal Prison Population to Record
[Wanted]- March 18, 1939 Three Face Charges on Marijuana Sale
[Wanted]- March 19, 1939 Probationers, 5 Others Get Stiff Terms
[Wanted]- March 21, 1939 Marjuana Suspect Jailed by Inspector
[Wanted]- March 28, 1939 18 Convicted on Dope Law Go to Prison
[Wanted]- March 30, 1939 Two Jessie Garcias Face Trial; Which is Which? State's Puzzle
[Wanted]- April 3, 1939 Close Check Keeps Uncle Sam's Parolees on Straight, Narrow
[Wanted]- April 7, 1939 Women's Clubs to Make Study of Legislation
[Wanted]- April 13, 1939 1,282 Grains of Marijuana Are Seized
[Wanted]- April 27, 1939 Girl Nabbed in Drive to Halt Marijuana Sales to Students
[Wanted]- April 28, 1939 War on Narcotics Asked in Fort Worth
[Wanted]- April 28, 1939 War on Narcotics Asked in Fort Worth
[Wanted]- May 4, 1939 Negro Peddles Drugs to Pupils, Given 2 Years
[Wanted]- May 11, 1939 Farmers Face Still Charges
[Wanted]- May 12, 1939 Mail Thefts Put Cliff Boys behind Bars
[Wanted]- May 12, 1939 Indictments by U. S. Jury Name 18 More
[Wanted]- May 14, 1939 Only 11 out of 111 Persons Not Convicted during Closing Criminal Term in U.S. Court
[Wanted]- May 14, 1939 Alleged Dope Gangster Caught, Pleads Guilty
[Wanted]- May 16, 1939 U. S. Convicts Given Prison Designations
[Wanted]- May 25, 1939 Marijuana Complaints Lodged Against Three
[Wanted]- May 30, 1939 4 Sentenced by U.S., One as Pretender
[Wanted]- May 30, 1939 Loud Prisoner Forfeits His Title with Soft Answer
[Wanted]- June 15, 1939 Reefer Man and Victim
[Wanted]- June 15, 1939 World Premiere due for Capitol Picture
[Wanted]- June 18, 1939 Capitol Does some More Exposing of Vice in Film
[Wanted]- July 5, 1939 Legion Plans Broad Service, Civic Program
[Wanted]- July 13, 1939 Marihuana Charges Filed
[Wanted]- July 19, 1939 Childbirth Story in Marijuana Case Ignored by Judge
[Wanted]- July 21, 1939 Deported to Mexico 4 Times, Tought Alien Slips in Again
[Wanted]- July 22, 1939 Defendant's Wife Showers Attorney with Small Coins
[Wanted]- August 5, 1939 Big Marijuana Supply, Dope Seized; 8 Held
[Wanted]- August 18, 1939 Marijuana Charges Filed
[Wanted]- August 20, 1939 State Narcotic Office Here Closes Sept. 1
[Wanted]- September 10, 1939 U.S. Orders Man Jailed for $125,000 Debt
[Wanted]- September 13, 1939 U.S. Approves Cash in Chase of Marijuana
[Wanted]- September 22, 1939 Drive Ordered on Peddlers of Marijuana
[Wanted]- September 22, 1939 Eighty-Five Indicted; Land Fraud Inquiry Brings Charges of Fraud through Mail
[Wanted]- September 23, 1939 Pleas Ignored, Dope Peddler Given 10 Years
[Wanted]- September 24, 1939 U.S. Judges Clear Dockets for Big Cases
[Wanted]- October 6, 1939 Fugitive Youths from Industrial School Indicted
[Wanted]- October 17, 1939 U.S. Seizes Two Autos in Narcotic Cases
[Wanted]- November 2, 1939 Trains Kill Two, One Carrying Marijuana
[Wanted]- November 9, 1939 Smoke Marijuana, be Happy, Reefer Salesmen Tell Kids; Yeh, be Happy, Maybe Go Crazy
[Wanted]- November 12, 1939 Possessor of Marijuana Says He Was Delivering it to Government Agent
[Wanted]- November 18, 1939 Pleads Guilty in Marijuana Case
[Wanted]- November 28, 1939 U. S. Agent Slays Mexican
[Wanted]- December 13, 1939 Drive an Marijuana
[Wanted]- December 28, 1939 Big Marijuana Supply Seized
[Wanted]- January 24, 1940 Spurious Coin Indictments Charge Two
[Wanted]- January 25, 1940 Young Lawyers Get Chance at Experience in Federal Court Trials
[Wanted]- January 27, 1940 5-Year Terms Given 4 Men in U.S. Court
[Wanted]- February 16, 1940 Last Night on the Police Beat
[Wanted]- February 20, 1940 Buried Treasure
[Wanted]- March 1, 1940 Marijuana Drive Sends Prices up; 7th Arrest Made
[Wanted]- March 5, 1940 Reefers Tucked in Underwear Exhibit a for Marijuana Case
[Wanted]- March 6, 1940 Two Men Accused of Marijuana Sales
[Wanted]- March 7, 1940 Faces New Marijuana Charge
[Wanted]- March 16, 1940 Parole-Revoking Hearings Set
[Wanted]- March 19, 1940 9 Dallasites Indicted, Face Federal Trial
[Wanted]- March 23, 1940 Marijuana Hidden in Underwear Brings Year Prison Sentence 290. March 23, 1940 Thinking out Loud
[Wanted]- April 6, 1940 U.S. Grand Jury to be Convened in Dallas May 6
[Wanted]- May 7, 1940 Judge Chides Narcotic Force in Car Seizure
[Wanted]- May 11, 1940 Mail Fraud Charge Laid to Dallasite
[Wanted]- May 14, 19403 Sentenced for Robbing Post Office
[Wanted]- May 17, 1940 Pecan Shipper Fined as Court Term Ends
[Wanted]- June 1, 1940 Local Notes
[Wanted]- June 17, 1940 War News in Pictures--Radio Photos Show German Occupation of Paris
[Wanted]- June 28, 1940 Denies Marijuana Charge
[Wanted]- June 30, 1940 Won't be Good, So They'll Go Back to Prison
[Wanted]- July 6, 1940 Marijuana in Home Not His
[Wanted]- July 13, 1940 One Suspect Released, One Held in Dope Case
[Wanted]- July 18, 1940 5 Held in Sale of Marijuana
[Wanted]- July 19, 1940 3 More Charged by Policemen in Marijuana Drive
[Wanted]- July 20, 1940 Raiders Get Enough Marijuana on Farm near Dallas to Roll $5,250 Worth of Cigarettes 305. July 21, 19405 Men Arraigned after Marijuana Seized by Police
[Wanted]- July 23, 1940 Woman is Charged in Marijuana Case
[Wanted]- July 24, 1940 Two Arraigned in Reefer Sales
[Wanted]- August 14, 1940 The State Press
[Wanted]- August 15, 1940 Cervantes Was Right
[Wanted]- August 15, 1940 Marijuana Traffic Jolted by Agents
[Wanted]- August 20, 1940 Local Notes
[Wanted]- August 22, 1940 U.S. Sifting Ill Effects of Marijuana
[Wanted]- September 6, 1940 Local Notes
[Wanted]- September 7, 1940 Deny Marijuana Charge
[Wanted]- September 19, 1940 Seven Charged in U.S. Court Drug Cases
[Wanted]- September 19, 1940 The State Press
[Wanted]- September 20, 1940 Dope Officer Probe Asked by Judge
[Wanted]- October 1, 1940 Admits Having Suitcase Full of Marijuana
[Wanted]- November 1, 1940 Negro Pointed out as Killer in Courtroom
[Wanted]- November 2, 1940 949 Arrests by Vice Squad Made in Month
[Wanted]- November 2, 1940 Death Given for Slaying at Alvarado
[Wanted]- November 15, 1940 Indictments Name 8 Dallasites for U.S. Trials Here
[Wanted]- January 15, 1941 Local Notes
[Wanted]- January 19, 1941 Two Plead Innocent in Marijuana Charges
[Wanted]- January 20, 194 1 U.S. Recalls Dope Agents from Mexico
[Wanted]- January 21, 194 1 Hearing Held on Drug, Counterfeiting Cases
[Wanted]- January 22, 1941 Marijuana Bonds Set
[Wanted]- January 25, 1941 Guilty Plea Entered to Marijuana Charge
[Wanted]- January 29, 1941 Liquor Bond Set
[Wanted]- January 29, 1941 Two Bills Aim at Narcotic, Liquor Evils
[Wanted]- January 30, 1941 Druggist is Accused of Selling Paregoric
[Wanted]- February 2, 1941 Federal Officers Call 171 Witnesses for Grand Jurors
[Wanted]- February 4, 1941 Former Park Board Probe to be Started
[Wanted]- February 5, 1941 With Ten Months to Pay Fine of $500, Honolulu Resident Will Return to His Job There
[Wanted]- February 9, 1941 Youngster Denies He Stole Car on Wedding Night
[Wanted]- February 19, 1941 Calendar of Club Meetings
[Wanted]- February 25, 1941 Four Men Face Marijuana Charges
[Wanted]- March 5, 1941 Illicit Narcotic Was Planted, Druggist Says
[Wanted]- March 5, 1941 Respecting Law Advised to End Youths' Crime
[Wanted]- March 19, 1941 Dallas Cases Set in Fort Worth
[Wanted]- March 25, 1941 The State Press
[Wanted]- March 27, 1941 Drug Charge Admitted
[Wanted]- April 8, 19419 Persons Sentenced
[Wanted]- April 24, 1941 Guilty Plea Entered
[Wanted]- April 29, 1941 Word Stories
[Wanted]- June 10, 1941 Denial of Guilt Nets Boy Killer 8 Years Extra
[Wanted]- June 15, 1941 75 Cases Await Grand Jury of Federal Court
[Wanted]- June 15, 1941 20 Peddlers of Marijuana Are Arrested
[Wanted]- June 17, 1941 Jury Begins Federal Case Inquiries
[Wanted]- June 18, 1941 Terms, Fines Assessed in U.S. Court
[Wanted]- June 18, 1941 Terms, Fines Assessed in U.S. Court
[Wanted]- June 19, 1941 Two Indicted on Charges of Draft Evasion
[Wanted]- June 19, 1941 Mann Act Case up in Federal Court
[Wanted]- June 20, 1941 Juneteenth No Help, Negroes Get Jail Terms
[Wanted]- June 20, 1941 Barrow Billed in U. S. Mail Bag Theft Case
[Wanted]- June 24, 1941 Two Get Fines on Charges of Using Slugs
[Wanted]- July 3, 1941 Shoplifting Charge Causes Revocation of Suspended Term
[Wanted]- August 29, 1941 Serves His Time; Cusses Jailers, So He's Still There
[Wanted]- September 4, 1941 Narcotic Violators' Nemeses Back, Get Marijuana Haul
[Wanted]- September 9, 1941 Science Deals Fateful Blows to Criminals
[Wanted]- September 17, 1941 Boogie Woogie Didoes Guide Federal Agent to Marijuana Peddler
[Wanted]- September 21, 1941 Accused 17-Year-Old Tells Court He's Man, Not Juvenile
[Wanted]- September 23, 1941 Youths' Use of Marijuana on Increase
[Wanted]- September 23, 1941 Youths' Use of Marijuana on Increase
[Wanted]- October 2, 1941 Police Seize 58,342 Grains of Marijuana
[Wanted]- October 11, 1941 2 Dope Peddlers on Delivery Tour Caught by Police
[Wanted]- October 24, 1941 Convicted Man Fights Deportation Effort
[Wanted]- October 26, 1941 Deportation Case Still Unsettled
[Wanted]- November 13, 1941 U. S. Reconciled to War, Speaker Tells Federation
[Wanted]- December 9, 1941 Negro Sells Marijuana; Says He Thought it Was Sage for Turkey Filling
[Wanted]- December 16, 1941 Negro Put under Bond on Draft Board Charge
[Wanted]- January 4, 1942 Law Learns War Has Its Good Points
[Wanted]- February 4, 1942 Marie Barrow Charged under Marijuana Law
[Wanted]- February 18, 1942 Two Are Indicted in Paregoric Case
[Wanted]- February 18, 1942 Marijuana Trial Shows Judge New Angle on Share Cropping
[Wanted]- February 19, 1942 Growing Use of Marijuana Hikes Penalty
[Wanted]- February 21, 1942 Using Ugly Letter to Drive off Girl Nets Man $100 Fine
[Wanted]- February 21, 1942 Marijuana Penalties
[Wanted]- February 23, 1942 Wartime Needs to Speed Industrial Utilization of Texas Varied Crops
[Wanted]- February 24, 1942 Stiffening Resistance
[Wanted]- March 2, 1942 Science Briefs
[Wanted]- March 5, 1942 Jehovah Witness, other Prisoners Begin Sentences
[Wanted]- March 6, 1942 Deputy Will Take 17 to Penitentiary
[Wanted]- March 23, 1942 Safflower, Flax, Peanuts to Occupy Many Acres of Abandoned Fall Oats
[Wanted]- March 25, 1942 Texas Won't Grow Much Hemp for Rope because It's Drug
[Wanted]- April 5, 1942 Sentenced to Prison
[Wanted]- April 16, 1942 Reefer Possession Leads to Charge of Parole Violation
[Wanted]- April 24, 1942 Marie Barrow Probation is Revoked
[Wanted]- June 14, 1942 Oddities of New York Life Reveal City's Diverse Charm
[Wanted]- June 22, 1942 Science Briefs
[Wanted]- July 7, 1942 Court Suspends Sentence to Aid War Effort
[Wanted]- September 23, 1942 Dallas Doctor Indicted for Draft Evasion
[Wanted]- September 24, 1942 Man Who Helps but Hinders War Effort Puzzles Judge
[Wanted]- September 29, 1942 3 Sentenced for Violation of Paroles
[Wanted]- October 14, 1942 Marijuana Charge
[Wanted]- January 13, 1943 Stool Pigeon Blamed for Parolees' Ills
[Wanted]- January 26, 1943 Senate Passes County Road Bond Measure
[Wanted]- February 9, 1943 Wayward Boys Join Marines; Fired, They Mix in Dope Again
[Wanted]- February 26, 1943 Love Making of Novelist Told to Jury
[Wanted]- February 27, 1943 Author Weeps at Trial for Aiding Soldier
[Wanted]- February 28, 1943 Woman Didn't Aid Deserter, Jury Decides
[Wanted]- March 13, 1943 Fleecing of Aspiring Authors is Charged Against Dallasite
[Wanted]- March 20, 1943 House Argues Snuff and Stuff, but Finally Engrosses Bill
[Wanted]- April 8, 1943 10,000 Grains of Marijuana Seized, 2 Held
[Wanted]- April 8, 1943 10,000 Grains of Marijuana Seized, 2 Held
[Wanted]- April 14, 1943 Drug Charge Faced Second Time in Month
[Wanted]- April 28, 1943 Ball, Arnaz Guests on Cantor Show
[Wanted]- May 4, 1943 Interstate Crime Control
[Wanted]- May 7, 1943 Dallasite Gets Laugh as He Hears Broadcast of Axis Propagandists
[Wanted]- May 14, 1943 Federal Jury Indicts 4 on Draft Counts
[Wanted]- June 3, 1943 Marihuana Cigarettes Costing More Money
[Wanted]- June 11, 1943 Zoot Suiters' Riots Called near Anarchy
[Wanted]- June 15, 1943 Popcorn Man Who Left Victims Holding Sack Salted down 2 Years
[Wanted]- July 3, 1943 Krupa Sentenced to Prison Term
[Wanted]- July 22, 1943 Test Your Horse Sense
[Wanted]- July 23, 1943 Nine Federal True Bills Sent to Dallas
[Wanted]- July 23, 1943 Pay Too Small to Buy Tools, So He'll Get Tools and No Pay
[Wanted]- July 25, 1943 Negroes Face Dope Charges
[Wanted]- August 11, 1943 Dallasite Pleads Guilty
[Wanted]- August 13, 1943 Marijuana Grower Had Visions of Hot Canary
[Wanted]- August 27, 1943 Marie Barrow out 7 Weeks, Back in Jail
[Wanted]- September 21, 1943 12 Accused as Gas, Tire Ration Dodgers Fined in U.S. Court
[Wanted]- September 22, 1943 Travel Bureau Operator Charged with Intimidating U.S. Witness
[Wanted]- September 26, 1943 Gas Ration Misuse Brings Fine of $25
[Wanted]- October 6, 1943 Burglary Cases Net 4-Year Terms
[Wanted]- January 26, 1944 11 Face Draft Charges as Jury Bills 18
[Wanted]- January 27, 1944 Guilty Plea Made Here In Kidnapping
[Wanted]- February 9, 1944 Guilty Plea Filed
[Wanted]- February 17, 1944 Two Mothers of Convicts Given Terms
[Wanted]- March 18, 1944 Test Your Horse Sense
[Wanted]- May 10, 1944 Indictments Found in Draft Cases
[Wanted]- May 11, 1944 Woman Given Suspended Term Playing FBI Agent as Joke
[Wanted]- May 11, 1944 Jury Returns 30 Indictments
[Wanted]- May 18, 1944 Terms Fixed in Transport of Moonshine
[Wanted]- May 29, 1944 Soaring Wartime Narcotic Prices in Dallas Forcing Many Addicts to Give Up the Habit
[Wanted]- June 18, 1944 Caught in Crossfire of Four Detectives, Dallasite Fatally Shot
[Wanted]- June 25, 1944 Judicial Dexterity
[Wanted]- August 9, 1944 Abusive Language Helps Parolee Lose Freedom
[Wanted]- August 9, 1944 Wastepaper
[Wanted]- November 23, 1944 Slayer of Common Law Wife Given 20 Years
[Wanted]- December 20, 1944 Suspects Arrested on other Charges Possess Narcotics
[Wanted]- February 3, 1945 New Start in Life on Ranch Given Youth by Federal Judge
[Wanted]- February 11, 1945 Dallas Negro Citizenry Seeks Halt to Race's Appalling Crime Rate
[Wanted]- April 1, 1945 Defendant Blames Marijuana for Driving Him to Steal
[Wanted]- April 8, 1945 After Dinner Story
[Wanted]- June 21, 1945 Federal Jury Excused after Indicting Nine
[Wanted]- July 8, 1945 Judge Revokes Break Given Dallas Youth
[Wanted]- September 19, 1945 U.S. Jurors Ready for Eastus Case
[Wanted]- October 6, 1945 Three More Charged in Narcotics Traffic
[Wanted]- November 6, 1945 Wage, Hour Charge Names Lumber Firm
[Wanted]- January 7, 1946 Three Arrested for Questioning in Armed Holdups
[Wanted]- February 12, 1946 Story of Youthful Mother Led into Drug Addiction Told
[Wanted]- February 24, 1946 Now Ethel Vance Tells Love Story
[Wanted]- March 29, 1946 Youth Bound Over
[Wanted]- May 8, 1946 Jury Sets Inquiry into Liquor Sales
[Wanted]- June 13, 1946 Negro Agent Sent to Halt Dope Trade
[Wanted]- July 27, 1946 Shirley Stockman Retains Probation
[Wanted]- August 4, 1946 Dallas Branded Center of Illicit Narcotic Trade
[Wanted]- August 5, 1946 Dallas Drug Traffic Hits Five Year Peak
[Wanted]- August 16, 1946 Fair Enough
[Wanted]- August 23, 1946 Pair Tried to Hide Drug Habit from Children, Father Asserts
[Wanted]- September 24, 1946 Casual Arrest Bares Dope Cache
[Wanted]- September 25, 194618 Indicted by Grand Jury
[Wanted]- September 26, 1946 Nineteen Indicted by U.S. Grand Jury
[Wanted]- September 26, 1946 Gang Shoots Man in Home
[Wanted]- October 6, 1946 Big-Time Gangsters Threaten to Muscle in, Texans Warned
[Wanted]- November 2, 1946 Butler Trial Witness Charged in Drug Case
[Wanted]- December 19, 1946 Screen. . . in Review
[Wanted]- January 14, 1947 Two Former Dallas Convicts Charged in Virginia War Bonds Burglary Case
[Wanted]- February 14, 1947 Hollywood in Person
[Wanted]- August 19, 1947 Marijuana Found in Routine Search
[Wanted]- September 8, 1947 Abduction, San Antonio Death Linked
[Wanted]- December 3, 1947 $1,500 Bond Fixed in Narcotics Case
[Wanted]- February 26, 1948 Five Years Given in Narcotics Case
[Wanted]- March 5, 1948 Up to 22 Years Given Youth in Nine Misdeeds
[Wanted]- April 8, 1948 Ex-Mailman Sentenced for Check Thefts
[Wanted]- April 20, 1948 Weed That Makes Smokers Go Loco
[Wanted]- August 8, 19483 Marijuana Sellers Seized
[Wanted]- August 31, 1948 The Sport Broadcast
[Wanted]- September 1, 19486-Month Prison Term Probation Revoked
[Wanted]- September 5, 1948 Villain Shrub Slips in Again
[Wanted]- September 7, 1948 Mitchum Story in Dope Arrest Denied Jurors
[Wanted]- September 7, 1948 Mitchum Deal Rocks Film Colony
[Wanted]- September 8, 1948 Jury Indicts Screen Pair
[Wanted]- September 9, 1948 Bobby-Soxers Cheer Mitchum on Court Visit
[Wanted]- September 20, 1948 Scandal Threatens Industry
[Wanted]- September 22, 1948 Chatterbox
[Wanted]- September 27, 1948 Paper Work under Way on Braceros for U. S.
[Wanted]- September 30, 1948 Guilt Denied by Mitchum before Court
[Wanted]- October 8, 1948 Escape to Old Philadelphia May Not Bring Tranquillit
[Wanted]- October 30, 1948 Film Dead Ender Held in Dope Case
[Wanted]- November 2, 1948 Dope Charge Filed Against Dallas Men
[Wanted]- November 15, 1948 Chatterbox
[Wanted]- December 3, 1947 $1,500 Bond Fixed in Narcotics Case
[Wanted]- December 27, 1948 Shirley's Baby Top Movieland Story of 1948
[Wanted]- January 5, 1949 RKO Hopeful of Mitchum Trial End
[Wanted]- January 10, 1949 Robert Mitchum Trial Will Begin Monday
[Wanted]- January 11, 1949 Screen Actor Robert Mitchum Convicted on Marijuana Count
[Wanted]- January 19, 1949 Mitchum Counters with Suit Alleging Privacy Violation
[Wanted]- February 10, 1949 Screen Star Gets 60 Days
[Wanted]- February 15, 1949 Pardoned Convict Ordered Back for Repeating Crime
[Wanted]- February 16, 1949 Chatterbox
[Wanted]- February 19, 1949 Chatterbox
[Wanted]- February 19, 1949 Thinking out Loud
[Wanted]- March 7, 1949 Books in the News
[Wanted]- March 9, 1949 Two Men Indicted in Narcotics Cases
[Wanted]- March 10, 1949 Fails to Make Bond
[Wanted]- March 11, 1949 Dancer Acquitted in Narcotics Case
[Wanted]- March 16, 1949 Jones Gets Basis for Defense Plea
[Wanted]- March 17, 1949 Ford Gets 60 Days in Marijuana Case
[Wanted]- March 18, 1949 Conflict Cited in Testimony by Bob Jones
[Wanted]- March 23, 1949 Six Taken in Drug Raids Staged by Officers Here
[Wanted]- March 24, 1949 6 Arraigned for Peddling of Narcotics
[Wanted]- March 31, 1949 Mitchum Free to Autograph
[Wanted]- April 10, 1949 Spray Leaves; Match Scenes
[Wanted]- April 15, 1949 'the Dark Past' Old Tale Retold
[Wanted]- April 23, 1949 Dallas Man Charged in Marijuana Case
[Wanted]- May 2, 1949 Agents Seize Dope Worth $22,400; Two Men Arrested
[Wanted]- May 3, 19492 Dallas Men Face Narcotics Case Charges
[Wanted]- May 4, 19492 Men Face Drug Charges Second Time
[Wanted]- May 4, 1949 Neighbors Find Selves in Trouble with Government
[Wanted]- May 5, 1949 Pleas of Innocence Entered in Drug Case
[Wanted]- May 5, 1949 Garland Man, 20, is Arraigned in Embezzling Case
[Wanted]- May 7, 1949 8 Witnesses Testify in Drug Case
[Wanted]- May 11, 1949 Federal Jury Indicts Five in Forgeries
[Wanted]- May 12, 1949 5 Sentenced for Forging U.S. Checks
[Wanted]- May 13, 1949 Judge Doubts Story About Jail Beating
[Wanted]- May 14, 1949 Plea of Guilt in Narcotics Case Offered
[Wanted]- May 18, 1949 Marijuana Seized' in Raid on Dwelling
[Wanted]- May 20, 1949 Jailed
[Wanted]- May 20, 1949 Courts Clear 4 More Cases from Dockets
[Wanted]- May 22, 1949 West Dallas Man Given 13 Months in Marijuana Case
[Wanted]- May 22, 1949 Marijuana Charge Handled in Hurry
[Wanted]- June 8, 1949 U.S. Parolee Gives Self Up
[Wanted]- June 21, 1949 Dallas Man Held on Drug Charges
[Wanted]- July 17, 1949 Books in Brief
[Wanted]- July 20, 1949 Texas Sheriffs Given Tips by Narcotic, Liquor Agents
[Wanted]- July 24, 1949 Odd-Looking Plant Balks U.S. Experts
[Wanted]- July 25, 1949 Nags May Take Star from Films
[Wanted]- July 28, 1949 Krupa to Crusade Against Smoking of Marijuana
[Wanted]- August 2, 19492 Men Charged with Possession of Marijuana
[Wanted]- August 25, 1949 Federal Commissioner Absent, Judge Presides at Hearings
[Wanted]- August 25, 1949 Man Given Sentence for Having Marijuana
[Wanted]- August 31, 1949 Marijuana Seized on Tampico Ship
[Wanted]- September 4, 1949 Marijuana Plant to Go on Display
[Wanted]- September 22, 1949 Kaufman Dealer Indicted for Income Tax Evasions
[Wanted]- October 1, 1949 Bob Millar on Bandstand at Cabaret
[Wanted]- October 8, 1949 Three Seized in Bus Depots with 61 Pounds of Marijuana
[Wanted]- October 25, 1949 Three Men Face Narcotic Charges
[Wanted]- October 29, 1949 Earl Smith up Again on Marijuana Charges
[Wanted]- November 2, 1949 Big Spender Learns it Was Counterfeit
[Wanted]- November 3, 1949 Counterfeit Case Defendant Facing Trial in EI Paso
[Wanted]- November 8, 1949 Marijuana Possession Charged to 2 Airmen
[Wanted]- November 11, 1949 Bogus Money Spree Leads to 3 Arrests
[Wanted]- November 15, 1949 Dallas Man, 49, Arraigned on Phone Three Charge
[Wanted]- November 16, 1949 Man Freed on Bond in Marijuana Case
[Wanted]- November 26, 1949 Marijuana Complaint Filed Against Woman
[Wanted]- December 2, 1949 Suspended Sentence Given Teller for Embezzlement
[Wanted]- December 4, 1949 Ex-Employee Charged in Embezzlement
[Wanted]- January 10, 1950 Check Forgery Ring Smashed
[Wanted]- January 13, 1950 Dope Suspect Charged with Sale, Assault
[Wanted]- January 14, 1950 Federal Agents File Marijuana Complaint
[Wanted]- January 18, 1950 Indictments Returned on Nearly Fifty
[Wanted]- January 19, 1950 Girl Testifies She Held Death Gun, Not Sandra
[Wanted]- January 20, 1950 Sandra Gives New Version of Shooting
[Wanted]- January 21, 1950 Jury Declares Sandra Guilty
[Wanted]- January 25, 1950 Marijuana Suspect Given 3-Year Term
[Wanted]- February 1, 1950 Three to be Tried in Narcotics Case
[Wanted]- February 4, 1950 Three Given 12 Years in Drug Trial
[Wanted]- February 8, 1950 Charge Filed in Drug Case
[Wanted]- February 17, 1950 Narcotic Charges Filed Against Two
[Wanted]- February 21, 1950 Two Men Arrested in Narcotics Case
[Wanted]- February 22, 1950 Marijuana Cigarettes Puzzle Sheriff Decker
[Wanted]- February 25, 1950T. J. Myers Charged with Selling Marijuana
[Wanted]- March 1, 1950 Dallas Youth Charged with Possessing Drug
[Wanted]- March 5, 1950 Drug Arrests Show Increase
[Wanted]- March 12, 1950 26-Year-Old Sentenced in Cocaine Case
[Wanted]- March 16, 1950 Narcotic Complaint Filed Against Woman
[Wanted]- March 17, 1950 He Knew He Had Seen Him but Was Hazy on the Place
[Wanted]- March 24, 1950 Druggist Foils Dope -Seeking Forgery Ruse
[Wanted]- March 31, 1950 Ex-Convict Arrested on Drug Charge
[Wanted]- April 1, 1950 Danger Found in Old Advice
[Wanted]- April 5, 1950 Earlier Call Ordered for U. S. Jurors
[Wanted]- April 5, 1950 Marijuana Charges Filed Against Two
[Wanted]- April 11, 1950 Judge Frees Man Accused in Drug Case
[Wanted]- April 11, 1950 Judge Frees Man Accused in Drug Case
[Wanted]- April 12, 1950 Man Back in Trouble on Marijuana Charge
[Wanted]- April 18, 1950 New Federal Grand Jury Impaneled for May Term
[Wanted]- April 18, 1950 Two Held in Marijuana Case Released on Bonds
[Wanted]- April 19, 1950 Fraud Count Names Four
[Wanted]- April 27, 1950 U.S. Agents Charge Five in Drug Case
[Wanted]- May 2, 1950 Marijuana Suspect
[Wanted]- May 4, 1950 U.S. Jury Bills Bank Employee
[Wanted]- May 9, 1950 Three Get Terms in Marijuana Cases
[Wanted]- May 10, 1950 Two Years Given Negro for Knifing Narcotics Officer
[Wanted]- May 11, 1950 Federal Judge Orders Arrest of Lois Green Running Mate
[Wanted]- May 11, 1950 7 Sentenced for Possession of Marijuana
[Wanted]- May 12, 1950 Green Mob Member Held for Probation Violation
[Wanted]- May 12, 1950 2 Young Men, Woman Found Guilty of Possessing Marijuana
[Wanted]- October 26, 1950 New Films Booked for Dallas Showing
[Wanted]- December 3, 1950 Dope Users on Increase
[Wanted]- April 22, 1951 Angler Hooks $12,000 Worth of Marihuana
[Wanted]- May 11, 1951 2 Convicted in Bathroom Dope Cases
[Wanted]- July 4, 1951 Last 24 Hours in Dallas
[Wanted]- July 24, 1951 Clubwoman to Ask Death Penalty for Peddling Dope to Teen-Agers
[Wanted]- January 8, 1952 Narcotics Charges Filed Against Five at Wichita Falls
[Wanted]- February 7, 1952 U. S. Grand Jury at Amarillo Bills 53 Persons from Dallas
[Wanted]- April 21, 1952 Waco Breaks Dope Ring
[Wanted]- April 20, 1953 Three Boys Arrested on Drug Charge
[Wanted]- August 9, 1953 PW's Detail Red Crudity at Medicine
[Wanted]- February 18, 1954 U.S. Official Says Rangers Helping in Narcotics Battle
[Wanted]- February 20, 1954 Bacardi Heir Rescued, One of Kidnapers Slain
[Wanted]- May 23, 195458 U. S. Cases Settled in 2 Weeks of Term
[Wanted]- October 17, 19552-Way Drug Traffic Testimony Released
[Wanted]- November 8, 1955 Marihuana Possession Charged to Man of 36
[Wanted]- December 6, 1955 Narcotics Charge
[Wanted]- May 15, 1956 Senate Group Reports Daniel Narcotics Bill
[Wanted]- July 19, 1956 U.S. Alerts Agents on Daniel Law
[Wanted]- December 18, 1956 Dope Possession Count Filed on Pair
[Wanted]- September 11, 1957 An Oligarchy of Nine
[Wanted]- December 13, 1959 Weather Vane

DEL RIO
[S]- July 5, 1937 pp1 - "WPA Worker Confesses Slayings" Gore File Case
[S]- July 9, 1937 pp1 - "Killed girls, then prayed" Gore File Case Pix of Albert Dyer
[S]- July 9, 1937 pp1 - "Marihuana is seized by two U.S. Officers"
[S]- July 10, 1937 pp1 - "San Antonio Man Held Under Bond"
[S]- July 22, 1939 pp1 - "Eleuterio Gonzlez to face trail on Criminal Assault Charge Monday" Gore File Case
[S]- July 24, 1939 pp1 - "Eleuterio Gonzalez Case Is continued; Hearing Set Aug. 14" Gore File Case.
[S]- Aug 15, 1939 pp1 - "Girl Testifies in Criminal Assault Case" Gore file Case Maria Guadalupe Ramirez born Oct 1925
[S]- Aug 16, 1939 pp1 - "Witness Tells of Overhearing Interview Between Man and girl in Assault Case" Gore File Case [Maria Flores]
[S]- Aug 17, 1939 pp1 - "Jury to Get Criminal Assault Case Today" Gore File Case
[S]- Aug 18, 1939 pp1 - "Eleuterio Gonzalez Gets Fifteen Years" Gore File Case
[S]- Aug 19, 1939 pp1 - "Gonzalez Asks New Trail in Assault Case" Gore File Case

GALVESTON DAILY NEWS
[S]- Mar 9, 1919 p3 - "Ranger bill finally Passed After Fight" [law against Marihuana passed]
[S]- Dec 14, 1919 p26 - "Fight, Food, Siesta and Fight again Favorite Method of the Battle-Loving Mexican Rebels"
[S]- April 27, 1921 p4 - "Mexican Herb Smoking by Soldiers is Probed"
[S]- Sept 25, 1921 p1 - "Police Claim Narcotic Smugglers Are Making Headquarters in City"
[S]- Feb 18, 1923 p11 - "Neff Has Taken No Action on San Antonio Death Case"
[S]- May 9, 1924 p6 - "Dope Smokers Fined in Police Campaign"
[S]- Aug 10, 1924 p10 - "Thieves make way with 10-Foot Marihuana Tree"
[S]- May 3, 1925 p13 - [General reference as part of a story]
[S]- Dec 29, 1925 p1 - "Marihuana Outlawed"
[S]- May 26, 1929 p1+ p20 - "Alienists Testify in Murder Charge" [Marihuana Defense]
[S]- May 28, 1929 p 7 - "Man Blames Drug for Killing of Lifelong Friend" [Marihuana Defense]
[S]- May 29, 1929 p7 - "Drug Slayer's Trial delayed by Rainstorm"
[S]- June 7, 1929 p3 - "Houston Raiders Find Liquor and Narcotics"
[S]- Jan 3, 1931 p2 - [General article] [Marihuana Defense]
[S]- May 28, 1931 p10 - "First Narcotic Cases Under New Law Set"
[S]- Sep 15, 1931 p2 - "Marihuana Seized"
[S]- Sep 19, 1931 p15 - "Mexican Seized as He Arrives With Narcotic"
[S]- Sep 23, 1931 p9 - "Three Liquor Raids are Made Here Tuesday" [NWR]
[S]- Dec 10, 1931 p2 - "Big Lot of Marihuana is Seized by Constable"
[S]- July 14, 1932 p7 - "Destroy Marihuana [Mexico] [NWR]
[S]- Aug 3, 1932 p10 - "Man Held on Charge of Possessing Marihuana"
[S]- Aug 6, 1932 p18 - "Man Arrested in Dry Raid Held on Marihuana Charge"
[S]- Sep 27. 1932 p2 - "Marihuana Charges Are Made After Houston Raid"
[S]- Oct 16, 1932 p10 - "Houstonian Gets 2 Years in Trial for Stabbing" [Marihuana Defense]
[S]- Nov 16, 1932 p11 - "Hearing Today for Trio Held In sanenz Case"
[S]- Nov 25, 1932 p2 - "Man Severely Cut in Fight"
[S]- Dec 14, 1932 p7 - "Alleged Marihuana Owner Convicted"
[S]- Mar 20, 1933 p8 - "Man is Arrested with Marihuana in His Possession"
[S]- Feb 6, 1935 p1 - "Plan to smuggle Marihuana Foiled"
[S]- Feb 7, 1935 p9 - "Negroes to Get Hearing Today in Marihuana Case"
[S]- Feb 8, 1935 p11 - "Hidebrand Hearing is Again Postponed"
[S]- May 26, 1935 p10 - "Marihuana Revealed as Menace to Youth of America" by Sam Weiner [pure RM]
[S]- July 10, 1935 p12 - "Bond Reduced in Smuggling Case"
[S]- Aug 28, 1935 p1 - "I'mAlone Case Fugitive Found Living in Tampico"
[S]- Nov 18, 1935 p10 - "Progress Reported in Fight on the Narcotic, Marihuana, By Federal Control Official"
[S]- July 1, 1936 p2 - "Marihuana"
[S]- July 12, 1936 p12 - "Taemont Theater Has Unusual Show"
[S]- Sep 29, 1936 p1 - "Treasury Opens Drive to Clean Up Peddlers of narcotics in U.S.
[S]- Oct 16, 1936 p16 - "Man Found Not guilty of Marihuana Possession"
[S]- Oct 23, 1936 p4 - "Conlan Jailed for Marijuana Smuggling Trial"
[S]- Feb 13, 1937 p13 - "Liberty Farmer found Guilty in Marijuana Case"
[S]- June 30, 1937 p7 - "Marihuana Field"
[S]- July 27, 1937 p5 - "Humanity Crop More Value Than Fiber Crop, Allred Says in Marihuana Campaign"
[S]- July 30, 1937 p4 - "Hemp, Hasheesh or Marihuana" [Editorial]
[S]- Aug 10, 1937 p5 - "Insanity Plea is Entered in Trial of Boss" - Gore File
[S]- Aug 11, 1937 p11 - "Vince Boss Said Normal Night Salesman Slain" - Gore File
[S]- Aug 12, 1937 p7 - "Marihuana Plants Are Burned Near Houston"
[S]- Aug 14, 1937 p11 - "New Trial Plea Filed as Boss is Given Death" - Gore File
[S]- Sep 6, 1937 p2 - "Liquor Men Raid Grill Arrest Two"
[S]- Sep 10, 1937 p4 - "U.S. Agents to Aid in Texas Loco Weed War"
[S]- Oct 19, 1937 p12 - "Seaman Bound Over on State Narcotic Count"
[S]- Nov 14, 1937 p5 - "Narcotic Needle will be Japan's Chief Offensive Weapon in World Conquest. Says Drug Association"
[S]- Jan 4, 1938 p2 - "First Conviction is Obtained by U.S. on Marihuana Amendment"
[S]- Jan 9, 1938 p17 - "Soldiers Charged Are Held Pending Grand Jury Probe"
[S]- Jan 14, 1938 p4 - "Bond of $500 Set for Man Held in narcotic Case"
[S]- Jan 15, 1938 p1 - "Texas Narcotic Traffic During 1937 Termed Serious National Problem"
[S]- Jan 16, 1938 p23 - "Man Bound Over on Marihuana Count"
[S]- Feb 15, 1938 p3 - "Girl Testifies Her 'Pal' Stole Car, Killed Bus Driver"
[S]- Feb 19, 1938 p4 - "Interstate Crime Commission"
[S]- Feb 20, 1938 p11 - "Narcotic Education Week Proclaimed"
[S]- Mar 31, 1938 p5 - "Mexican Girl Beaten, Attacked; Man Thought to be Dope Addict"
[S]- April 29, 1938 p3 - "Three Charged as U.S. Agents Seize marijuana"
[S]- May 1, 1938 p5- "Marijuana Seized on Army Transport"
[S]- May 2, 1938 p10 - "Man Held Here as Suspect in Robbery Case"
[S]- Aug 23, 1938 p3 - "Border Patrol Holds Two in Dope Case"
[S]- Sep 24, 1938 p4 - "Negroes Arrested on Dope Charges by Rangers"
[S]- Nov 2, 1938 p12 - "Marihuana Use Among Austin Youths Said to be Increasing"
[S]- Dec 29, 1938 p1 - "12 Arrested in Narcotics Raids"
[S]- Jan 5, 1939 p12 - "Man Is Assessed Two Years on Narcotic Charge"
[S]- Feb 6, 1939 p10 - "Narcotic Agents Strike Again in New York city"
[S]- Feb 12, 1939 p1 - Narcotics Spread Said Alarming"
[S]- Mar 9, 1939 p1 - "Measure May compel Teaching in Texas of Drugs Effects"
[S]- April 14, 1939 p14 - "Two Galveston Men to Address County clubs" - Religious lecture - Central Christian Church of Galveston
[S]- June 8, 1939 p2 - "Huge Marijuana Seizure Reported"
[S]- June 17, 1939 p3 - "Two Negroes Are Bound Over on Narcotic Counts"
[S]- June 29, 1939 p5 - "It's Unfair! I'm Not Getting a Fair Trial' Mrs. Jeffers Screams During Morals Trial" -- Med Marihuana Defense
[S]- July 16, 1939 p11 - "Pastor Will Speak To Club Federation" Reb. Bayne E. Drlskill
[S]- July 23, 1939 p6 - "Rev. Driskill to Talk to Club Federation"
[S]- July 25, 1939 p5 - "Club Federation To Meet Today"
[S]- Aug 3, 1939 p4 - "Two Narcotic Charges Filed Against Man"
[S]- Dec 7, 1939 p10 - "Galveston Pastor to speak at Meet of Heights PTA" - Rev. Driskill
[S]- Jan 4, 1940 p1 - "Man is Acquitted of Narcotic Charge by Jury"
[S]- Jan 10, 1940 p1 -"Negro Fugitive in Narcotic Case Arrested Here"
[S]- Feb 9, 1940 p22 - "Seaman Jailed on Narcotics Charge"
[S]- Feb 29, 1940 p4 - "FBI Head Tells Officials Here of Ramos' Arrest"
[S]- Mar 5, 1940 p7 - "Mexican Officials to Try Ramos on Marihuana Case"
[S]- June 5, 1940 p9 - "Police Seize Package Believed to Contain Marihuana"
[S]- Jan 4, 1941 p9 - "Freed in Death"
[S]- Feb 11, 1941 p5 - "Dope Smuggling into U.S. Said Petty Except Mexican Border"
[S]- Mar 5, 1941 p9 - "Man Charged in Connection with Narcotic Raid"
[S]- Mar 18, 1941 p3 - short
[S]- July 23, 1941 p14 - "Man Arrested on Marijuana Charge"
[S]- July 26, 1941 p2 - "Man Bound Over on Marihuana Charge Here"
[S]- Nov 11, 1941 p5 - "Two Men Charged with Violating Narcotic Law"
[S]- Nov 15, 1941 p9 - "Man Bound Over to Grand Jury in Marijuana Case"
[S]- Nov 26, 1941 p13 - "Two Men Held in Narcotic Care Theft Case"
[S]- Nov 30, 1941 p8 - "Crippled Juvenile Brought to Court in Marihuana Case"
[S]- Dec 3, 1941 p7 - "Marijuana Case is Bound over to Grand Jury"
[S]- Dec 10, 1941 pp8 "Two Cab Drivers Get Hearings in Marijuana Cases" Woman testifies to Getting Cigarets From both Men.
[S]- Dec 27, 1941 - "Arrest of Female Boss Climaxes Narcotic Probe"
[S]- Aug 13, 1942 p5 - "Negro is Held on Marihuana Charge"
[S]- Oct 28, 1942 p12 - "Negroes Charged with Illegal Sale of Marihuana"
[S]- July 3, 1945 p2 - "Krupa Gets One to Six Years"
[S]- Nov. 20, 1943 pp10 "Seaman Has Hearing in Molestation Case" [Almond Bodary]

CORPUS CHRISTI TIMES
[S]- May 20m 1936 p2 - "Marijuana Trial Postponed Here"
[S]- July 10, 1936 p12 - Move Ad - Marihuana
[S]- May 17, 1937 pg 1 - "Jury Being Picked in Trial of Man for Assault on Daughter" [Gore]
[S]- May 19, 1937 pg 1 - "Kimbell Jury Still Undecided after Night Deliberation" [Gore]
[S]- May 20, 1937 pg 1 - "Eugene Kimbell Assessed Death Penalty" [Gore]
[S]- June 4, 1937 pg 1 - "Motion for Second Trial for Kimbell Being Heard today" [Gore]
[S]- Sep 15, 1936 p1 - "Mexican Accused of Possessing Marijuana"
[S]- Nov 17, 1936 p1 - "Spelling of Name for Mexican Drug Changed by Law"
[S]- Nov 16, 1936 p1 - "Mexican Sentenced In Marijuana Case"
[S]- May 5, 1937 p7 - "Additional Pleas of Guilty are Heard" - [NWR]
[S]- May 24, 1937 p1 - "Police Hold Three for Possession of Illegal Narcotics" prince Albert Can
[S]- June 14, 1937 pg 1 - "Kimbell Assault Trial Continued" [2nd trial] [Gore]
[S]- June 16, 1937 p7 - "Police Holding Man as Suspect In Attack Case" [NWR]
[ ]- June 21, 1937p1 - "Record Seizure of Marihuana is Made by Local Officers"
[S]- June 23, 1937 pg 1 - "State to Act in Marijuana War, Governor Declares"
[S]- July 20, 1937 p1 - "Valley Plant Identified as Narcotics Producing Type of Hemp, Test Discloses"
[S]- July 26, 1937 p1 - "Governor Allred Announces Destruction of Marijuana Hemp in Rio Grande Valley"
[S]- Sep 9, 1937 p2-B - "Marijuana to Come Under Government Control October 1"
[S]- Oct 1, 1937 p1B - "Marijuana Today Comes Under Severe Restriction of Federal Narcotic Laws"
[S]- Nov 17, 1937 p2 - "Jury for Murder Trial of Negro is selected Today" [NWR]
[S]- Nov 29, 1937 p6? - "Jury Being Selected for Kimbell Trial" [Gore]
[S]- Nov 30, 1937 p6-B - "Ten Jurors Named For Kimbell Trial" [Gore]
[S]- Dec 1, 1937 pg 2 - "State Closes Case Against Kimbell" [Gore]

EL PASO HERALD
[e]- June 15, 1912 pg. 9]- "HOP and Dope Fiends fast being Recruited from better Families" (Juarez has a hellhole of temptation)
[e]- Jan. 2, 1913]- "Crazed By a Weed, Man Murders"
[e]- Oct. 4, 1913 pg.2] "Grand Jury Recommends that Steps be Taken to Stop Sale of Marihuana.
[e]- June 3, 1915 pg. 6]- "MARIHUANA Sale Now Prohibited"
[e]- June 7, 1915 p9] "New Anti-Marihuana Ordinance very Stringent"
[S]- April 20, 1931 p9 - "Question Two In Drug ring Probe"
[S]- July 24, 1931 p1 - "Jailer Seized dope; nabs Woman visitor"
[S]- Aug 6, 1931 p14 p1 - "Grow Marihuana Believing It's Only bird Seed"
[S]- April 14, 1933 p1 - "Chihuana Baker Slain"
[S]- April 17, 1933 p1 - "Says Marihuana Caused Stabbing"
[S]- May 1, 1933 p10 - "Six Persons Stabbed"
[S]- May 13, 1933 p1 - "Find Marihuana in Slain Man's Pocket"
[S]- May 29, 1933 p7 - "Four Are Sentenced on Pleas of guilty"
[S]- June 23, 1933 p7 - "charge Marihuana Sold to Worker"
[S]- June 23, 1933 p9 - "Marihuana Use Grows in E.P."
[S]- June 26, 1933 p9 - "Youthful Smoker Tells court of Marihuana Effect"
[S]- July 29, 1933 p3 - "Children Accompany Mother to City Jail"
[S]- Feb 23, 1934 p11 - "Drugs Sold to Pupils" [NWR]
[S]- Oct 30, 1934 p6 - "Sought For Stabbing"
[S]- Dec 5, 1934 p3 -"Marihuana Finds Profitable Sale"
[S]- Dec 10, 1934 p4 - "Menace in Marihuana" [Editorial]
[S]- Dec 19, 1934 p1 - "Crazed Man Killed by Cruces Police"
[S]- Nov 30, 1935 p12 - "Marihuana Seized by Customs Men"
[S]- Jan 1, 1936 p5 - "Jury Commended in Marihuana Case"
[S]- Feb 10, 1936 p12 - "E.P. Drug Fight Week Announce"
[S]- June 4, 1936 p2 - "Marihuana Seized in El Paso Yard"
[S]- June 16, 1936 p13 - ""Palace Will Show Marihuana Picture"
[S]- Aug 27, 1937 p14 - "Says He Used Marihuana to Forget Morphine"
[S]- Sept 1, 1937 p4 - "Children Sold Marihuana at Play Center"
[S]- Sep 2, 1937 p20 - "Chief Orders Drug Drive
[S]- Sep 4, 1937 p1 - "Marihuana Case Sentence Given"
[S]- Sep 11, 1937 p3 - "U.S. Officers in Drug Drive"
[S]- Oct 18, 1937 p5 - "Marihuana Charge Filed After Raid"
[S]- Dec 27, 1937 p3 - "Flea Policemen Are Used to Combat Marihuana Sale"
[S]- Jan 26, 1938 p2 - "Marihuana Traffic Campaign Pushed" [NWR]
[S]- Feb 3, 1938 p3 - "Fields of Marihuana Worry U.S. Officers"
[S]- Feb 8, 1938 p2 - "Arrest is Made, Marihuana Seized" [NWR]
[S]- Feb 22, 1938 p10 - "Marihuana Smuggling Increases"
[S]- Mar 29, 1938 p1 - "Marihuana Gives Him a Headache"
[S]- April 20, 1938 p1 - "Held as Dope Suspect"
[S]- May 6, 1938 p1 - "Man, 71, Held For Possession Of Marihuana"
[S]- May 16, 1938 p2 - "Open Drive On El Paso Dope"
[S]- May 19, 1938 p1 - "Heavy marihuana Seizure on Trolley"
[S]- May 24, 1938 p1 - "Charge Cabaret Girls Slipped Marihuana"
[S]- May 31, 1938 p2 - "Another Youth in Marihuana Trap"
[S]- June 18, 1938 p1 - "Nab Marihuana in Raid on Smelter Bar"
[S]- July 2, 1938 p1 - "Eight Jailed in Raids on Dope Traffic"
[S]- July 4, 1938 p5 - "Fighting Marihuana" [Editorial]
[S]- July 7, 1938 p2 - "Loafers Hurt School's Name Teacher Says"
[S]- Aug 10, 1938 p2 - "Patch of Marijuana Grows In Detective's Back Yard"
[S]- Aug 23, 1938 p2 - "Says He Sold 100 Marihuana Cigarets Daily"
[S]- Sep 12, 1938 p2 - "Patch of Marihuana Found Growing in Back Yard of Leban on Street Home"
[S]- Sep 13, 1938 p12 - "Hassan-i-Sabbah, Friend of Khayyam, First Discovered Marihuana Dope Effect" by James W. Sheppard
[S]- Oct 8, 1938 p1 - "Smoked marihuana Since He was Eight and now he is Dizzy and Almost Crazy"
[S]- Nov 3, 1938 p11 - "CCC Workers Held in Marihuana Quiz"
[S]- Jan 31, 1939 p2 - "Charge Taxi Drive Sold Dope Smokes"
[S]- Jan 31, 1939 p3 - "Officers Assert man Caught Rolling Marihuana Cigarets"
[S]- April 11, 1939 p1 - "Five Jailed, Cabs Seized in Dope Drive"
[S]- May 15, 1939 p1 - "Seize Marihuana and Arrest Man"
[S]- June 23, 1939 p1 - "Charge Child Peddled Dope"
[S]- June 24, 1939 p3 - "Child, Five, Didn't Know Her Package Contained Dope"
[S]- June 27, 1939 p1 - "Charges Preacher Drugged; Denies Obscene Exhibition"
[S]- Aug 8, 1939 p7 - Move Ad - Tell Your Children
[S]- Sep 28, 1939 p3 - "Some Persons Smoke Reefer of Marihuana Every Morning"
[S]- Jan 11, 1940 p12 - "Charge Jail Trusty Sold Marihuana to cellmates"
[S]- Jan 17, 1940 p4 - "Side-Bar Remarks" by Chester Chope
[S]- Mar 20, 1940 p1 - "Liquor Store Holdup confessed by Youths"
[S]- Aug 12, 1940 p1 - "Young Girls Held in E.P. Dope Inquiry"
[S]- Aug 14, 1940 p2 - "Marihuana Smuggled in Jail Hidden Under Tobacco"
[S]- May 1, 1941 p11 - "Soldier has Fun Breaking Windows"
[S]- June 30, 1941 - "Former Football Star Held On Dope charge" [NWR]
[Wanted] - Oct. 5, 1946 - "$53,000 Dope seized, 3 nabbed as Chicago office trips ring."
[Wanted] - Oct. 5, 1946 - "Marihuana seized here" [picture].
[S]- Oct 14, 1947 p9 - "Three Found Guilty In Marihuana Case"

SAN ANTONIO EXPRESS
[S]- Sep 22, 1921 pg 15 - "New Trial Sought" [GORE]
[S]- Jan 4, 1922 p18 - "Apolinar, Given Sentence of Death, Asks New Trial" [GORE]
[S]- Nov 15, 1922 p1 - "Insanity Hearing Will Determine Apolinar's Fate"
[S]- Dec 14, 1922 p13 - "One Juror Short in Apolinar Case"
[S]- Jan 11, 1923 p11 - "Stephens Will Hang for Crime"
[S]- Feb 22, 1923 p9 - "Governor Not to Prevent Hanging"
[S]- Feb 23, 1923 p1 - "Apolinar Pays Death Penalty Friday, Mother Despairs of Saving Son"
[S]- Feb 24, 1923 p 1 - "Man Goes to Death With Prayer on Lips"
[S]- Aug 14, 1927 p28 - "Officers Seize Half Bushel of Marihuana"
[S]- Oct 24, 1927 p16 - "Argument Over Price of Liquor Ends in Shooting"
[S]- Dec 13, 1928 p1* - "Visitor to Jail Locked Up When Marihuana Found"
[S]- July 6, 1929 p22 - "Five Persons Held in Marihuana Raid"
[S]- Oct 30, 1929 p17 - "Convict Attacks His Guard, is Wounded"
[S]- April 30, 1930 p7 - "Bellboy on Trial for Murder Drunkat Time, Witnesses Say" [Marihuana Defense]
[S]- May 1, 1930 - "Drugs Defense in Murder Case" [Marihuana Defense]
[S]- May 2, 1930 p12 - "Bellboy Murder Jurors Retire" [Marihuana Defense]
[S]- May 3, 1930 p22 - "Window Attempts Attack on Killer"
[S]- Sep 12, 1931 p8 - "Marihuana Defendant Fails In Attacking Law on Misspelling; Given Two-Year Prison Sentence"
[S]- Feb 8, 1933 p17 - "no title" [must read - sounds like something from the hippie era]
[S]- June 29, 1933 - "Slayer Gets 25 Years" [Marihuana Defense]
[S]- Nov 22, 1933 - "Marihuana Possession Charged Against Two"
[S]- Dec 7, 1938 p7 - "Children Escape Bullet Barrage"
[S]- Dec 9, 1933 - "Testimony Nears End in Flores Murder Case"
[S]- Mar 19, 1934 p16 - "Two Youths Held in Robbery Case"
[S]- Mar 21, 1934 p16 - "7 Face Charges in Robberies"
[S]- Mar 30, 1934 p12 - "Patrolmen Prevent Automobile Looting"
[S]- June 15, 1934 p16 - Arrest of Quintet Bares Theft Ring"
[S]- Nov 1, 1934 p8 - "Marihuana Smuggling charged in Seizure"
[S]- Jan 18, 1935 p16 - "30 Days in Jail given In Marihuana Case" [NWR]
[S]- June 28, 1935 p10 - "Plot of Marihuana Brings Arrest of Pair [Pix]
[S]- June 29, 1935 p14 - "$500 bond allowed in Marihuana Case"
[S]- June 30, 1935 - "Rains Give Life to marihuana"
[S]- July 4, 1935 p16 - "Constables Bare Goods in Walls"
[S]- July 16, 1935 p16 - "Sense of Smell Leads to Marihuana Seizure"
[S]- July 18, 1935 p6 - "Marihuana Case Brings Jail Term
[S]- July 21, 1935 p2 - "Appeals Court Gets Dope Case"
[S]- Aug 7, 1935 p1b - Marihuana Worth $5000 Confiscated"
[S]- Aug 7, 1935 p6 - "Deputies Plow Up Marihuana Farm"
[S]- Nov 5, 1935 p6 - "marihuana Possession Brings 60 Days in Jail"
[S]- Dec 10, 1935 p4 - "Jury considers Slaying Verdict" [Marihuana Defense Murder]
[S]- Dec 20, 1935 p4 - "Parole Revoked Before Convict Free"
[S]- Dec 20, 1935 p4 - "Sandia Killing Brings 25 Years" [Marihuana Defense Murder]
[S]- Nov 6, 1936 p22 - "Jail Trusty Charged With drug Possession"
[S]- Jan 24, 1939 pg 6 - "Man Gets Two Years In Marihuana Case" [NWR]
[Wanted]- Jan 24, 1939 pg 6 - 2nd article
[S]- April 27, 1939 pg 7 - "Marihuana Charge Made"
[S]- Nov 8, 1939 pg 4 "Marihuana Case Brings Two Years" [NWR]
[S]- Jan 18, 1941 pg 1 - "Four Men Get Prison Sentences" [NWR]
[S]- Jan 26, 1941 pg 3 - "Police Eye Night Spots"
[S]- Dec 7, 1948 pg 4 - "Clemency Action" [GORE]
[S]- March 16, 1952 p75 - "Hanged By Neck Until Dead"

SAN ANTONIO LIGHT - San Antonio, Texas
[S]- Oct 30, 1918 pg "Shafts o'Light" [NWR] Poem
[S]- Aug 25, 1921 p8 - "Three Murder Indictments are Returned" "Boys were muddying the water --- He is said to be a Marihuana addict"
[S]- Sep 8, 1921 p1 - "Witnesses Tell of Mental Condition of Man on Trial"
[S]- June 25, 1922 o9 - "Two Murder Cases Deferred by High Court's Vacation"
[S]- July 20, 1922 p5 - "Strange Politics" [political Ad]
[S]- Dec 14, 1922 p25 - "Brother Says condemned Man Always Queer"
[S]- Sept 24, 1924 p8 - "Marihuana spree Ruined by Trusty"
[S]- April 16, 1925 p21 - "Officials Intensify War on Marihuana"
[S]- July 14, 1925 p1 - "Boy Runs Amuck and Cuts 3 Before Pair Subdue Him"
[S]- July 19, 1925 p1 - "Bride's Sobs May Free Others" [Must reading, sounds like the Dorothy Hill case]
[S]- July 25, 1925 - "Drug-Crazed San Antonio Youth Flirts With DEATH"
[S]- Sep 25, 1925 p20 - "Marihuana Smoke Hangs Over City When Crop burned"
[S]- Nov 27, 1925 p18 - "Officer Ducks Machete Swing; Wielder Jailed"
[S]- April 4, 1926 p1 - "Wright Sends Loco Weed to Texas U."
[S]- April 4, 1926 p10 - "Dry Marihuana Sent to State University"
[S]- Aug 9, 1926 p5 - "Trio Attacked Mysteriously"
[S]- Sep 21, 1926 p4 - "Loco Weed Used as Pillow, Costly"
[S]- Sep 22, 1926 p3 - "Marihuana Cache Confiscated When Suspect Captured"
[S]- Sep 23, 1926 p1 - "Marihuana Bush Found Downtown"
[S]- Oct 18, 1926 p6 - "Cortez Conquers Little Mexico; Exiled in Jail"
[S]- Oct 19, 1926 - "Nebraska Youth Finds Marihuana" [NWR]
[S]- Oct 27, 1926 p6b - "Burglar Gang Broken, six Arrested"
[S]- Oct 28, 1926 p12b - "Judge Heads Move Against Marihuana"
[S]- Dec 25, 1926 p1 - "Arrest May Bare Marihuana Farm"
[S]- April 10, 1927 p6b - "Detectives Find Youth Smoking Marihuana Weed"
[S]- April 13, 1927 p2 - "Agents Get Beer, Whiskey, Wine and Marihuana Here"
[S]- April 21, 1927 p12 - "Marihuana Addict Attacks Deputy; Is shot in Thigh"
[S]- Feb 10, 1928 p4 - "Marihuana Captured"
[S]- April 27, 1925 p3 - "Marihuana and Whiskey Mixed"
[S]- May 2, 1928 p12 - "Marihuana Costs Boys $25 Apiece"
[S]- May 4, 1928 p1a - Marihuana Farm Destroyed [pix]
[S]- May 4, 1928 p1b - "Busy Patrolman Parks Prisoner"
[S]- June 21, 1928 p14 - "Marihuana Farm in Nuevo Laredo"
[S]- Oct 24, 1928 p6 - "S.A. Woman Rolling Marihuana, Fined"
[S]- Oct 29, 1928 p1 - "Marihuana Costs Him Fine of $10"
[S]- Nov 19, 1928 p7 - "Rum, Marihuana Mix Perfectly"
[S]- Dec 14, 1928 p18 - "Austin Passes Act Against Marihuana"
[S]- Feb 8, 1929 p13 - "Marihuana Fines to Be $50 to $100, Watson Announces"
[S]- Feb 15, 1929 p7 - "Mike Livo's Nose Knows Marihuana; Smoker Fined $100"
[S]- Feb 24, 1929 p6 - "Fine 4 in Loco Weed Probe"
[S]- March 20, 1929 p10A - "Marihuana Cigarets" Pix -
[S]- Mar 22, 1929 p2 - "Trails Stolen Suit, Finds Marihuana; Woman, Man Fined"
[S]- Mar 24, 1929 p15 - "Marihuana Moved Ere Police Arrive"
[S]- Mar 25, 1929 p8 - "Man Fined $15 For Use of Marihuana"
[S]- April 1, 1929 p6 - "Suspect Charges Marihuana Plant"
[S]- April 9, 1929 p1b - "Marihuana Just Sharpens Aim"
[S]- April 18, 1929 p - "What is a Muggie?" [editorial]
[S]- April 29, 1929 p2 - "Tea Proves to be Marihuana - Fine $25"
[S]- July 3, 1929 p8 - "Marihuana Isn't Part of Traffic Officer's Equipment"
[S]- July 6, 1929 p1 -"Possession of Marihuana Charged"
[S]- July 9, 1929 p4 - "Loco Weed Found When 5 Arrested"
[S]- June 28, 1929 p2 - "City to Force Cutting of Weeds"
[S]- Aug 25, 1929 p11 - "Marihuana Weed Farm Raided by Wichita Officers"
[S]- Sep 9, 1929 p7b - "Tortillas conceal Marihuana Smokers"
[S]- Sep 23, 1929 p4 - "Marihuana Farm Causes One Arrest"
[S]- Sep 24, 1929 p1b - "Marihuana Fag Brings $10 Fine"
[S]- Sep 27, 1929 p16 - "Marihuana Weed in yard Calls for $100 Court Fine"
[S]- Oct 14, 1929 p12b - "Smoker Pleads Someone Gave Him Marihuana Fag"
[S]- Nov 13, 1929 p2 - "Dog Steals Hen But Owner Gets Fine just Same"
[S]- Dec 10, 1929 p1b - "Negro Is Fined for Having Marihuana Cigarettes in Home"
[S]- Feb 21, 1930 p1b - "Dope-Weed Farm Destroyed Near S.A." [pix]
[S]- Feb 21, 1930 p2 - "Mexican Fined on Marihuana Charge"
[S]- Mar 11, 1930 p1b - "Addict Foiled in Burglary Attempt"
[S]- Mar 20, 1930 p1b - "Marihuana Brings $25 Fine to Owner"
[Wanted]- Mar 26, 1930 p1b - "Marihuana Smoke, Playground Slide . . . "
[S]- April 9, 1930 p6 - "$25 Fine given in Marihuana Case"
[S]- April 16, 1930 p3 - "Five Stricken After Family Eats Marihuana for Greens"
[S]- April 21, 1930 p3 - "$50 Fine Assessed Man Charged on Marihuana count"
[S]- April 28, 1930 p1 - "Murder Case Gets Under Way Here"
[S]- April 29, 1930 p1 - "Widow of Slain Man May Testify in Murder Trial"
[S]- May 1, 1930 p3 - "Arguments in Trial Begun"
[S]- May 2, 1930 p1 - "Gordon Gets 2 Years; Widow Weeps"
[S]- May 24, 1930 p3 - "Excuse Fails man Who Had Marihuana"
[S]- June 21, 1930 p3 - "Dope Blamed in Knife Death"
[S]- July 5, 1930 p2 - "Razor Attack is Beaten Off"
[S]- Sep 16, 1930 p1b - "Mother, girl Attacked by Crazed Man"
[S]- Nov 20, 1930 p1b - "Marihuana Found in Trousers Cuff"
[S]- Dec 23, 1930 - "Sleuth Breaks Up Marihuana Party in S.A. Jail Cell"
[S]- Jan 12, 1931 p2 - "Speedy Justice is Meted Out After Jail Smuggling"
[S]- Mar 6, 1931 p1 - short - Admiral Hobson mentioned
[S]- Mar 9, 1931 p3 - "Nabbed for Theft Gets Second Charge"
[S]- Mar 11, 1931 p12b - "Soldier is fined for Marihuana"
[S]- Mar 26, 1931 p14 - "James Trial Arguments to Start - Accused Slayer Drunk on Liquor, marihuana, Witnesses Say"
[S]- Mar 27, 1931 p16 - "James Faces 99 years in Prison" [Marihuana defense]
[S]- May 2, 1931 - "Anti-Marihuana Bill Enacted in Texas" [Editorial]
[Wanted]- May 4, 1931 - Editorial - "At last the State Legislature had taken a definite step toward suppression of traffic in a dangerous and insanity producing narcotic easily compounded of a weed (marihuana)."
[S]- May 21, 1931 p1b - "New Drug Charge Filed on S.A. Man"
[S]- June 13, 1931 p2 - "Skull fractured Resisting Arrest, Man Near Death"
[S]- June 19, 1931 p1b - "Marihuana Traffic Studied by visitor"
[S]- June 23, 1931 p1b - "Marihuana Found on City Prisoner"
[S]- July 10, 1931 p1 - "Marihuana Farm Will be Destroyed"
[S]- July 11/12 1931 p1 - "Officers War on Backyard Marihuana Growers in S.A."
[S]- Aug 21, 1931 p1b - "Sleuths Will Raid marihuana Farm"
[S]- Aug 23, 1931 p2b - "Comal Man Jailed When Marihuana Farm is Raided"
[S]- Aug 25, 1931 p1b - "Marihuana Charge is Filed on Negro"
[S]- Aug 26, 1931 p2 - "Raid Marihuana Farm" [pix]
[S]- Aug 31, 1931 p3 - "Liquor, Dope confiscated in Raids" pix]
[S]- Sep 6, 1931 p2b - "Man Convicted on Marihuana Charge"
[S]- Sep 12, 1931 p3 - "Marihuana Brings Penitentiary Term Despite Spelling"
[S]- Sep 15, 1931 p3 - "Law Against Marihuana Drafted"
[S]- Oct 23, 1931 p6b - "Bexar Unhealthy for Drunk Driver, Marihuana Addict"
[S]- Nov 10, 1931 p1b - "Marihuana is Cure he Says" [Med Marihuana Use]
[S]- Nov 13, 1931 p1b- "Plea of Wife, Two children Gains Liberty for Man"
[S]- Dec 11, 1961 p3b - "S.A. Prisoner Flees From Hospital"
[S]- Dec 20, 1931 - "Four Arrested in marihuana Drive"
[S]- Jan 5, 1932 p2 - "First 1932 Felony Guilty Plea Heard"
[S]- May 1, 1932 p8 - "2 Held in Laredo on Dope Charges"
[S]- Aug 11, 1932 p9 - "Marihuana Charges Filed Against Two"
[S]- Aug 28, 1932 p7 - "Mexican Bandit Runs Amuck and is Shot to Death"
[S]- Oct 21, 1932 p15b - "Uniform Drug Act Wins Okay"
[S]- Nov 14, 1932 p6b - "Marihuana Smoker fined by Anderson"
[S]- Feb 8, 1933 p1b - "Crazed Man in S.A. Hospital"
[S]- May 31, 1933 p1b - "Year's Term given in Marihuana Case"
[S]- June 23, 1933 p16b - "Death Sentence Appeal is Filed"
[S]- July 18, 1933 p3 - "Drug-Crazed Man subdued"
[S]- Aug 9, 1933 p1b - "Marihuana Crazed Prowler Caught"
[S]- Aug 17, 1933 p10b - "Border Officers Seized Marihuana, Arrest S.A. Man"
[S]- Sep 10, 1933 p1b - "Trio Arrested in Dope Smuggling"
[S]- Nov 6, 1933 p4b - "Menace to U.S. in Spread of Marihuana" by Winifred Black
[S]- Nov 29, 1933 p5b - "Dope Ring Uses Children as Peddlers" by Winifred Black
[S]- Nov 30, 1933 p7b - "Marihuana Danger Told at Meeting"
[S]- Dec 1, 1933 p1 - "Term Suspended in Marihuana Case"
[S]- Dec 7, 1933 p7 - "Man, Amuck with Pistol, is Caught After Firing Shots"
[S]- Dec 9, 1933 p5 - "Menace Destroyed" pix
[S]- Jan 30, 1934 p3 - "Mexican Slashes S.A. Pedestrian"
[S]- July 4, 1934 p16 - "Marihuana Possession charged in 2 Cases"
[S]- Oct 12, 1934 p16 - "Marihuana Worth $500 Seized; One Man Held"
[S]- Oct 31, 1934 p4 - "Huge marihuana Shipment Seized"
[S]- Nov 5, 1934 p1b - "Police Seeking to Curb S.A. Killings"
[S]- Jan 9, 1935 - "Stamp It Out!" [Editorial]
[S]- Jan 11, 1936 p2A - "Marihuana Stock Seized"
[S]- Jan 13, 1935 p2 - "$500 Bond in Narcotic Case"
[S]- Jan 22, 1935 p1 - "Arrest of Pair connects Four to S.A. Dope Seizure"
[S]- Mar 24, 1935 p2b - "Bexar Worst Dope Center, Officers Say" [NWR]
[S]- Aug 7, 1935 p1b - "Marihuana Worth $5,000 Confiscated"
[S]- Nov 5, 1935 p1b - "Marihuana Smoke costs man $20 Fine" [NWR]
[S]- May 18, 1936 p11 - "Coiled Rope is Memento of Last Bexar hanging"
[S]- Aug 4, 1936 p1b - Fruits of Search - Jail 2 Women in dope Raid" [Gore File Case]
[S]- Sept 28, 1937 pg 6A - "2 Marihuana Cases Closed"
[S]- Dec 11, 1937 - "War Launched on Marihuana" [Editorial]
[S]- Jan 25, 1938 p3 - "Marihuana Addict Slashes Victim"
[S]- Nov 24, 1960 p59 - "Spotlight - Last One hanged" by Tom McGowan

SAN ANTONIO EVENING NEWS
[S]- Dec 18, 1922 p1 - "Apolinar Had Murder Mania, Witnesses Say"
[S]- Dec 19, 1922 p2 - "Are You Prepared to Meet Thy God, Apolinar Asked, In Letter to Doomed Man"
[S]- Dec 23, 1922 p1 - "Christmas Spirit Invades Jail; But Day Will Be Drab Event for condemned Slayer"
[S]- Feb 23, 1923 p2 - (Pictures - Three Views of Clemente Apolinar"

KERRVILLE TIMES Kerrville Times - Kerr County Texas
[S- Nov 23, 1951 pp1] "Man Who Broke Wichita Falls High School Marihuana dope Ring Says Father Was Shot By dope Peddler"

PORT ARTHUR NEWS - Port Arthur, Texas
[S]- Nov. 19, 1923] "Texas narcotic board to go to Mexico City"
[S]- Aug 22 (or 23), 1924 p3] "Marihuana Bushes Found in Houston"
[S]- Aug 7, 1926 p2 ] "Marihuana is Found on Farm"
[S]- Aug 12, 1926 p5 ] "Drugs are seized" [NWR]
[S]- Nov 15, 1929 p22 ] "Federal Marihuana Ban Sought by Sheppard"
[S]- Nov 21, 1929 p4] Short
[S]- June 11, 1930 p14 ] "Crazed Mexican Shoots Four Men" – Gore File Case
[S]- Jan 16, 1931 p7 ] "Emphasize Evils in use of Marijuana"
[S]- April 28, 1931 p1] "Texas Solons consider Day of Adjourning" [NWR]
[S]- Aug 27, 1931p ] "Marihuana Farm Found" [NWR]
[S]- Sep 23, 1931 p3 ] "The Texas Bluebonnet Is Acquitted On a Charge of Murder" [NWR]
[S]- Dec 20, 1931p7 ] "Use of Marihuana By Children is Probed" [NWR]
[S]- Jan 16, 1936 p7] "Murder Casers are on Docket" [NWR]
[S]- Jan 28, 1936 p1] Short [NWR]
[S]- Jan 29, 1936 p8 ] "Mexican Bound over to Jury"
[S]- Feb 18, 1936 p7] "Port Arthur Man Indicted" [NWR]
[S]- Mar 3, 1936 p2 ] ""Local Man Sentenced on Marijuana Charge"
[S]- April 25, 1936 p1] "Marijuana Sale to be Charge"
[S]- April 26(or 28),1936 p1] "Held For Jury"
[S]- May 11, 1936 p3] "Fight Against Narcotic Urged" Dr. Lee Rice (San Antonio) mention 5 star
[S]- May 12, 1936 p12] "Man Indicted Marijuana Ca
[S]- May 26, 1936.p1] "Port Arthur Man Indicted"
[S]- June 01, 1936.p2] "Schedule for Trial Tuesday"
[S]- June 02, 1936 p1] "Port Arthurian given one year"
[S]- Feb 27, 1937 p2] Short
[S]- Mar 18, 1937 p1] "Local Youth Is Sentenced"
[S-Mar 28, 1937 ] "Guards would make good customs Inspectors" [NWR]
[S]- Dec 5, 1937 p10] "Fight on Marihuana Use to be Intensified" (AP)
[S]- Dec 30, 1937 p3] "Marihuana Possession is Charged in Court"
[S]- Mar 10, 1938 p2] "Uncle Sam and Farmers Join Hands to Stamp Out 1800 Acres of Drug Weed, Planted by Mistake"
[S]- Mar 28, 1938 p6] "Five Arrested, Dope is Seized"
[S]- April 17, 1938 p12] "Reefers Seized"
[S]- April 21, 1938 p8] "Mexican Woman Pleads Guilty in Reefer Case"
[S]- April 26, 1938 p6] "Man is Freed in Robbery Case" Marihuana defense works
[S]- April 29, 1938 p.3] "Hashish (It's Marijuana in U.S.) Fanning Flames of Fanaticism and spreading Pillage and Slayings"
[S]- June 3, 1938 p.17] "Given 90 Days"
[S]- June 7, 1938 p1] "Grand Jurors to Probe Dope"
[S]- July 3, 1938 p9] "Renewed Dope Probe is Urged"
[S]- July 31, 1938 p6] "Drug is Seized"
[S]- Aug 1, 1938 p1] "Boss Must Die" (Clemency Refused Stayer of Cheese Salesman" Gore File – Vince Boss
[S]- Aug 2, 1938 p2] "Young 'Loco Weed' Smoker Executed for Salesman's Murder" Gore File Vince Boss- 5 star
[S]- Aug 7, 1938 p13] "Drug Weed is Taken in Raid"
[S]- Aug 21, 1938 p4] "Boy Finds Marijuana" [NWR}
[S]- Aug 21, 1938 p2] "Marihuana use Centuries Old"
[S]- Aug 27, 1938 p7] "Marijuana is Found on Man" [NWR]
[S]- Aug 29, 1938 p8] "Held to Jury" [NWR]
[S]- Aug 30, 1938 p2] "15 are Indicted by Grand Jury"
[S]- Sep 8, 1938 ] "Marihuana is Narcotic Problem" Editorial
[S]- Sep 22, 1938 p2] "Term is Set in Narcotic Case" [NWR]
[--Sept 10, 1938 p8] Unknown article [NWR}
[S]- Nov 11, 1938 p10] "Mrs. White Given Federation Post" [NWR]
[S]- Dec 16, 1938 p12] "Negro, 20, Dies in State Chair" [about an aspire cigarette]
[S]- Dec 23, 1938 p6] "Marijuana Blamed in Suicide Attempt"
[S]- March 23, 1939 p1] "Marijuana" (continue from page 1]
[S]- Mar 24, 1939-p16] "Sailor Bound Over to Jury" [NWR]
[S]- April 8, 1939 p3] "SeaMan's Dope Case Is Set For Tuesday" [NWR]
[S]- May 25, 1939 p3] "Seaman Accepts Term in Marijuana Case" [NWR]
[S]- Sep 13, 1939 p12] "Judge Resets Trial in Marihuana Case" [NWR]
[S]- Sep 16, 1939 p4] "Walter Winchell" [N.W.R.]
[S]- Sep 20, 1939 p9 ] "Cows On Drug Spree"
[S]- Oct 1, 1939 p4] "Blame Birds for Dope" [NWR]
[S]- Nov 2, 1939 p12] "Identity of 2 Killed Under train Sought"
[S]- Nov 26, 1939 p3] "Oil Refinery Construction Engineer Now in City is at home on jungle trails of tropical lands" [NWR]
[S]- Dec 11, 1939 p2 ] "Defendant Enlists Escaping Dope Case" [NWR]
[S]- Mar 14, 1941 p22] Film Ad
[S]- Mar 24, 1941 p2 ] "Carnival Employe Held in dope Case" [NWR]
[S]- Aug 22, 1941 p2 - "Arrest is Made in City for FBI"
[S]- Aug 24, 1941 p2 ] "Wars On Marijuana"
[S]- Oct 22, 1941 p3] "Held in dope Case" [NWR]
[S]- Oct 30, 1941 p14] "One Sentenced on dope Count" [NWR]
[S]- Aug 4, 1947 p 7] "Trigger happy dope Smugglers Latest Menace"

VALLEY STAR-MONITOR-HERALD - Brownsville, Texas
[S]- August 14, 1938 marihuana The cigarettes made from its dried leaves seeds and stalks are known ns or whatever colloquial name the kids give it They nil mean The weed is known over the world as Spanish Fly Hashish Indian Hemp Reefer Weed Maslac us or Canja to mention a few Even the names reck of evil They all mean and insanity for users if thc law does not catch them at the crimes They all menn a menace to Inw nnd order which so far has won by many lengths Afraid of Floater Valley officers with any fi

BROWNSVILL HERALD - Brownsville, Texas
[S]- Feb 23, 1923 p1 - "Clemente Apolinar is Hanged Today In Bexar County Jail" (AP)[GORE FILE]
[S]- Aug 2, 1938 pg 1 - "Boss Electrocuted" [Gore File]
[S]- Sept 23, 1941 pg 1 - "Ten Are Taken To State Pen" [NWR]


---
---

WANT TO KNOW MORE:
=====================
Due to space / download time considerations, only selected materials are displayed.   If you would like to obtain more information, feel free to contact the museum.   All our material is available (at cost) on CD-Rom format.  
CONTACT PAGE


---
---