THE ANTIQUE CANNABIS BOOK
Chapter 4 - (2nd Edition)
Virginia -- Industrial Hemp
INDUSTRIAL HEMP
in
VIRGINIA:

1.2 - QUESTION - Did George Washington Grow Hemp?
ANSWER - Yes.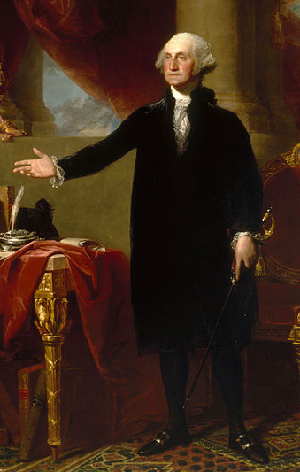 GEORGE WASHINGTON AND HEMP

And we know from his diaries, [4] that George Washington, (America's first President), not only grew Hemp, but also actively promoted its growth. Probably his most famous quote on the subject, coming from one of his letters to his farm plantation field manager; George Washington to William Pearce (Feb. 24, 1794), in which he is quoted as follows: [5]



"Hemp, grow it everywhere"


With the actual quotation being more like:



"Make the most of the Indian hemp seed, . . . and sow it everywhere!"



Which taken into context (and today's use of the English Language) will read something like:



"Mr. Pearce, on my farming plantation(s), I want you to make the most of Hemp and plant it everywhere on my farmlands that haven't been previously reserved for other things."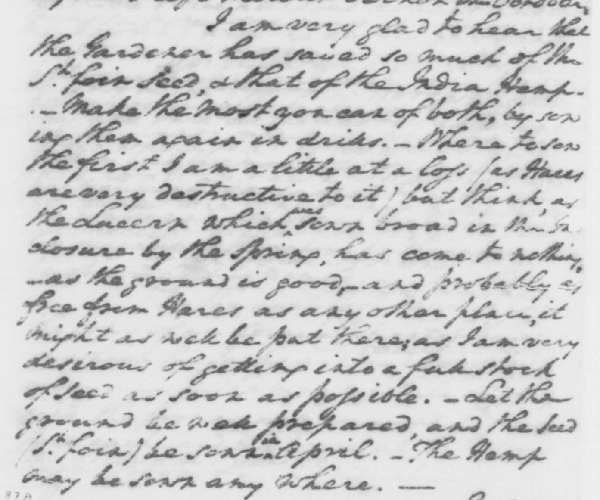 [Click on image to see the full letter]
Courtesy Library of Congress



George Washington, obviously knew that Hemp, unlike other crops, could be grown just about everywhere, even on otherwise unproductive areas, and obviously had a sharp business sense.

This next letter shows that Washington also wanted it grown as a way to help the average citizen of the then newly formed nation. It is a letter written from George Washington to Alexander Hamilton, October 14, 1791. [6] Note that Alexander Hamilton at the time was 'Secretary of Finance' and as such a very important figure in the American government in his day. Thus this one letter takes on a very important (national) meaning.
Mount Vernon, October 14, 1791.
My dear Sir: When I addressed a private letter to you a few days ago I had no more idea that Monday the 24th. instt. was the day appointed for the meeting of Congress, than I had of its being dooms-day, until it was mentioned to me in a letter which I have just received from Mr. Lear (who was under the like mistake). It had taken such deep root in my mind that the last Monday in the month was the time that I never consulted the Law or made any enquiry about it; and meant to move leisurely on in the course of next week for Philadelphia and for that purpose had directed Page to send off his Stage Coach so as to be at George-Town on tuesday the 18th. This discovery, however, will oblige me, as soon as I am provided with the means, to accelerate my Journey; and it induces me at the same time to urge you more earnestly to be prepared against my arrival with what my last requested. How far, in addition to the several matters mentioned in that letter, would there be propriety do you conceive in suggesting the policy of encouraging the growth of Cotton, and Hemp in such parts of the United States as are adapted to the culture of these articles? The advantages which would result to this Country from the produce of articles, which ought to be manufactured at home is apparent but how far bounties on them come within the Powers of the Genl. Government or it might comport with the temper of the times to expend money for such purposes is necessary to be considered and without a bounty is given I know of no means by which the growth of them can be effectually encouraged. The establishment of Arsenals in convenient and proper places is, in my opinion, a measure of high national importance meriting the serious attention of Congress; and is one of those measures which ought to be brought to their view.

Yesterday I received the resignation of John Spotswood Moore Surveyor of West Point in this State. I mention it now, that if opportunities should present, you may make the necessary enquiries into the fitness of Alexr. Moore, his Brother, whom he recommends as a Successor. With affectionate regard, etc.
[unsigned, by George Washington]

[Click on image to see the full letter]
Courtesy Library of Congress


His writings on the subject of hemp were so numerous, here we simply invite the reader to journey to the "Library of Congress" website [4] which has a good search engine, to look for themselves. Here however, we will be remiss if we did not mention yet one more letter. Some conspiracy experts point to his one cryptic reference to Silesian Hemp, as actually being Hemp-seed that was smuggled out of China illegally (see next page, this chapter):

Letter from George Washington to Dr. James Anderson, May 26, 1794
Philadelphia, May 26, 1794.
Sir: The letter with which you were pleased to favor me, dated the 15th. of August last year, accompanying sevl. pamphlets on interesting subjects, came safe; though long after its date, as you will perceive by the enclosed note from a Mr. Callender; which serves as a wrapper of six guineas which I sent for the vols. of the Bee (15 in number) which have come to my hands. As you have never authorised any one to call upon me for the cost, I am uncertain as to the amount. If the sum herewith sent is short of it, I will pay the balance at anytime, to your order; if over, it may remain in your hands for the succeeding numbers, as they shall be published.

I thank you as well for the Seeds as for the Pamphlets which you had the goodness to send me. The artificial preparation of Hemp, from Silesia, is really a curiosity; and I shall think myself much favored in the continuance of your corrispondence. When I have more leizure than at present, (just at the winding up of a long, laborious and interesting Session of Congress) I may write you more fully than it is in my power to do under such circumstances, relatively to the subjects you have touched upon.

This letter, and another which I have taken the liberty of putting under cover to the Earl of Buchan, is directed to the particular care of the American Minister in London. I wish them safe to hand, and that you wd. do me the justice to be assured of the esteem with which I am etc.

[Click on image to see the full letter]
Courtesy Library of Congress


But he wasn't the only Virginian of note, to support and grow Industrial hemp at the time.



[Next Page - Was Thomas Jefferson a Marihuana Drug Smuggler?]




---


============
FOOTNOTES:
[4]- Almost all of George Washington's writings, including his diaries, can be located via the "Library of Congress" website --
http://memory.loc.gov/ammem/gwhtml/gwintro.html
[5]- George Washington Papers at the Library of Congress, 1741-1799: Series 4. General - George Washington to William Pearce, February 24, 1794 --
http://memory.loc.gov/cgi-bin/query/P?mgw:89:./temp/~ammem_ZgCH
[6]- A copy of this letter can be found via the Library of congress --
http://memory.loc.gov/cgi-bin/query/r?ammem/mgw:@field%28DOCID+@lit%28gw310361%29%29
[7]- Diaries of George Washington; Letter from George Washington to Dr. James Anderson, May 26, 1794 --
http://memory.loc.gov/cgi-bin/query/r?ammem/mgw:@field%28DOCID+@lit%28gw330315%29%29


---

WANT TO KNOW MORE:
=====================
Due to space / download time considerations, only selected materials are displayed. If you would like to obtain more information, feel free to contact the museum. All our material is available (at cost) on CD-Rom format.

CONTACT PAGE
---
---