MEDICAL CANNABIS


A SHORT GRAPHICAL HISTORY
---
Western Medical 50-AD
---
---



CENSORED
Picture of Dioscorides

We were not able to obtain permission to use it. However it can be viewed at www.evans.amedd.army.mil/Pharmnew/images/THOM/hist08.htm

Dioscorides a physician in Nero's army, whose books detailed the properties of numerous medicinal plants including Medical Cannabis today known as Medical Marihuana.



If West began with the Roman Empire than medical Cannabis can be said to have been there right from the very beginning. Both Galen (the Roman physician whose textbooks on medicine were used throughout the Middle Ages) and Dioscorides (author of the Greek Herbal 50 AD) made references to its medical usage.

Although it should be pointed out that both of their medical references for the drug, appear to be for rather minor medical uses such as, "a cure for an ear ache" etc.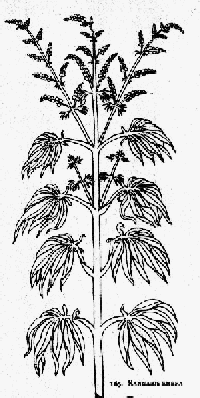 Plate from a page of the Dioscorides Herbal (showing what may be a medical marihuana plant)

Like the works of Galan, this book known today as the "Greek Herbal" De Materia Medica, would stay in use for well over 1,500 years thereafter after. Of Interest to historians is that because so many people can still read and write both Latin as well as ancient Greek, no one questions weather medical marihuana was being used at that time, it definitively was.







---
---