PISO'S ALMANAC: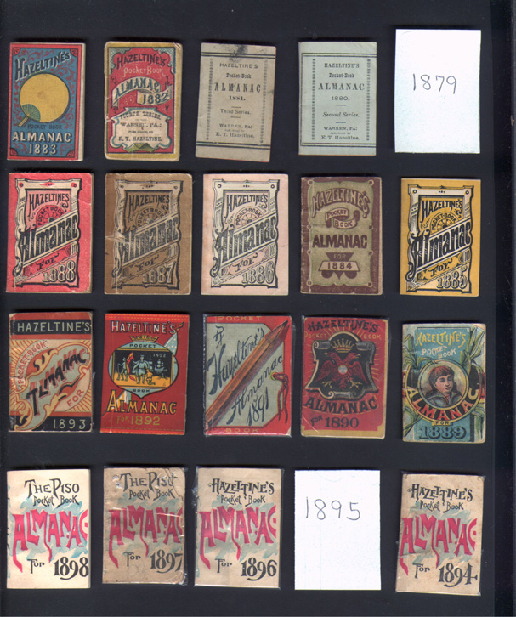 Free Give Away Almanacs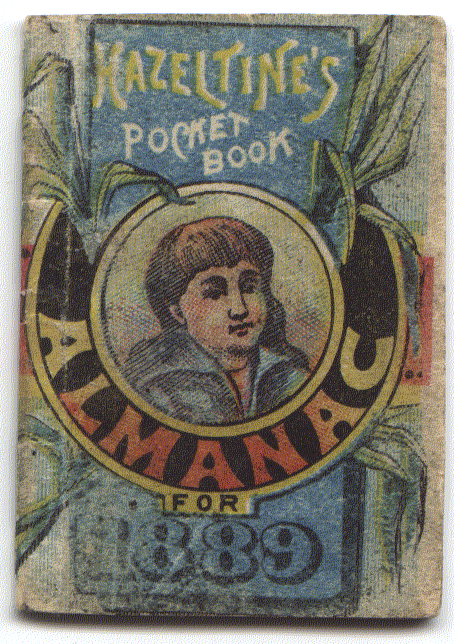 1889 Piso's Almanac Cover


GIVEAWAY ALMANACS:
Once more Piso's Co. provides an excellent example of promotional giveaways, which are now being much sought after by the antique collectors.

Originally named the Hazeltine Co., later on changed to The Piso Co., for many years (1879 to 1917) it published a series of small (less than 3" square) but colorful almanacs, which it cleverly gave away though pharmacies that sold its products. If a pharmacist wanted to obtain and give away these booklets, it would have to sell its products.

In addition to the almanacs other booklets were published by the company with such titles such as "A Plucky Woman" etc, in which (somehow or another) Piso's Cure would always save the day.

This almanac is presented here solely as an example; numerous other companies also put out pamphlets and almanacs.

For the most part they were put out by patent medicine Mfg. (which usually did not make reference to their ingredients) and as such is outside the domain of this book. Today antique collectors are willing to pay between $10 and $35 (depending upon condition) for each.



---
WANT TO KNOW MORE:
Due to space / download time considerations, only selected materials are displayed. If you would like to obtain more information, feel free to contact the museum. All our material is available (at cost) on CD-Rom format.

---
---
---
---