PRE-CIVIL WAR
CANNABIS AD'S: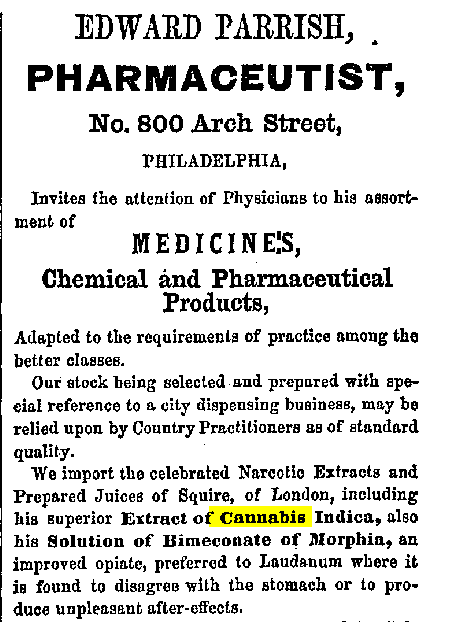 Medical and Surgical Reporter May 17, 1862 pg186
Only the first half of the paid Ad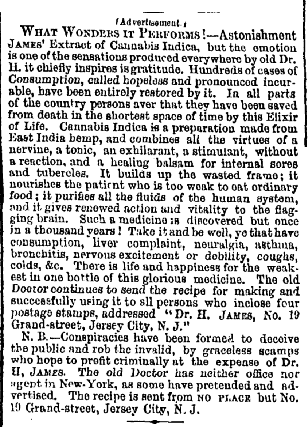 New York Daily Times July 7, 1857 pg5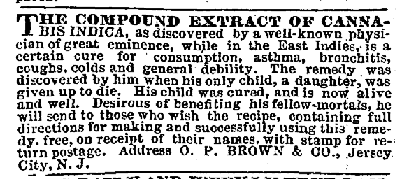 New York Times Sep 10, 1860 pg5
aka Dr. James Cannabis Elixir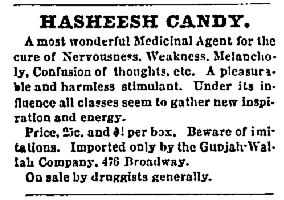 Vanity Fair Magazine Sep 20, 1862 pg134



PRE-CIVIL WAR CANNABIS AD'S:
One feature that is quickly noticed by the average observer, and can be attested to by any historian, is that ALL pre-Civil War[1] ad's suffered from a lock of graphics. Yes, the printing technology was there, but not yet economically practical, at least not for the average advertiser----A factor that would plague advertisers well into the late 19th Century.

Just placing these old Cannabis ad's together in chronological order tells the story. At first only written words, than Large Type begins to appear, followed in later years by simple arrows or block characters. Only into the 1880's do actual (but simple) graphics begin to appear.

Thus, the main factor the separates post from pre-Civil War ads is the reliance on kind and type of wording.

[1] With reference to the American Civil War [1860-1865].



---

WANT TO KNOW MORE:
Due to space / download time considerations, only selected materials are displayed. If you would like to obtain more information, feel free to contact the museum. All our material is available (at cost) on CD-Rom format.

---
---
---
---