Chapter 18

CANNABIS
SEDATIVES, HYPNOTICS AND BROMIDES

---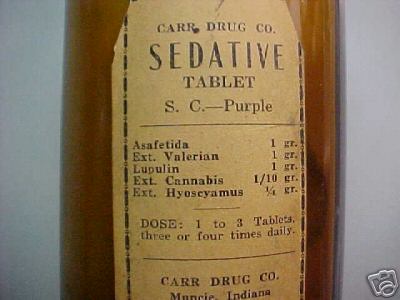 18.0 - Sedatives, Hypnotics and Bromides:
The author makes no pretense of having any kind of medical training (a point repeated over and over again in this book), thus exactly how Medical Cannabis goes about doing what it does, I do not know. What I can say with some authority, is that starting around 1840 various medical journals began publishing glowing articles about Cannabis and how (among its various other uses) it made for an excellent sedative. Soon doctors in all Western countries began to prescribing it for their patients.

A decade or two later, its use as a Hypnotic (or as a sleeping pill) also started to be written about in the medical journals. This of-course was only logical as a sleeping agent is nothing more than a strong sedative.

Still later on, Cannabis would find itself as a standard ingredient in Bromide mixtures which were widely used in the 19th Century to treat what we would now refer to as nervous tension.






18.1 - Some Weird Definitions:



The problem with certain medical conditions, such as insomnia or mental illness, is that some of the "Official Definitions" used within the medical world to describe them get somewhat skewed by the time they get out on the street. Take for example the following terms that the Cannabis Antique Collector (sort of) needs to know: [Note: All Medicl Definitions are taken directly from Taber's Medical Dictionary

NEURALGIA:
STREET DEFINITION: Something akin to nervous tension, or some kind of mental illness.

MEDICAL DEFINITION: "A sharp pain along the course of a nerve" Or in other words, Neuralgia is actually a physical disease and [at least from what I've been able to tell] has nothing to do with a mental illness. Chapter 22 of this book is devoted to the subject of antique Cannabis medicines, specifically made to treat this ailment.


HYPNOTIC:
STREET DEFINITION: Ask anyone out in the street what it means and most likely [using their best Dracula voice], you will be told:

"Look into my eyes, You will look into my eyes . . You are getting sleepy, . . very SLEEPY . . ." Which actually is not very far from the truth as the medical dictionaries official definition for a HYPNOTIC agent is:

MEDICAL DEFINITION: "An agent that induces sleep or which dulls the senses" or in other words, it's nothing more than a sleeping pill.


BROMIDE:
STREET DEFINITION: Some kind of cocktail Drink, something that someone gives you at a cocktail party.

MEDICAL DEFINITION: "A binary compound . . . a central nervous system depressant."


HYSTERIA:
STREET DEFINITION: "The boys' gone off the deep end---Quick someone get a straight jacket." [Quote attributed to Moe or Larry, but definitively not Curly]

MEDICAL DEFINITION: "A condition . . . simulating almost every type of physical disease and . . ." Followed by a long boring definition [mostly PHD gobbledy-gook], essentially stating that while it is usually thought of as a mental problem, it also doesn't have to be a mental condition at all, but can take on various physical conditions.

Of course there are numerous other [odd ball] definitions that the average Cannabis antiques collector should become familiarly with, but for purposes of locating old Cannabis antique sedatives, the ones above will suffice.


18.2 - Sedatives:
Medically speaking, one can't underestimate the value of this wonder-drug. True as, Ayn Rand once wrote, "Before the industrial revolution, the average life expectancy in Europe was only 23 years." Still that was only true because of the high infant mortality rate. If you were able to survive the first four years of life, you had a good chance of living till old age. This meant that even back than, doctors had to deal with a whole host of medical problems such as Alzheimer's etc.

Remembering that this was a time when Western doctors had few if any real medical agents to speak of, Cannabis [the sedative] must have seemed like a real God-sent.


18.3 - Hypnotics:
Ask the average person out on the street what a hypnotic is and mostly [using their best Bela Lugosi voice] the response will be:
"Look into my eyes, look closer . . . you are getting sleepy . . . sleepy . . . "
Which is actually as good a definition as any other, as (technically speaking) a hypnotic is nothing more than the old name for a sleeping pill. And as a sleeping pill is nothing more than a sedative, but prescribed in larger dosages, Cannabis [the Sedative] was one of the obvious chooses for doctors to prescribe.

Unfortunately for antique collectors today, most of these prescriptions were NOT for specific brand named Hypnotic Medicines, but either for generic Cannabis tinctures or simple sedatives.

In fact in all probability, few specific antique brand-name Hypnotic medicines (Cannabis or otherwise) exist. Doctors just prescribed higher doses of sedatives and as such antique collectors today should concentrate their searches in that area. Maybe it would be best for the collector to simply think of Hypnotic Drugs as simply being another use of a sedative.


18.4 - Treatment for Mental Illness:
Whether physicians (and/or caregivers) thought of Cannabis as a treatment, an actual cure or simply as a means of calming down their patients, I do not know. What is known is that starting in the mid-1840's, one medical journal article after another started praising the use of Medical Cannabis for the mentally ill. By the mid 1880's, Cannabis was a standard medical agent in all asylums throughout the English speaking world.

Unfortunately for today's antique Cannabis collectors, in general Doctors tended to prescribe Cannabis (as a sedative) in its generic or tincture form. Thus, there are few if any specific sedative bottles or collectables from this era. However, as can be seen from the other sections, some numerous brand name Cannabis sedatives can indeed be found.


18.5 - Bromides:



[THE WRITTEN SECTION ON BROMIDES HAS BEEN CENSORED]


Here the author makes no apologizes, I simply am not the editor of the New York Times. Although in general I am opposed to censorship, I also feel that my responsibilities to human race outweigh those to the antique community. The pictures of the antique bromide bottles however are not censored.


18.6 - Bromidia - Quite a product:
If controversy could be measured on a scale of from 1 to 10, "Bromidia" would definitely be a 10, maybe an 11 if that were possible. But instead of trying to write about this product, maybe it would be best to allow the product to speak for itself.