ANTIQUE CANNABIS BOOK
HISTORICAL
CANNABIS MEDICINES
The 3rd Edition of "The Antique Cannabis Book" -- Last Update; Jan 2014
---
HEMP SEEDS – NUTRITION & MEDICINE
PART I
---
NUTRITION -- HEMP SEED AS NUTRITIOUS MEDICINE
Today we have a very clear subdivide between dietetics (proper food & nutrition) and the medical profession. But this was not always the case, at one time the two subjects (sort of) blurred into one another. With foods touting their medical value and vice-versa.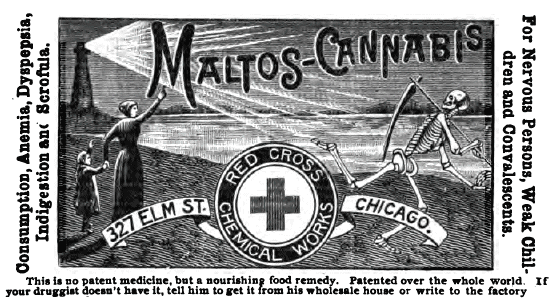 [ Medical Advance Journal - Jan 1895 ]


But as stated elsewhere in this book: this museum is made up solely of antique collectors (not medical trained professionals) and as such we should avoid medical subjects altogether and let the dietitians worry about pellagra, fatty acids, and vitamins etc., on their own. Here for our purposes it is enough to say that people back then were (on the whole), "simply too thin as well as undernourished," as opposeed to today's situation. As Ayn Ryan once wrote:
"In Western Europe, in the pre-Industrial Middle Ages, man's life expectancy was 30 years."
Which is why Hemp Seed food (chucked full of nutritional value) played such an important part in Western medical history. The next section (while boring) shows just how important /common Hemp seed food was.



---
AS PER THE U.S. PATENT OFFICE:
[Here we limit ourselves to three examples because of the boring nature of these trade marks. For those of you interested, the U.S. Patent office has a good semi-good search engine on their website and Google has an even better search engine for trade marks on theirs.


---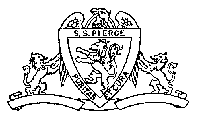 Word Mark S.S. PIERCE PURITAS ET CURA
Goods and Services IC 029 030 031. US 046. G & S: FRESH, DRIED AND STUFFED FRUITS, RAISINS, CANNED AND PRESERVED FRUITS, FRUIT PRESERVES AND MARMALADES, JAMS AND JELLIES; PICKLED FRUITS, [ FRUITS IN GRENADINE, ] FRUITS (MARASCHINO TYPE), SPICED FRUITS, CANDIED FRUITS, CANDIED FRUIT PEELS, FRUIT CONFECTIONS, BREAD, CRACKERS, BISCUIT, WAFERS, CAKES, AND MACAROONS, FRUIT CAKES, HONEY, TABLE SIRUP, MOLASSES, TAPIOCA, SAGO, [ CONDENSED AND ] EVAPORATED MILK, MALT SIRUP, CANNED VEGETABLES, DRIED VEGETABLES, DEHYDRATED VEGETABLES, VEGETABLES IN GLASS , PICKLES, SWEET PICKLES, OLIVES, STUFFED OLIVES, PICKLED LIMES, GHERKINS, CANNED AND DRIED FISH, CANNED SHRIMP, CANNED SHAD ROE, CANNED SHELLFISH; CANNED MEATS--NAMELY, CANNED TONGUE, CANNED BEEF, POTTED HAM, SLICED BEEF, AND BONED CHICKEN; MEATS IN GLASS, DRIED, SMOKED, AND CURED MEATS--NAMELY, BACON, HAM, ROAST HAM, [ CHIPPED BEEF; ] TEAS AND COFFEES, COFFEE BLEND, [ INVALID COFFEE, ] COCOA, CHOCOLATE, CANNED SOUPS, CHEESE, AND BUTTER, [ LARD AND LARD SUBSTITUTE, ] PEANUT BUTTER, EGGS, GELATIN; HERBS AND SPICES--NAMELY, SAGE, MARJORAM, THYME, CLOVES, CINNAMON, MACE, SAVORY, CASSIA, MUSTARD, MUSTARD SEED, PAPRIKA, ALLSPICE, NUTMEG, CAPERS, JAMAICA GINGER FOR USE AS A FOOD OR FOOD FLAVORING, DRIED GINGER, EXTRACT OF GINGER, FOOD FLAVORING EXTRACTS, CELERY SALT; CONDIMENTS--NAMELY, SALAD DRESSING, VINEGAR, [ PEPPER SAUCE, ] TOMATO CATCHUP; [ OYSTER COCKTAIL SAUCE, PUDDING SAUCE; ] SAUCES FOR [ SOUP, ] FISH, AND MEATS; RELISHES--NAMELY, CAVIAR AND ANCHOVY; RUSSIAN DRESSING, THOUSAND ISLAND DRESSING, CHILI SAUCE, CHILI POWDER, CURRY POWDER, PEPPER, POULTRY SEASONING, AND CRANBERRY SAUCE. WHEAT FLOUR, RYE FLOUR, BUCKWHEAT, PANCAKE FLOUR, GRAHAM FLOUR, WHOLE WHEAT CEREAL, CRACKED WHEAT CEREAL, CORN MEAL, HOMINY, PACKAGED BARLEY, ROLLED OATS, RICE, BREAKFAST CEREALS, MACARONI, SPAGHETTI, VERMICELLI, CORNSTARCH, POTATO FLOUR; CANDIES--NAMELY, CHOCOLATES, ASSORTED CANDIES, BONBONS, BUTTERSCOTCH, CARAMELS; COCONUT CAKES; FRUITS, GLACE AND CRYSTALLIZED; CRYSTALLIZED GINGER, GLACE CANDIES, GLACE PASTE, SUGAR-COATED NUTS, GUMDROPS, HARD CANDIES, KISSES, MARSHMALLOWS, MINTS, NUTS IN THEIR NATURAL STATE, NUT MEATS, FRUIT AND NUT PASTES; MARRONS GLACES, NOUGATS, AND OTHER CANDIES [ ; AND BIRD FOODS SUCH AS CANARY SEED, RAPE SEED, MILLET SEED, HEMP SEED, MIXED BIRD SEED, PARROT FOOD, AND BIRD GRAVEL ].
FIRST USE IN COMMERCE: 1877 05 01
Owner (REGISTRANT) S. S. PIERCE CO. CORPORATION MASSACHUSETTS
NO. 133 BROOKLINE AVE. BOSTON MASSACHUSETTS


---


Word Mark ENTERPRISE
Goods and Services IC 006 007 008 009 011 012 016 021 028. US 023. G & S: MARINE AND STATIONARY DIESEL ENGINES AND PROCESS MACHINERY-NAMELY, CONTINUOUS SCREW PRESS MACHINES FOR MOISTURE EXTRACTION FROM BEER MASH, VEGETABLE OFFAL AND FISH OFFAL AND THE LIKE PRODUCTS; VERTICAL MILLS USED FOR DISINTEGRATION, GRINDING AND PROCESSING MATERIALS IN VARIOUS FIELDS OF INDUSTRY [ AND FOR SUCH PRODUCTS AS ASBESTOS ROCK, BARKS, BONE, BORAX, CACTUS, CAMPHOR GUM, COPRA, CORN COBS, COTTON SEED, GARBAGE, GUMMY MATERIALS, HEMP SEEDS, HERBS, IRISH MOSS, KELP MASH, NEWSPAPER, FISH OFFAL, VEGETABLE OFFAL, PAPAYA, PULPS, SOAP, STARCH, SUET, AND TALOW, AND USED ALSO IN THE PRODUCTION OF CERAMIC PRODUCTS, FERTILIZER ] ; CONTINUOUS ROTARY DRYERS UTILIZING DIRECT HEAT [ , ROTARY ] AND STEAM TUBE [ , AND BATCH DRYERS ] ; AND CONTINUOUS SCREW COOKERS USED FOR PROCESSING AND COOKING OF PRODUCTS [ GENERALLY IN THE NATURE OF THOSE HEREINABOVE SET FORTH ] BY EITHER DIRECT OR INDIRECT HEAT APPLICATION.
FIRST USE IN COMMERCE: 1920 11 00
Owner (REGISTRANT) ENTERPRISE ENGINE & FOUNDRY CO. CORPORATION
CALIFORNIA NO. 2902 NINETEENTH STREET SAN FRANCISCO CALIFORNIA


---


Word Mark PINE TREE
Goods and Services (EXPIRED) IC 031. US 001. G & S: GRASS-SEEDS, GRAIN-SEEDS, TIMOTHY-SEED, CLOVER-SEED, HEMP-SEED, CANARY-SEED, AND RAPE-SEED.
FIRST USE: 1897 10 01.
FIRST USE IN COMMERCE: 18971001
Owner (REGISTRANT) ALBERT DICKINSON COMPANY CORPORATION
ILLINOIS WEST TAYLOR STREET AND THE RIVER CHICAGO ILLINOIS

---
We'll stop here at three examples, after all how many times can one look at very similar and very boring trademark applications? --- The sole point being made here is that Hemp Seeds are chucked full of nutritional value. And in a time when nutrition and medicine were so heavily interlocked together; This was no small thing.



[ NUTRITION ON TO PART II ]
[ What the Medical Journals were saying about Hemp Seeds/Hemp seed Oil at the time ]




---
WANT TO KNOW MORE:
=====================
Due to space / download time considerations, only selected materials are displayed.   If you would like to obtain more information, feel free to contact the museum.   All our material is available (at cost) on CD-Rom format.  
CONTACT PAGE


---
---
---