GW PHARMACEUTICALS: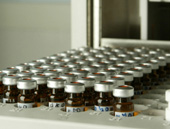 Personally, I was very taken aback a while ago when I went over to the European Patent Office's website, only to see how far behind we [in the U.S.] were falling behind.

Doing a search under the keywords, HEMP, or CANNABIS quickly shows that the majority of those patients are issued to companies with names like; "Fu-Manchu Laboratories" or "La-Frog Pharmaceuticals" etc. Few American companies are listed.

It then should come as no surprise that much of the modern-day R&D on Cannabis is currently done abroad. Perhaps the best example of this is GW Pharmaceuticals which already has products on sale in various countries.

According to their website:
SATIVEX (R) OROMUCOSAL SPRAY
GW pharmaceuticals is developing a portfolio of cannabis medicines the first of which, "Sativex®", received an Approval with Conditions from Health Canada in April 2005 for use as an adjunctive treatment for the symptom relief of neuropathic pain in Multiple Sclerosis (MS). Sativex® was launched in Canada in June 2005.

A fact sheet, "Dear Healthcare Provider" letter and product monograph for Sativex® are now available via the Bayer Canada website. These documents are intended for use only by patients and healthcare professionals in Canada.
Note, however that other pharmaceuticals, some start ups working on a shoestring, some long established in pharmaceuticals, are also getting involved. A good internet web search can help locate many of them.






WANT TO KNOW MORE:
=====================
Due to space / download time considerations, only selected materials are displayed. If you would like to obtain more information, feel free to contact the museum. All our material is available (at cost) on CD-Rom format.


---
---
---
---