YESTERDAY'S (ANTIQUE) MARINOL:
One thing that most antique Cannabis collectors find interesting is that Marinol or at least the name of Marinol is nothing new. Its been around since the 19th Century, although that product [other than in name] seems to have had nothing to do with Cannabis.




MARINOL - [Ad Reads] Homogenized cod liver oil, with extracts of marine algae--Fucus Vesiculosus, Chondrus crispus, and concentrated sterile deep - sea - water. Marinol is really delicious and digestible. - 8 oz. bottles, $8.00 per dozen - Fairchild Bros. & Foster - - - - New York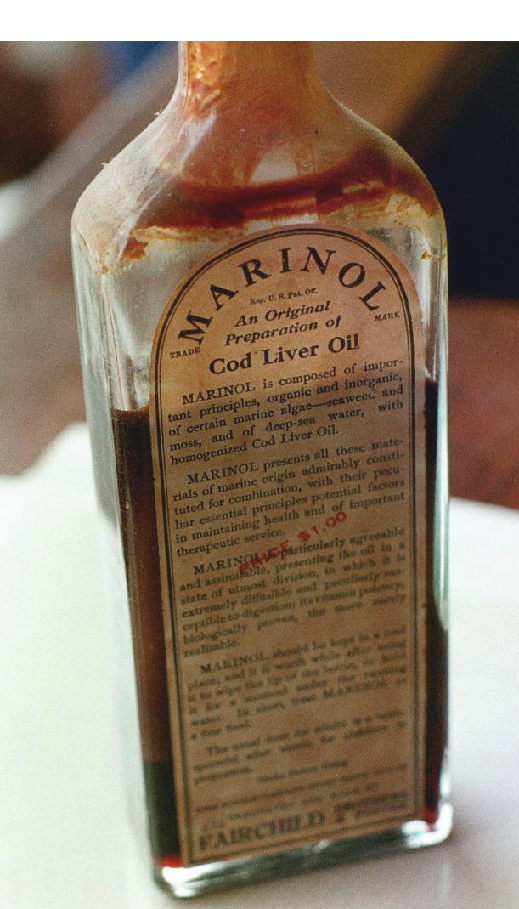 QUESTION: Did this product every contain Medical Cannabis?
ANSWER: As can be seen from the [Picture below] antique bottle of Cod Liver Oil, some manufacturers did indeed include Cannabis as part of their product. However, the Pure Food and Drug Act of 1906, required any medical product that made use of Cannabis to list that fact on the label. As (Antique) Marinol did not do so, it can be safely assumed that it did NOT.


SYRUP OF TAR COD LIVER OIL EXTRACT: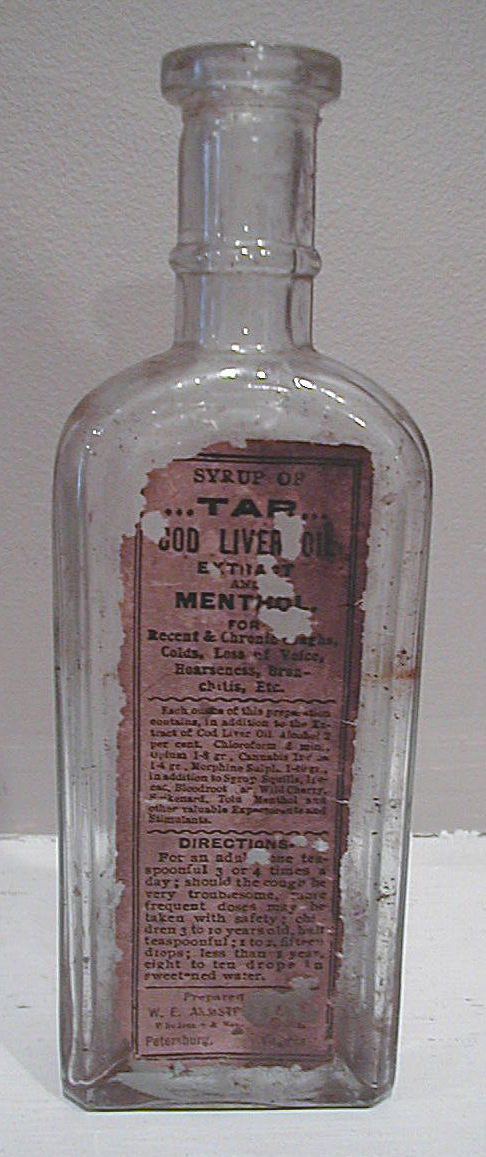 SYRUP OF TAR COD LIVER OIL EXTRACT:
Bottle came from the estate of a bottle collector, (era 1930's and 40's). This auction is for a clear bottle measuring approx. 6.75" tall and a and is marked on the front side label "Syrup of Tar Cod Liver Oil Extract and Menthol for recent & chronic coughs, colds, loss of voice, hoarseness, bronchitis, etc" Ingredients: include "Chloroform, opium, cannabis, morphine, squills, bloodroot, wild cherry" etc. This stuff sounds potent! Bottle is nice and a little dusty/dirty on the inside from years of storage and really is better than my picture shows. Bottom of the label states it was prepared by W. E. Armstrong? [4] [per auctioneers write-up]
---
FOOTNOTES:
[4] As taken from an internet auction site with permission of the picture taker.





WANT TO KNOW MORE:
=====================
Due to space / download time considerations, only selected materials are displayed. If you would like to obtain more information, feel free to contact the museum. All our material is available (at cost) on CD-Rom format.



---
---
---
---