MARIHUANA TAX STAMPS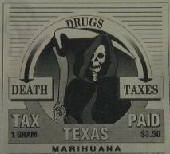 Although the far from antiques, these stamps are becoming all the rage among collectors. The story behind them [as best as I know it] is as follows:

In 1983 as part of the "War On Drugs," one of the states [I forget exactly which one] started issuing out Cannabis Tax Stamps. The idea was to catch criminals [a.k.a. Medical Marihuana Drug Lords] who, if caught without the stamps, would then be charged with the additional crime of not paying state taxes etc. Anyway, the idea caught on, and soon some 20 or more states were issuing them out.

Now, I don't know exactly what these idiots were smoking, or what-else was going through their minds, but things DIDN'T quite work out that way.

First, the stamps were so cute [Hey, look at some of them], that stamp collectors quickly started (ah!) collecting them. In fact they seem to be all the rage and are now selling for a good premium. But leaving that aside, it seems that they weren't the only ones buying them. Soon, according to legal authorities, so-called Medical Marihuana Drug Lords were using them as a legal defense against state laws. It seems that the Supreme Court (or so I am told) had stated that you can't Tax an illegal activity etc. Which seems to have created a legal dilemma, which made most if not all states STOP selling them, which made the stamp collectors quite happy as the price of their stamps went up, which . . . etc.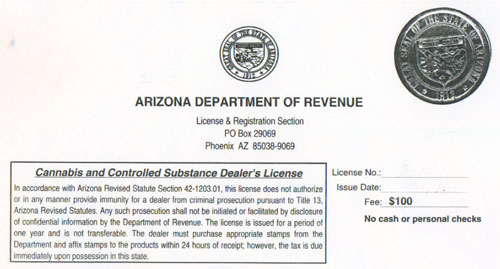 ---
| | |
| --- | --- |
| ARIZONA | ARIZONA |
| ALABAMA | CONNECTICUT |
| IDAHO | ILLINOIS |
| KANSAS | KENTUCKY |
| LOUISIANA | MASSACHUSETTS |
| MINNISOTA | NEBRASKA |
| NEVADA | NORTH_CAROLINA |
| OKLAHOMA | SOUTH CAROLINA |
| TEXAS | UTAH |