MEDICAL CANNABIS


A SHORT GRAPHICAL HISTORY
ANCIENT EGYPT
---
The CHESTER BEATTY Papyrus -- Sheet 2
---

Chester-Beatty VI (Medical) Papyrus (1,300 BC): Medical Cannabis is mentioned at least twice within the Chester Beatty VI (Medical) papyrus scroll. In general, while the papyrus scroll is not complete, those pages that do exist are in very readable condition. Almost all writing is on the Retro side, while the Verso is almost blank. [Estimates assume that the whole scroll (if complete) would measure some 4.4 feet long, 8 inches tall.] Note, CB-VI is a shorten version of Chester Beatty VI] The following is taken from ---
No. VI (British Museum 10686)
PLATES 30 -32 A
Recto. MEDICAL PRESCRIPTIONS
Verso. FRAGMENTS OF A MAGICAL TEXT
"N0 fragments belonging to this papyrus were found, so that probably we possess as much of it as the library of it's ancient owner ever contained. Like several other documents of the collection it is incomplete at both ends; also a single fold is missing near the beginning. If the necessary space for this be allowed, the papyrus will measure 1:35 metres in length, by a height of 21 cm. Joins occur at regular intervals of 25 cm. or thereabouts, the last being 9.5 cm. from the inner margin. At the beginning there is no trace of a join until 7 cm. after the lost fold, whence we must suppose that the preceding one was in close proximity to the present outer margin. The right-hand sheets overlie those to their left, and the scribe has paid no attention to the joins in mapping out his pages. The recto, written in a good literary hand which may well be as early as Ramesses II, started with four narrow columns or pages, of which the fourth alone is quite complete. Then follow three entire pages and a fourth incomplete one of normal breadth. Page 6 of the recto is conspicuous for elaborate corrections, . . . . " ----'Facsimiles of Egyptian hieratic papyri in the British museum, with descriptions, summaries of contents, etc.,' (C)1923 by E. A. Wallis Budge, Egyptian and Assyrian antiquities - British museum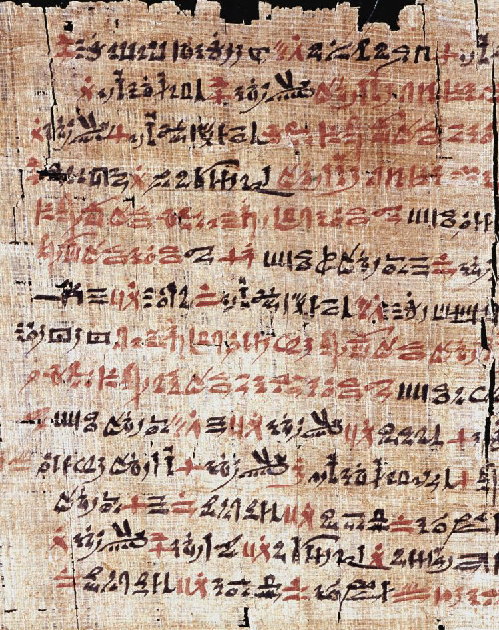 CB-VI (plate 31A -Recto 7, line No. 8)
Cannabis in crushed seeds form: Treatment for a colorectal illness.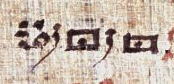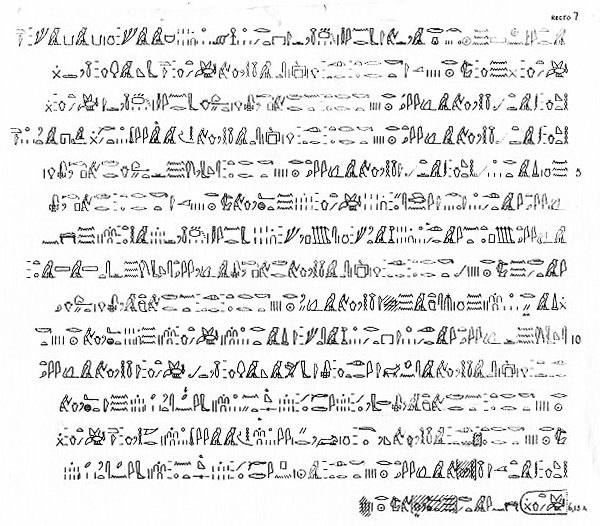 Hieroglyphic (print) of Original



Translation: [Censored --- The subject matter is kind of gross, fit more for the 'Journal of Colorectal Diseases,' and as the author wishes to keep this a family book . . . please look it up elsewhere.]

Demotic script verses Egyptian hieroglyphics: Basically there's no difference between the two. Demotic (the root word for Democracy) also know as "the peoples script" is nothing more than a simplified (easier to write down) form of hieroglyphics. As can be seen the actual CB-VI papyrus scroll is written in Demotic, but custom dictates that (modern day translators) first create a fully hieroglyphic version of the text. In addition, Egyptian hieroglyphs look a lot cooler.


All plates courtesy of the British Museum of London. Quality digital images may be obtain from their website (no commercial use allowed) free of charge or you can request copies from the museum.


---

WANT TO KNOW MORE:
=====================
Due to space / download time considerations, only selected materials are displayed. If you would like to obtain more information, feel free to contact the museum. All our material is available (at cost) on CD-Rom format.
CONTACT PAGE


---
---