Bes Medicine Container: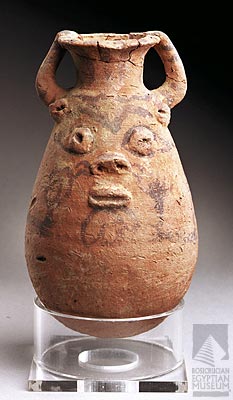 Bes Medicine Container:
Bes Medicine Container - Period: Late Period - 27th-31st Dynasties (525-332 BC) Dimensions: H: 15.2 cm -- Properties: Iron oxide pigment; Ceramic; Human hair - Where used: Household -- Description: The god Bes was the protector of children. When a child was ill, it was believed that feeding him out of a Bes shaped bottle would cure the illness. If that was not effective, a physician would then be contacted




Photo - courtesy Rosicrucian Egyptian Museum


---

WANT TO SEE MORE PICTURES:
Due to download/space limitations, it is all but impossible to display the hundreds of Cannabis Antique Pictures that the museum has accumulated. However, they are available on CD-ROM. Please contact the museum for more info.


---
---
---
---