THE ANTIQUE CANNABIS BOOK
Chapter 5 - (2nd Edition)
Bulk & Home Brew Cannabis
LABELS FOR BULK CANNABIS :
While bulk Cannabis [in large wheel barrel size containers] was all fine and well between wholesales or between wholesaler and retailer. But between retail drugstore and patron, it was sold in much smaller quantities.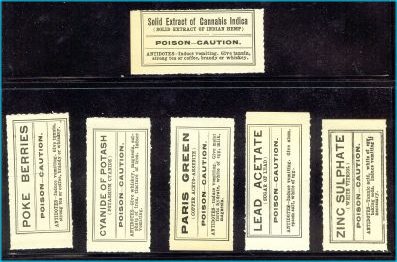 Generic Label - Soild Extract of Cannabis Indica: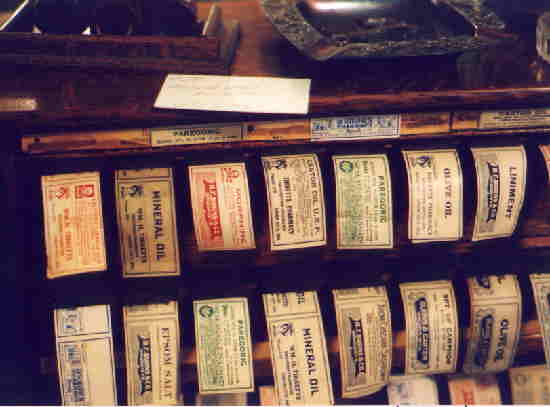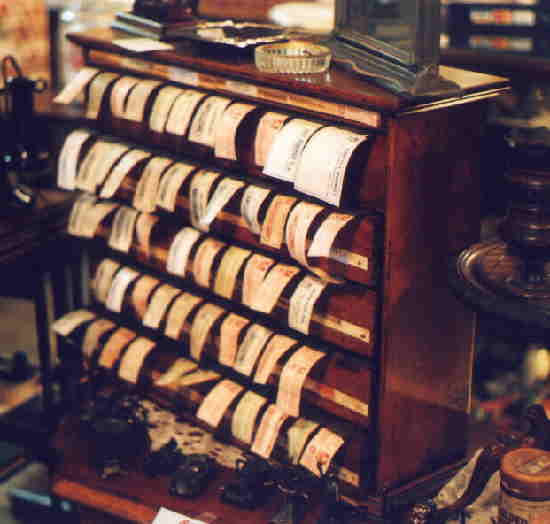 LABEL DISPENSER:
It's hard for us today to understand the role that stock or generic labels played in 19th century and even early 20th century medicine. Today one simply walks into a drugstore and buys a drug made by some large pharmaceutical manufacturer somewhere back east. The very concept that the local drugstore would of-and-by-itself actually compound the drug themselves has long ago been lost in time. Yet at one time this was not that uncommon a practice. In fact among drugstores (as oppose to general stores that sold drugs on the side), it was more the rule then the exception. And here we are NOT talking about large drugstore chains, but local Mom & Pop drugstores.

Thus the importance of generic labels and in the case of large manufacturing druggist concerns -- label dispensers.
QUESTION: -- What's the difference between a label dispenser used in a pharmacy and one used at a theater to dispense entry passes?

ANSWER: -- Not much, or at least none that we've been able to find.
The Golden Age of Generic Labels:
Although opinions on the subject vary at bit, a good guess-tumid would be between the 1880's and the 1920's. Before the 1880's, glass and even cardboard containers were simply too expensive NOT to have been recycled. A customer brought in his/her own container, the druggist then reached for the appropriate apothecary jar and refilled it --- that was it, no label required.

But as glass containers etc., became cheaper to manufactured, the concept of recycled containers became less and less appealing, and thus the need for more and more generic (hopefully) Cannabis labels.

However, after the 1920's the public desire for BIG BRAND NAME products as well as various other economic factors of large scale, made these generic labels less and less common in use.



---

WANT TO KNOW MORE:
=====================
Due to space / download time considerations, only selected materials are displayed. If you would like to obtain more information, feel free to contact the museum. All our material is available (at cost) on CD-Rom format.
CONTACT PAGE


---
---