THE ANTIQUE CANNABIS BOOK
Chapter 5 - (2nd Edition)
Bulk & Home Brew Cannabis

MEDICAL CANNABIS - PRE-1937 PRICING


The following Price Data was taken from the Druggist Circular Magazine [Red Book, Bi-yearly Price Guide]. Note that to the uninitiated, the prices seem to have no rhyme or reason. However, if one notices the dates and those of the great milestones (such as the great depression etc.), soon a sense of order comes into being.




BULK CANNABIS - PRICE PER POUND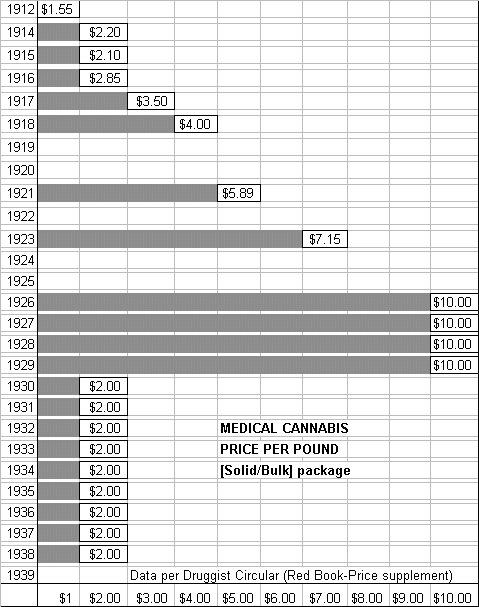 Note that Cannabis was still offered for sale after 1937. Officially, it would not be totally outlawed until 1972.

The following tables [Tincture & Fluid Extract] are included for price comparison. Note that it doesn't require one Lb. of medical Cannabis to manufacture a pint of Cannabis tincture (which is about 80% alcohol), and certainly not a pint of fluid extract (which also includes water). However, it did require a bit of manufacturing; which implies labor costs, lab., equipment etc. These differences really show up during the depression when the price of ALL herbs dropped sharply.

Other tables exist for Granulated as well as Powder Cannabis, however, they seem to have been sold by the oz. (even at the wholesale level), which implies that these products were meant for the retail trade.



CANNABIS TINCTURE - PRICE PER PINT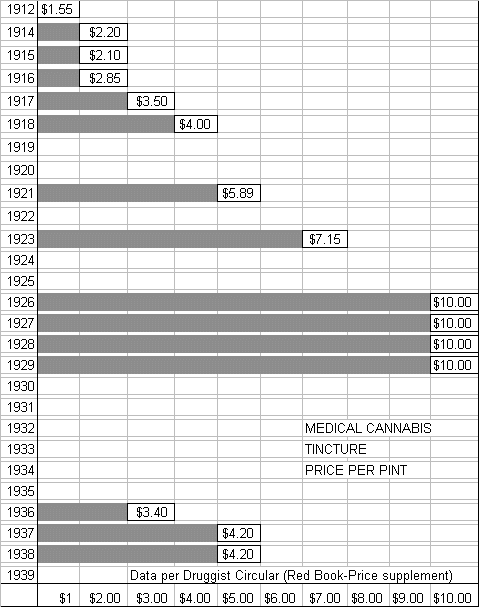 FLUID EXTRACT CANNABIS - PRICE PER PINT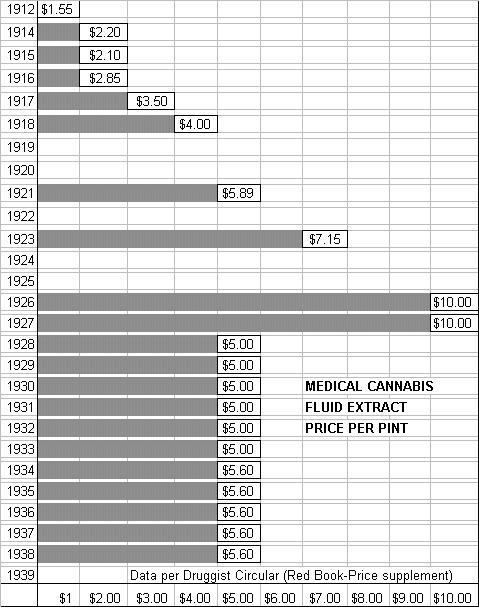 Pricing data, after the passage of the anti-Medical Cannabis laws is a little hard to obtain. As one trade magazine reported:
OIL PAINT & DRUG REPORTER --- Sep. 20, 1937 - pp 52.
Herbs and Leaves
Cannabis. ------ Prices have withdrawn as the article is no longer to be sold on the open market under conditions free from those prevailing on all articles coming within the narcotic control laws of the nation and its states.
The author had to read that article three or more times until it made sense. Simply put, that trade magazine stopped listing the price of Cannabis after the law took effect.


---

WANT TO KNOW MORE:
=====================
Due to space / download time considerations, only selected materials are displayed. If you would like to obtain more information, feel free to contact the museum. All our material is available (at cost) on CD-Rom format.
CONTACT PAGE


---
---