THE ANTIQUE CANNABIS BOOK
Chapter 6 - (2nd Edition)
Cannabis Corn Remedies
Apex Corn Remedy: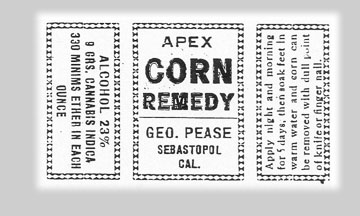 Apex Corn Remedy



APEX CORN REMEDY
Manufactured by Geo. Please Sebastopol, Ca.; Label reads (See picture) "Apply night and morning for 5 days, then soak feet in warm water and corn can be removed with dull point of knife or finger nail."

[Era 1913] - According to an old Pharmacy directory the Geo Please (Drug Store) was located in Sebastopol Ca. This is an excellent example of a local (brand named) product. The package was found in an antique story near Sebastopol.


---

WANT TO KNOW MORE:
=====================
Due to space / download time considerations, only selected materials are displayed. If you would like to obtain more information, feel free to contact the museum. All our material is available (at cost) on CD-Rom format.
CONTACT PAGE


---
---