THE ANTIQUE CANNABIS BOOK
Chapter 6 - (2nd Edition)
Cannabis Corn Remedies
Norwich Corn Knocker: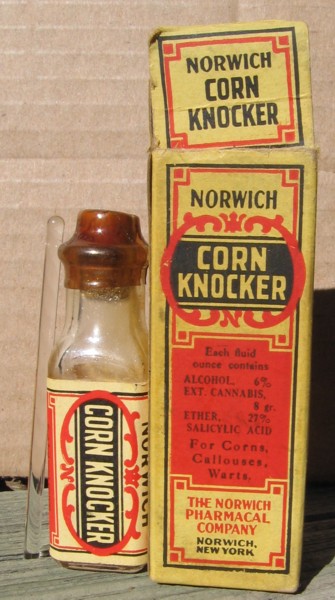 Norwich Corn Knocker - Front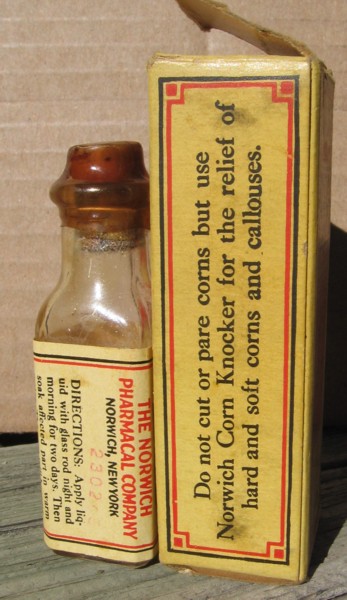 Norwich Corn Knocker - Side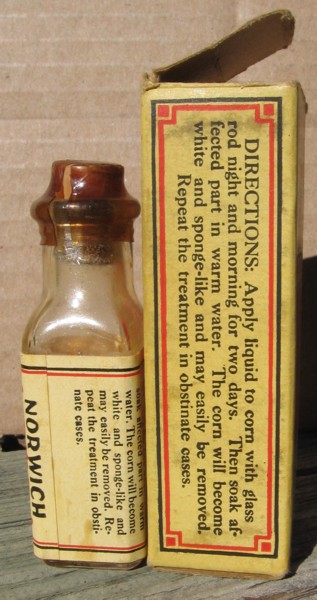 Norwich Corn Knocker - Side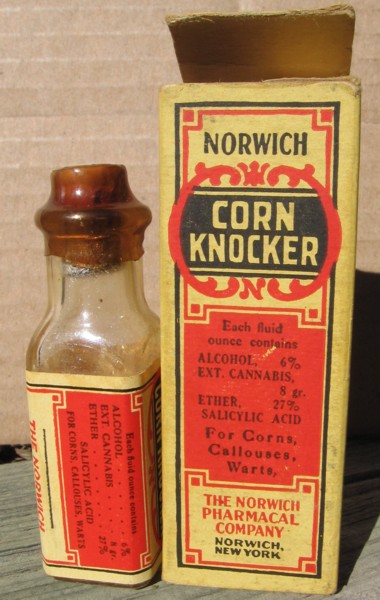 Corn Knocker



Norwich Corn Knocker Bottle, Label, Box
Complete early quack medicine bottle with label for Corn Knocker from The Norwich Pharmacal Company, Norwich, New York. The small clear glass bottle stands 2.25" tall and has complete original wrap around label in excellent condition. The colorful label states that the preparation contained 6% Alcohol, 8 grs, Ext. Cannabis, and and 27% Ether. The bottle is still sealed with the original cellophane over the cork. Though unopened, the contents have evaporated and the bottle is empty. The original glass applicator stick is still included in the box. The original color box is in good condition with light wear and minor staining. The box also lists Ext. Cannabis as an ingredient on two sides. Neat early patent medicine from a well-known company -- made more desirable by the presence of a controlled substance in the ingredient list.


---

WANT TO KNOW MORE:
=====================
Due to space / download time considerations, only selected materials are displayed. If you would like to obtain more information, feel free to contact the museum. All our material is available (at cost) on CD-Rom format.
CONTACT PAGE


---
---