JOHN WYETH & BROTHERS CANNABIS POWDER: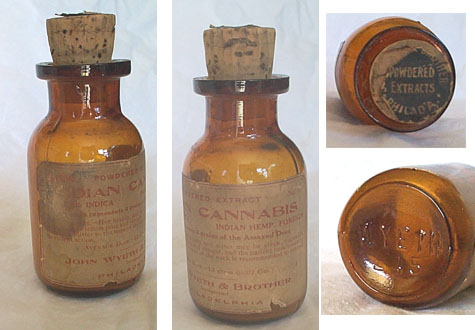 JOHN WYETH & BROTHERS CANNABIS POWDER:
INDIAN CANNABIS Drug Paper Label Bottle, bottle is empty, has a little residue. bottle without cork measures 3 inches high. Has stain that covers half the word Indian and more "see picture", Has a few little spots of paper tears and paper missing. Has a little pencil writing near stain. Made by John Wyeth & Brothers Incorporated Philadelphia. It says Powered Extract on bottle label and the label on the cork, label on cork is 3/4's their. Bottom of glass bottle has raised letters that says WYETH 245, Glass has bubbles, seams go from bottom of bottle and stop at the base of the Neck. - Note that this is the same kind of bottle as the one above.


---
---

BACK TO
CHAPTER 5