THE ANTIQUE CANNABIS BOOK
Chapter 15 - (2nd Edition)
Quack Remedies



Addendum 15a QUACK MEDICINES
FACTS WORTH KNOWING:


The following is taken directly from the pamphlet "Facts Worth Knowing" published by "The Proprietary Association," a group the represented the Patent Medicine Manufacturers. [OK, think of them as a lobby group for the Quack Medicine Manufacturers] And although of dubious origin, it does provide one statistical factor that should be of great interest to us. The number of people who died as a result of the use of Medical Cannabis during a two year period. [Note, that on this list Cannabis is down at the bottom, somewhere below Dog Biscuits.]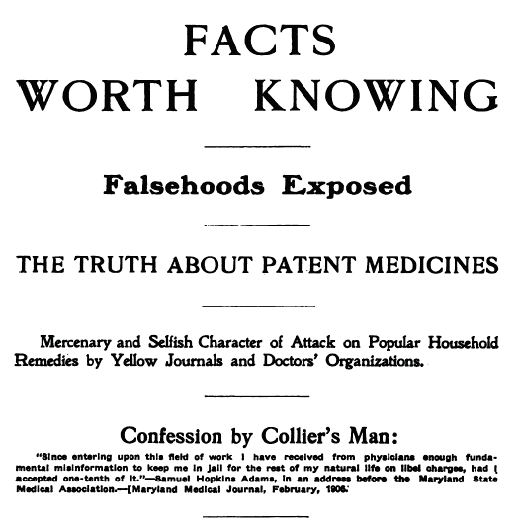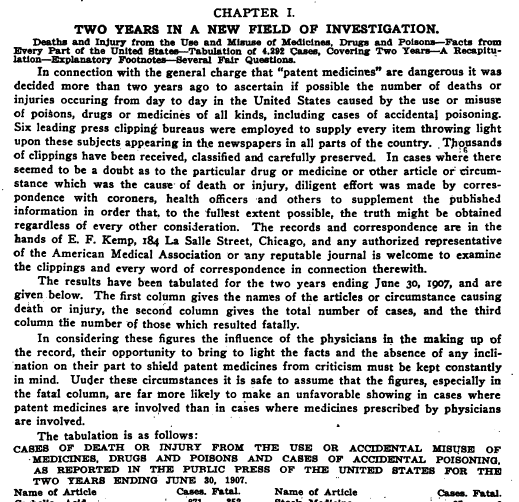 Deaths and Injury from the Use and Misuse of Medicines, Drugs and Poisons---Facts from Every Part of the United States---Tabulation of 4.292 Cases, Covering Two Years---A Recapitulation---Explanatory Footnotes-Several Fair Questions.

In connection with the general charge that "patent medicines" are dangerous it was decided more than two years ago to ascertain if possible the number of deaths or injuries occuring from day to day in the United States caused by the use or misuse of poisons, drugs or medicines of all kinds, including cases of accidental poisoning. Six leading press clipping bureaus were employed to supply every item throwing light upon these subjects appearing in the newspapers in all parts of the country. Thousands of clippings have been received, classified and carefully preserved. In cases where there seemed to be a doubt as to the particular drug or medicine or other article or circumstance which was the cause of death or injury, diligent effort was made by correspondence with coroners, health officers and others to supplement the published information in order that, to the fullest extent possible, the truth might be obtained regardless of every other consideration. The records and correspondence are in the hands of E. F. Kemp, 184 La Salle Street, Chicago, and any authorized representative of the American Medical Association or any reputable journal is welcome to examine the clippings and every word of correspondence in connection therewith.

The results have been tabulated for the two years ending June 30, 1907, and are given below. The first column gives the names of the articles or circumstance causing death or injury, the second column gives the total number of cases, and the third column the number of those which resulted fatally.

In considering these figures the influence of the physicians in the making up of the record, their opportunity to bring to light the facts and the absence of any inclination on their part to shield patent medicines from criticism must be kept constantly in mind. Under these circumstances it is safe to assume that the figures, especially in the fatal column, are far more likely to make an unfavorable showing in cases where patent medicines are involved than in cases where medicines prescribed by physicians are involved.

The tabulation is as follows:
CASES OF DEATH OR INJURY FROM THE USE OR ACCIDENTAL MISUSE OF MEDICINES. DRUGS AND POISONS AND CASES OF ACCIDENTAL POISONING. AS REPORTED IN THE PUBLIC PRESS OF THE UNITED STATES FOR THE TWO YEARS ENDING JUNE 30, 1907.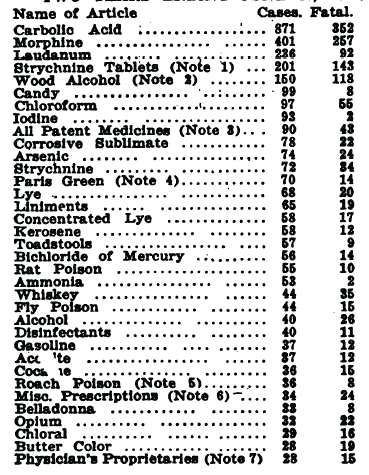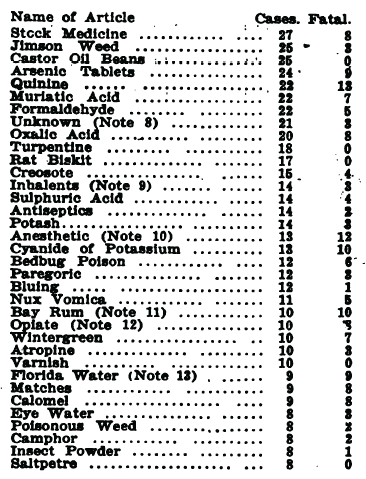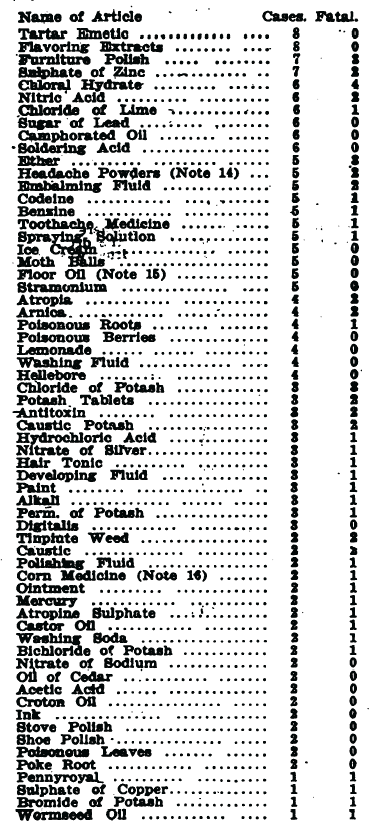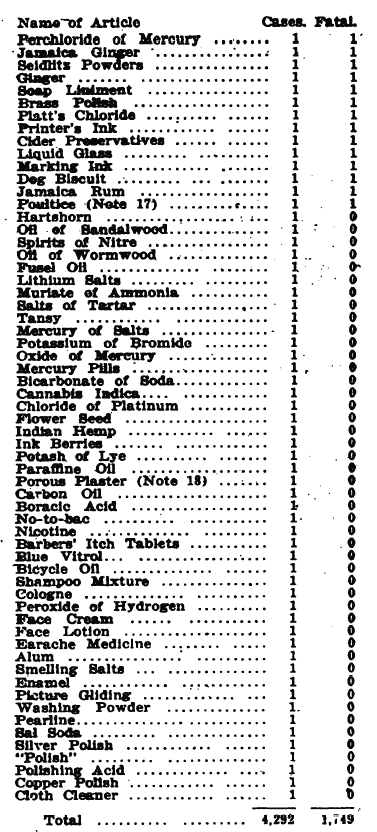 ---

WANT TO KNOW MORE:
=====================
Due to space / download time considerations, only selected materials are displayed. If you would like to obtain more information, feel free to contact the museum. All our material is available (at cost) on CD-Rom format.
CONTACT PAGE


---
---