THE ANTIQUE CANNABIS BOOK
Addendum 15a - 2nd Edition
Dr. W.W. Sherar
Dr. W.W. Sherar: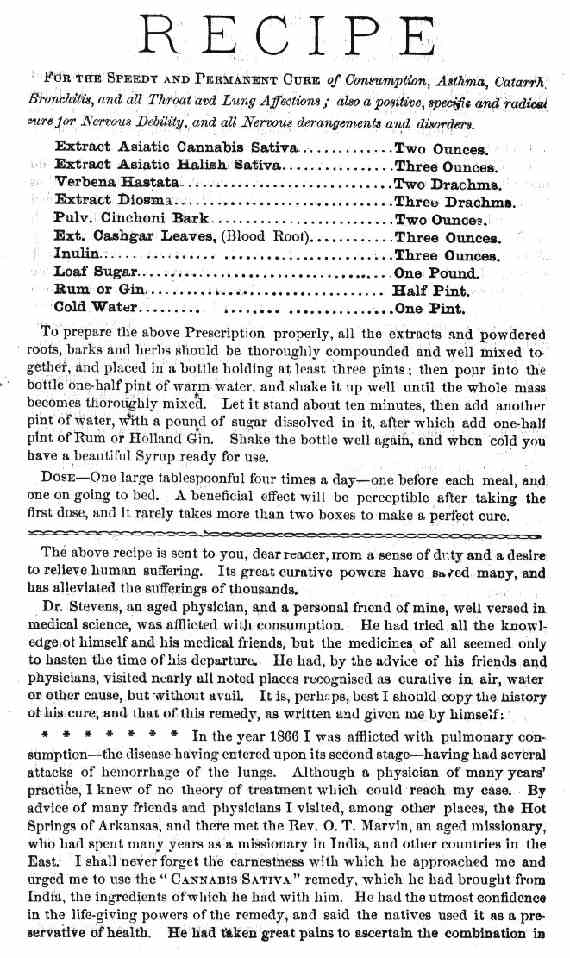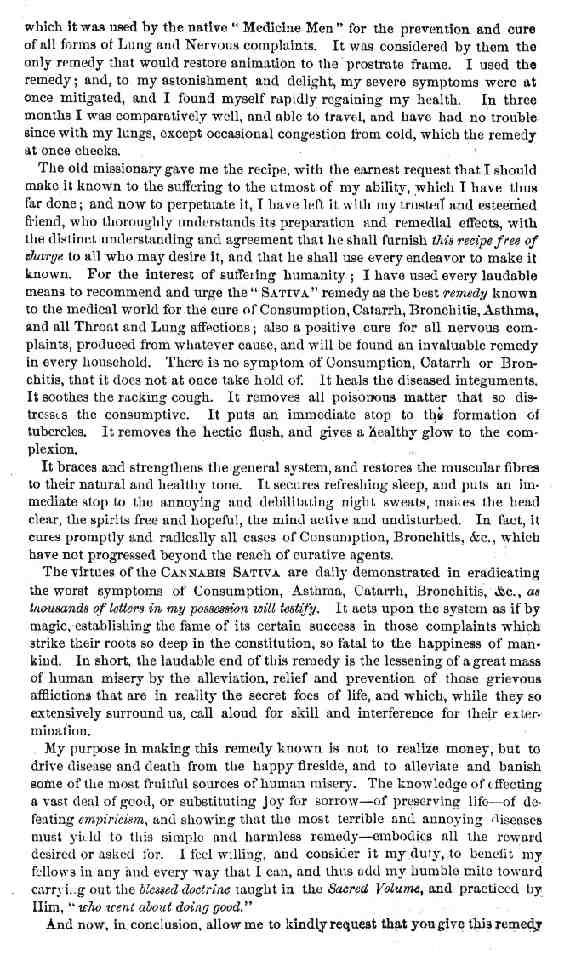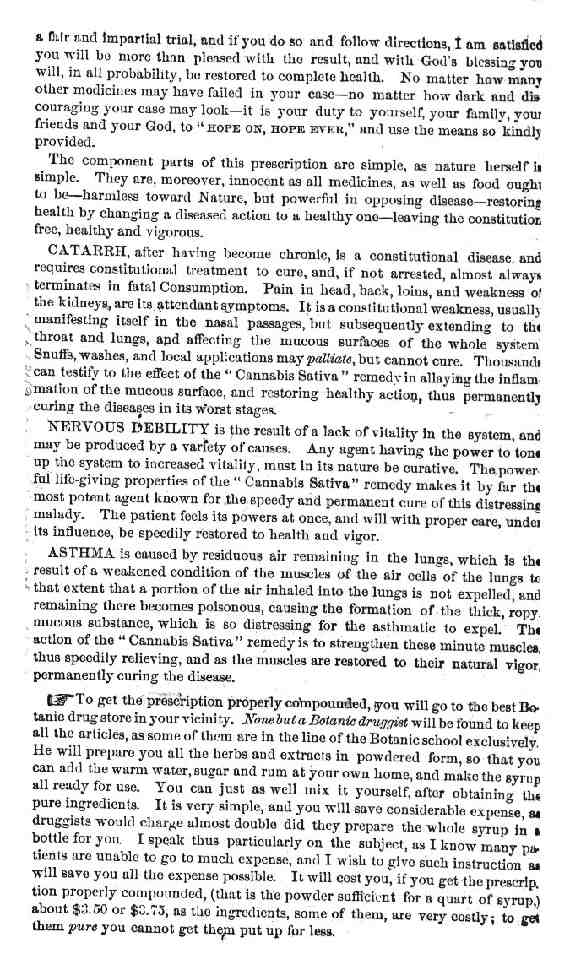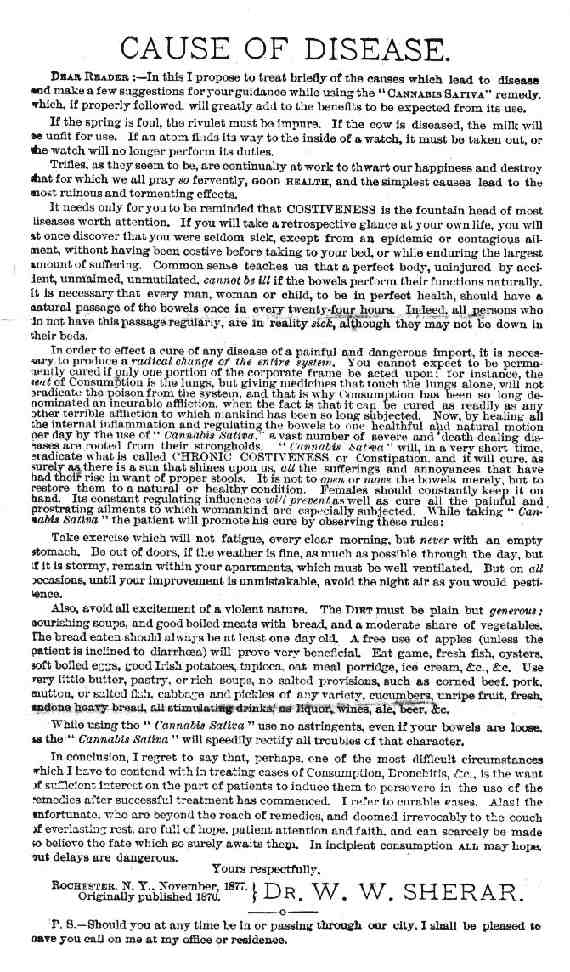 PAMPHLET - Dr. W.W. Sherar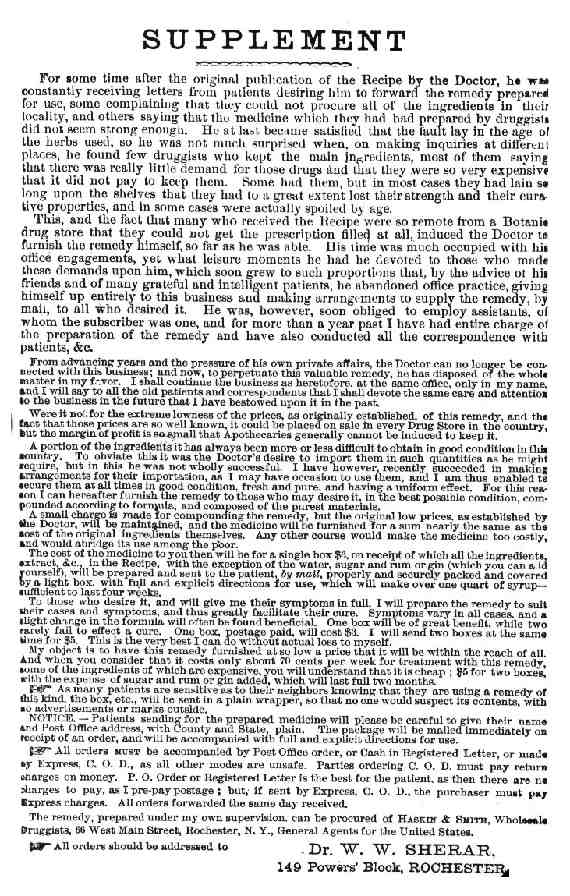 PAMPHLET - SUPPLEMENT
---
The [Era 1870] medical cure of one Dr. W.W. Sherar

QUESTION: Was the Dr. W.W. Sherar and Mr. W. A. Noyes, (both of Rochester, N. Y) one and the same person? I for one am of the opinion that they were. First, both lived in Rochester N.Y., at about the same time. Next, note that the recipe or formulas are identical. According to Dr. Sherar's pamphlet:
| | |
| --- | --- |
| RECIPE | |
| Extract Asiatic Cannabis Sativa... | Two ounces. |
| Extract Asiatic Halish Sativa | Three ounces. |
| Verbena Hastata | Two drachms. |
| Extract Dioema | Three drachms. |
| Pulv. Cinchoni Bark | Two ounces. |
| Ex. Cashgar Leaves (Blood Root) | Three ounces. |
And both operated using the same modus operandi. And while the two stories are a bit different -- This one goes something like:
"That although he himself was a doctor . . . he was afflicted with numerous diseases, A, B, C etc. . . . while in a hot spring in Arkansas, I met an aged missionary who . . . . and urged me to use a Cannabis remedy . . . that he had learned about while as a missionary in India . . . requesting only that I should make it known to the suffering . . . etc."
But the end result was the same, high profits for the bringer of the end of suffering etc. Come on now, if this doesn't that sound like a quack story, then what does?

But again, if quackery is a state of mind, then maybe it would be best to just allow the reader to see the facts for themselves.



---

WANT TO KNOW MORE:
=====================
Due to space / download time considerations, only selected materials are displayed. If you would like to obtain more information, feel free to contact the museum. All our material is available (at cost) on CD-Rom format.
CONTACT PAGE

---
---