THE ANTIQUE CANNABIS BOOK
Chapter 14 - (2nd Edition)
VETERINARY REMEDIES
Mulford Veterinary: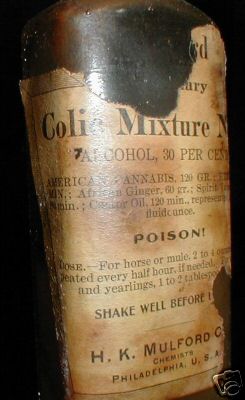 MULFORD VETERINARY
American Cannibis Colic Mixture No.5 HK Mulford Co. Here we have an extremely interesting item Colic Mixture Number 5. This was used for colic gastric disorder noting that our govt. maintains that marijuana has no medical uses and here is a perfect example of a medical cure with it's main ingredient being American Cannabis. The label a little rough but readable never seen anything like this. The bottle is corked and about one third full.


---

WANT TO KNOW MORE:
=====================
Due to space / download time considerations, only selected materials are displayed. If you would like to obtain more information, feel free to contact the museum. All our material is available (at cost) on CD-Rom format.
CONTACT PAGE


---
---