THE ANTIQUE CANNABIS BOOK
Chapter 14 - (2nd Edition)
VETERINARY REMEDIES
W.T. Rawleigh Co.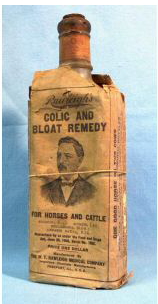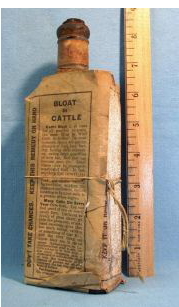 W.T. Rawleigh Co.
[Top Label] RAWLEIGH'S COLIC & BLOAT COMPOUND - Mfg. by the "W.T. Rawleigh Co., Freeport, ILL, USA. Label reads: 90% Alcohol, Each fluid ounce contains extractive matter from: 26 Gr. Cannibus Sativa, Gr. Belladonna Root, 6 Gr. Acoaite Root, 12.3 Gr. Capsicum. USEFUL FOR HORSES & CATTLE Directions: Colic - Give 2 tablespoonfuls in ½ cup of water; repeat this dose in one hour, then every two hours. Do not give more than one bottle to one animal in 24 hours -- CATTLE BLOAT - Give 3 Tablespoonfuls in one quart of raw linseed oil; repeat in necessary in 1 hour. Do not give more than one bottle in 24 hrs. [Color label courtesy of the Stephenson County [IL] Historical Society Museum.)

Nice Veterinary - Horses & Cattle w/ CANNABIS Unusual Rawleigh's Medicine bottle with outer wrapper. The wrapper lists ingredients on the front including Canabis Sativa and has a nice picture of what I assume is Rawleigh himself. I don't know what the bottle is like but do not see any damage = I tried to move the string but risked damage to the wrapper so I quit. As you can see the wrapper is a little rough but still fairly respectable. A nice Veterinary, Medicinal, or Drugstore item for your collection.


---

WANT TO KNOW MORE:
=====================
Due to space / download time considerations, only selected materials are displayed. If you would like to obtain more information, feel free to contact the museum. All our material is available (at cost) on CD-Rom format.
CONTACT PAGE


---
---