ANTIQUE CANNABIS BOOK
HISTORICAL
CANNABIS MEDICINES
The 3rd Edition of "The Antique Cannabis Book" -- Last Update; Jan 2014
---
MEDICAL HEMP SEED/HEMP SEED OIL
---
HEMP APOTHECARY JAR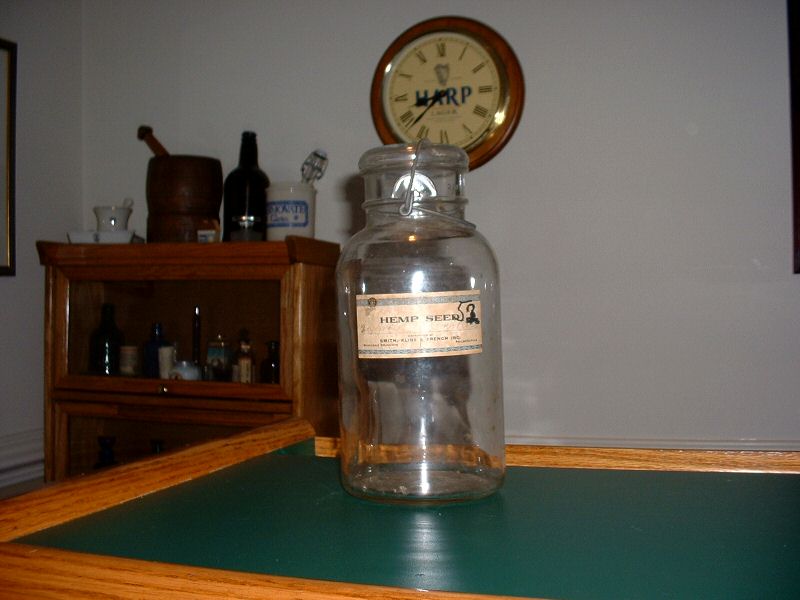 [ Hemp Apothecary Jar ]


HEMP APOTHECARY JAR
As per an Internet auctioneers write-up:
HEMP SEED CONTAINER: --- Smith Kline & French Drug Pharmacy Apothecary Container -- Large (10.125" in height) Hemp Seed stock bottle -- Very late 19th century / early 20th century -- From my Father's Pharmacy -- Bottle is in near perfect condition (one very minor ding where the metal clamp enters the side of the neck< 0.25") - Bottle weighs 2 lbs 3.2 oz (empty) - 4.75" base diameter - The bottom is marked with the letter "A" -- The neck reads in raised letters Bail Here -- Label is complete - Upper left hand corner has SKF in a circle -- Bottom of label reads: Distributed By Smith, Kline & French Inc. - Wholesale Druggists Philadelphia --- Written in pencil on the left side of the label: 2 oz = 10c - Written in pencil on the right side of the label: H/ SI = 2 lbs In bold black marker (probably crayon) is the number 52 on the right side Seeds of the plant cannabis sativa, hemp seed, contain all the essential amino acids and essential fatty acids necessary to maintain healthy human life. No other single plant source has the essential amino acids in such an easily digestible form, nor has the essential fatty acids in as perfect a ratio to meet human nutritional needs

MUSEUM COMMENT:
To anyone (including this museum) the above Apothecary Jar looks like a simple jar with a label slapped on. And indeed it probably is, however it is the concept of what this represented that is of importance to us. Itís very existence proves that Drugstores were carrying the product (Note, the pharmaceutical firm of Smith Kline & French, didnít carry gardening supplies) for its medicine uses. The only problem here is that it is uncertain whether this container was used to store plain Hemp Seeds or actual Hemp Seed Oil.

SEE SECTION ON APOTHECARY JARS -- Chap 3.



---
WANT TO KNOW MORE:
=====================
Due to space / download time considerations, only selected materials are displayed. † If you would like to obtain more information, feel free to contact the museum. † All our material is available (at cost) on CD-Rom format. †
CONTACT PAGE


---
---
---