ANTIQUE CANNABIS BOOK
HISTORICAL
CANNABIS MEDICINES
The 3rd Edition of "The Antique Cannabis Book" -- Last Update; Dec 2013
---
CANNABIS AND FEMALE AILMENTS
---
Cystitis Label from the Chicago Pharmacal Co.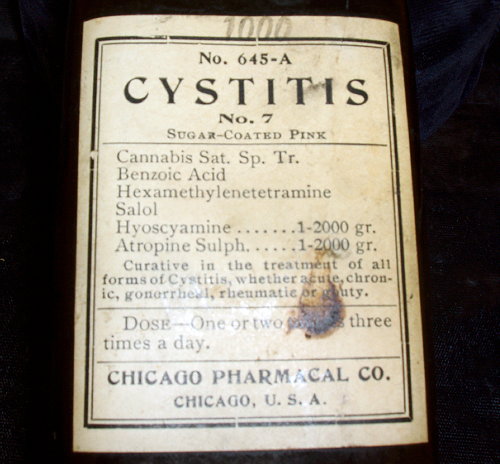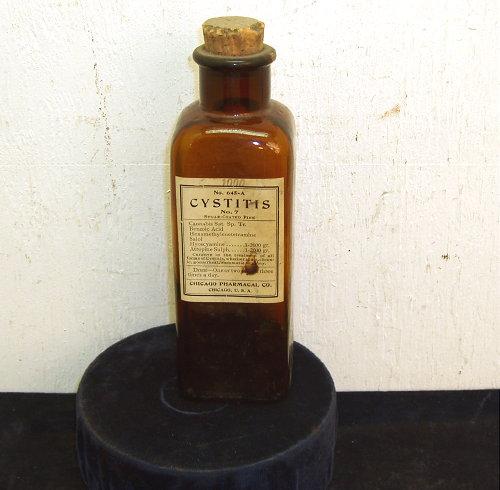 CYSTITIS NO. 7 - Chicago Pharmacal
As per an Internet auctioneers sales write-up:
CYSTITIS NO. 7
Early Cork Top Medical Cannabis Bottle. 5 1/4" clear cork style Cystitis Medicine Bottle. The darkened area on the label is from the original wax paper. This old medicine contained CANNABIS and was effective in cystitis and gonorrhea. Chicago Pharmacal Company, Chicago.

This is a nice old cork top medical Cannabis bottle from around the early 1900's. It is in good to very good condition with no cracks or chips but the label has a small stain as shown in the photo.
---
WANT TO KNOW MORE:
=====================
Due to space / download time considerations, only selected materials are displayed.   If you would like to obtain more information, feel free to contact the museum.   All our material is available (at cost) on CD-Rom format.  
CONTACT PAGE


---
---
---