ANTIQUE CANNABIS BOOK
HISTORICAL
CANNABIS MEDICINES
The 3rd Edition of "The Antique Cannabis Book" -- Last Update; Jan 2014
---
CANNABIS BROWN SEQUARD
---
THE HARVEY Co.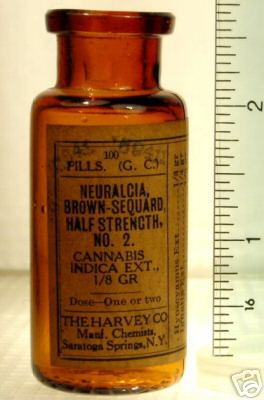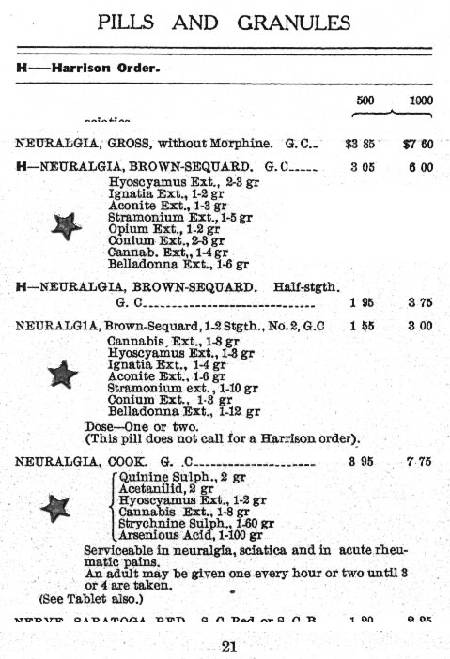 [ From the Harvey Co. (1923) Catalog Pg 21 ]
[ Catalog photo has been doctored for quicker download times ]



THE HARVEY COMPANY
As per the wording of an Internet auctioneers write-up:
RARE ANTIQUE CANNABIS MARIJUANA MEDICINE BOTTLE POISON SARATOGA NEW YORK HARVEY APOTHECARY INDICA CANNABIN
Here is a local bottle you wont find in this form, damage free and blown in mold with an incredible and clean label without damage at all, Reads 100 PILLS NEURALCIA BROWN SEQUARD HALF STRENGTH NO.2 CANNABIS INDICA EXT. 1/8 GR. DOSE 1 OR 2 THE HARVEY CO., MFG. CHEMISTS SARATOGA SPRINGS N.Y.,wont get a chance at another one of these, bid early HERE IS SOMETHING YOU DON'T SEE EVERY DAY!! NEAT OLD CANNABIS PILL BOTTLE. IT IS IN GOOD CONDITION WITH NO CHIPS, CRACKS OR DAMAGE. HAS THE ORIGINAL LABEL WHICH IS 100% LEGIBLE AS YOU CAN SEE ALONG WITH IT'S ORIGINAL CORK. THIS BOTTLE IS FROM THE LATE 1800'S OR EARLY 1900'S. IT IS EMBOSSED ON THE BASE WITH,"E801 1/2W". IT WAS PUT OUT BY THE "HARVEY CO" IN SARATOGA, NY. THE BOTTLE STANDS 4" TALL AND IS 1 1/4" WIDE. IT DOES HAVE IT'S ORIGINAL CANNABIN CONTENTS. I CRUSHED A PILL AND I GUARANTEE THIS BOTTLE TO BE AN ANTIQUE ALL ORIGINAL BOTTLE WITH ORIGINAL CANNABIS PILLS!!

Harvey co., was in business in Saratoga NY for a very short time, the original building still stands today and has been renovated and is a new business. The Harvey co., never produced any embossed bottles, label only, a collector friend of mine has numerous items from this company which is rare in itself as not many are out there to be had. Don't miss out on the chance to own this little gem, thanks and good luck. Harvey, G. F. Co., Physicians Friend Rickine. Saratoga Springs, NY, c.1897.
MUSEUM COMMENT
As stated (just about everywhere else) Medical Cannabis (of and by itself) IS NOT A POISON however due to a quirk in the wording of various state and local laws, the word does appear on numerous package labels.



---
WANT TO KNOW MORE:
=====================
Due to space / download time considerations, only selected materials are displayed.   If you would like to obtain more information, feel free to contact the museum.   All our material is available (at cost) on CD-Rom format.  
CONTACT PAGE


---
---
---