ANTIQUE CANNABIS BOOK
HISTORICAL
CANNABIS MEDICINES
The 3rd Edition of "The Antique Cannabis Book" -- Last Update; Jan 2014
---
CANNABIS BROWN SEQUARD
---
PARKE DAVIS & Co.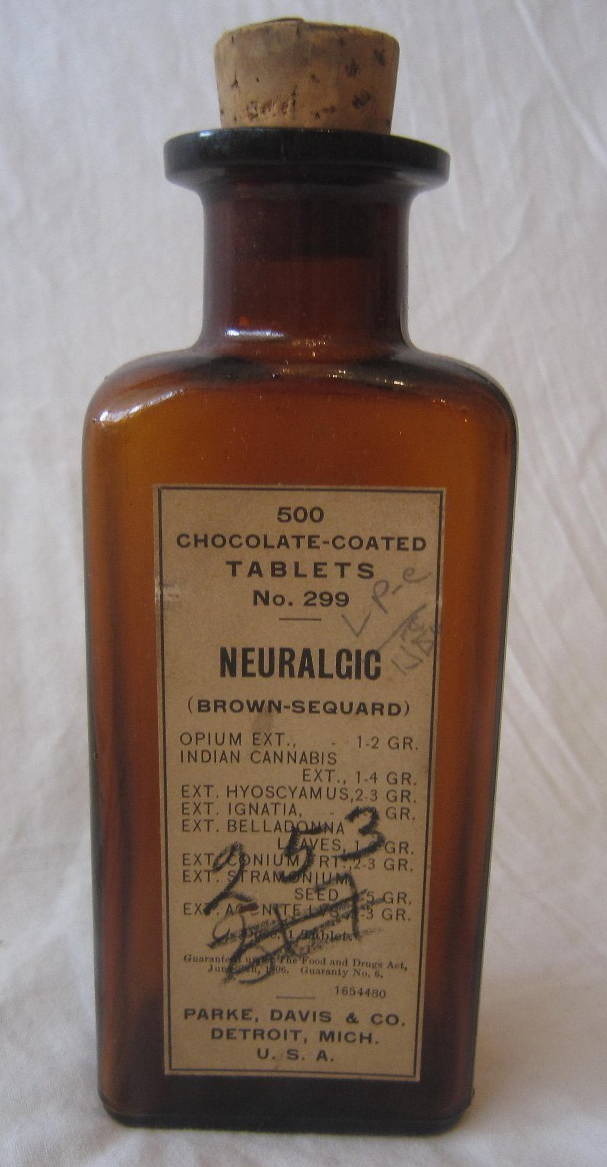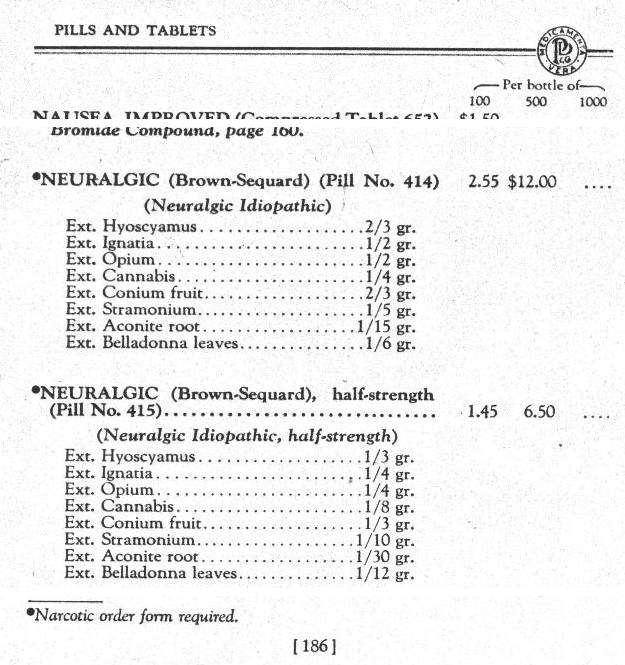 [ From the Parke Davis Co. (1929) Catalog Pg 187 ]
[ Catalog photo has been doctored for quicker download times ]



Parke Davis & Co.
As per the wording of an Internet auctioneers write-up:
PARKE DAVIS CHOCOLATE COATED NEURALGIC OPIUM CANNABIS MEDICINE DRUG BOTTLE
This auction is for an all original Parke, Davis & Co. Detroit MICH USA Neuralgic medicine bottle. This is one of many medicine bottles that I will be putting up for auction so you may want to check the others out as well. I believe many of these seem to be from J.G. Brownridge, The Rexall Store, in Albion, Michigan, unless otherwise noted. This one does have part of the label saying this on the top back. It is about 7 1/4 inches tall to the top of the cork and 2 1/2 inches at the base. There are bubbles in the glass The front label says:
500 chocolate-coated tablets no. 299 Neuralgic (brown-sequard) opium ext. 1-2gr. indian cannabis ext. 1-4 gr. ext. hyoscyamus 2-3 gr. ext. ignatia 1-2 gr. ext. belladonna leaves 1-2 gr ext. conium frt. 2-3 gr ext stramonium seed 4-5 gr. ext. (not sure what it says) dose 1 tablet. Guaranteed under the Food and Drugs Act, June 30th, 1906. Guaranty no. 6. 1654480 Parke, Davis & Co. Detroit, MICH. U.S.A.
The back also has a label that says in stock inventory of Feb. 25, 1919, L.C.V.G.
This is being sold as I found it. There are no real issues other then the majority of the label missing on the top cork with the drug store name on it. There is some minor age related wear on the label and bottle. The main issue is on the last ingredient listed the label is worn out on the 2nd and 3rd letter. A Parke Davis label is also on the top of the cork with most of it missing.
You may want to take a look at my other auction listings for there may be something else of interest to you. They include some old medicine, milk, and assorted bottles, as well as a 1934 Detroit Tiger pennant. I will combine shipping if you are a winner of two or more bottles.
ALL OF MY ITEMS ARE GUARANTEED ORIGINAL!

MUSEUM COMMENT
Bottle photos courtesy of Anthony Ballios Internet auctioneer.



---
WANT TO KNOW MORE:
=====================
Due to space / download time considerations, only selected materials are displayed.   If you would like to obtain more information, feel free to contact the museum.   All our material is available (at cost) on CD-Rom format.  
CONTACT PAGE


---
---
---