ANTIQUE CANNABIS BOOK
HISTORICAL
CANNABIS MEDICINES
The 3rd Edition of "The Antique Cannabis Book" -- Last Update; Jan 2014
---
CANNABIS
IN TREATMENTS FOR NEURALGIA
---

FROM THE MEDICAL JOURNALS
Although modern day police officials say that Medical Cannabis "IS NOT MEDICINE", the medical Journals of their day were saying something totally different. Below are just some of the articles located from the Museum's Collection [available on CD-Rom Format], that we were quickly able to locate. Mostly because the word Neuralgia appears in the articles title. NOTE that when a word search was done on the actual articles, it appears that
AMERICAN DRUGGIST:
American Druggist (a pharmaceutical trade magazine):
[ ]- July 1890 pg 132 - "The Therapeutic Uses and Toxic Effects of Cannabis Indica" [neuralgia, neuritis, migraine]

CINCINNATI LANCET-CLINIC: (note date may be off)
[e]- 1890 - pp659 - "Cannabis Indica in Neuralgia"

AMERICAN DRUGGIST:
MEDICAL NEWS
[S]- Feb 11, 1899 pp 192 Formula for Trigeminal Neuralgia

MEDICAL AND SURGICAL REPORTER:
[S]- Aug 18, 1894 pp235 Formula for Neuralgia
[S]- Apr 13, 1895 pp 514 Formula for Neuralgia

Transactions Ohio State Medical Society: - Place of Publication Columbus
[S]- 1860 pp.73 Author M'Meens, R. R. "Report of the committee on Cannabis indica " [A good History of the plant -- tetanus, hypnotic, calmative, neuralgic pain, hemorrhage of uterus, labor, rheumatism, treatment of the insane, bronchitis, spasms, epilepsy, falling spells, hysteria] [herring's extract??] [Tilden & Co.]

PROVINCIAL MEDICAL JOURNAL:
Provincial Medical journal and Retrospect on the Medical Sciences
[S]- Author Lynch, M. H. "Treatment of neuralgia by Indian hemp; physiology of the nerves" 1843 V6 pp 9-11

THERAPEUTIC GAZETTE:
- Place of Publication Detroit [S]- Author Thomas, O. F. "On the use of Cannabis indica in certain forms of neuralgia" Place of Publication Detroit Dec. 15, 1880 pg. 353, 354 [Neuralgia]

WESTERN JOURNAL OF MEDICINE AND SURGERY:
[S]- Oct 1848 pp 359 "Indian Hemp in Facial Neuralogia" by Dr. Ruhbaum (Medicinische Zeitung)
---
Below are a couple of representative articles bringing up the subject at hand. NOTE however that Medical Cannabis as a treatment for Neuralgia does come up, but ONLY as one of its many uses. Something which is to be expected as Medical Cannabis was seen (rightfully so) at the time as a safe non-addictive pain killer. Thus it was only logical that Cannabis would be used as a treatment for "Neuralgia Pain".
THE ALKALOIDAL CLINIC (Abbott Labs)
CANNABIS INDICA - Vol. 7, 1900 – page 690
Lewis (Merck's Archives) studies cannabis indica. He gave maximal doses of ten grains, and believes no more is absorbed and that fatal doses cannot be given by the mouth. . . . He found cannabis useful as an anodyne for neuralgia, eye-strain headaches, multiple neuritis, locomotor ataxy, chest-pains of phthisis, neuroses of pregnancy and the climacteric, "to allay nerve-storms of artificial menopause [after oophorectomy?] it is without an equal", malarial headache and neuroses, and quinine-nervousness; dysmenorrhea not inflammatory, menorrhagia (slower than ergot), decreasing profuse flow, impotence dependent on urethral hyperesthesia or atony of penile vessels (effect transitory, best conjoined with ergot); diabetes mellitus; itching and burning in dermal neuroses. His dose is gr. 1-4 to j of the solid extract. Cannabis is too little used, being little understood and difficult to obtain in good quality. Germain See pronounced it a specific for gastrointestinal pains.


THE ECLECTIC MEDICAL JOURNAL - OCT 1916 (pg. 554)
CANNABIS.
Opium, or its alkaloid, morphine, is the king of pain relievers. There are times, however, when we wish to avoid the disagreeable effects of morphine, and yet need a potent pain reliever. Of course, no agent will completely supplant the opiates, but there are several which, under proper conditions, will alleviate distress and pain to such a degree that the use of the above-named agents may be avoided. One of these is cannabis. This valuable remedy fulfills two important indications. First in order of efficiency, it is a remedy for depression of the nervous system. Secondly, it allays irritation of the urino-genital tract, notably relieving pain. For the first purpose it is valuable in more or less painful conditions, in which opium, or its alkaloids, on account of their tendency to restrain normal secretions, would be inadmissible. There are several agents that can be (pg. 555) depended upon for this purpose, but cannabis exerts far less restraining power over the secretions than does most similar anodynes; it also favors good appetite and digestion, and exhilarates the spirits. Therefore, it is of great value in such disorders as are attended by gloom and foreboding. Here depression of the nervous system is marked. Perhaps in genitourinary disorders of an irritative or inflammatory nature its usefulness is most strongly evident. With the properly selected sedative it meets the wants of a pain reliever and nerve soother in urethritis, whether idiopathic or specific. Gelsemium, aconite and cannabis are, perhaps, more frequently indicated than other internal agents in acute gonorrhea. It is of supreme importance in surgical fever due to the passing of the catheter or bougie, or from operations upon the urethral tract. Think of it in chronic cystitis, chronic irritation of the bladder, dysuria, painful micturition and strangury. In various forms of neuralgia, in gastralgia, gastric ulcer, neuralgia of the pelvic viscera, and in whooping cough and the cough of phthisis its effects are gratifying. Note briefly the specific indications: Marked nervous depression; irritation of the genito-urinary tract; burning, frequent micturition, with tenesmus scalding urine; ardor urinae; wakefulness in fevers insomnia, with brief periods of sleep, disturbed by unpleasant dreams; spasmodic and painful conditions, with depression; mental illusions; hallucinations; cerebral anemia from spasm of cerebral vessels; palpitation of the heart, with sharp, stitching pain; and menstrual headache, with great nervous depression.
Once more the reader can see the problem with many of these articles. Granted they do talk about Medical Cannabis as a treatment for Neuralgia, BUT it seems MOSTLY as ONLY one of its many uses. It would be of interest however to see what a medically trained individual could make of all these articles if read in chronological sequence.

This would include those articles written during the Reefer Madness era; -- A subject of some hilarity to many of us. As the following quotation shows, even Reefer Madness era magazine articles made mention (obviously in a negative way) to its use in treating Neuralgia. The following (by the way is not a joke) it was all too typical:
HYGEIA – (Pub – American Medical Association) Oct. 1940 pg885
"MARIHUANA" – By S. R. Winters
MARIHUANA, according to the Bureau of Narcotics, United States Treasury Department, is the government's most formidable and versatile criminal outlaw." . . . "The variable potency and unpredictable effects of marihuana seriously limit its use for medical purposes, and physicians are generally agreed that it has no therapeutic value which cannot be better replaced by other, more reliable drugs; its use as a relief for neuralgia and as an aid in psychoanalysis is questionable." . .

"Marihuana destroys sanity even more seriously than opium. And while an overdose will not cause death, and abuses will cause no brain lesions, medical authorities report that, "the habitual use of this drug entails consequences no less destructive than are produced by alcohol and opium. The face becomes bloated, the eyes bloodshot, the limbs weak and tremulous, the mind sinks into a state of imbecility and death by marasmus (progressive wasting or emaciation) is the ultimate penalty paid for the overstrained pleasure it imparts." . . "It is also difficult to estimate how many crimes, thrill murders, Holdups and sex offenses have resulted directly from the use of marihuana, but it is known that all marihuana addicts are degenerates. "
We'll leave it up to the reader to determine if the above statements are true or not. The only point being made here is that the subject of "NEURALGIA" (referencing Medical Cannabis as a treatment) seems to have made its way EVEN into Reefer Madness Era articles. Which makes for an interesting subject Of-And-By-Itself; According to the Wikipedia:
"Neuralgia is pain in one or more nerves . . . "Neuralgia is often difficult to diagnose, and most treatments show little or no effectiveness. . . . . Neuralgia is more difficult to treat than other types of pain because it does not respond well to normal pain medications."
Which makes for an interesting modern-day subject – "What Would Happen If Medical Cannabis was ONCE AGAIN LEGAL?"


---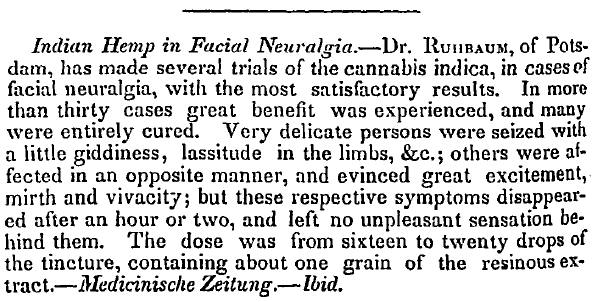 [Western Journal of Medicine and Surgery (1848) Pg 359]
---
WANT TO KNOW MORE:
=====================
Due to space / download time considerations, only selected materials are displayed.   If you would like to obtain more information, feel free to contact the museum.   All our material is available (at cost) on CD-Rom format.  
CONTACT PAGE


---
---
---