ANTIQUE CANNABIS BOOK
HISTORICAL
CANNABIS MEDICINES
The 3rd Edition of "The Antique Cannabis Book" -- Last Update; Jan 2014
---
CANNABIS & NEURALGIA
Dr. H.J. KENYON
---
Wm. S. MERRELL & Co.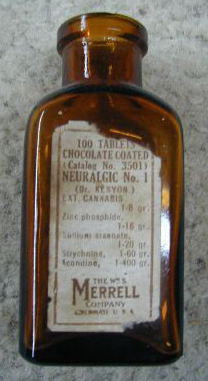 Wm. S. MERRELL & Co.
As per an internet auctioneers write-up, --- opinions are obviously those of the auctioneer:
"I am listing several items that I found in the old Nix Pharmacy (Emory Texas) when my friend bought the store in the mid 1970's. These are mostly patent medicines of questionable effectiveness and my guess that they are from the 1960's or earlier. They would be nice to have as a display of "medicine as it used to be." (This is what I used them for in my science classroom for many years.) This 3 inch tall amber bottle at one time contained The W.S. Merrel Company's Neuralgic No 1 (Dr. Kenyon). Ingredients included Ext Cannabis,Sodium Arsenate, and Strychnine. Sounds like it would cure any kind of pain. The label is rough but readable- look at the picture. I am describing these to the best of my ability. "
---
WANT TO KNOW MORE:
=====================
Due to space / download time considerations, only selected materials are displayed.   If you would like to obtain more information, feel free to contact the museum.   All our material is available (at cost) on CD-Rom format.  
CONTACT PAGE


---
---
---