TRAVELING SALESMAN SAMPLE KIT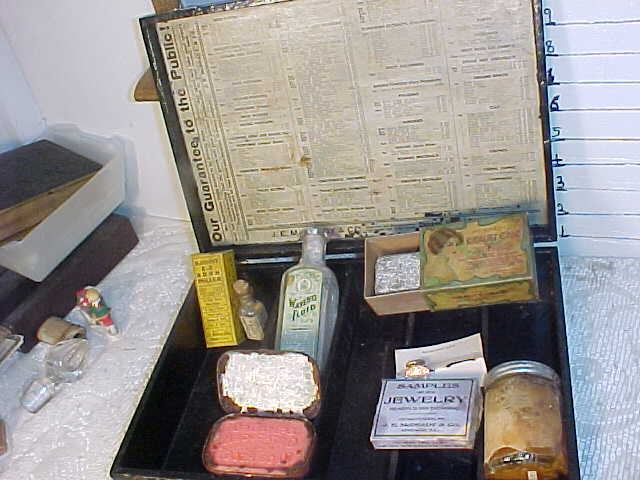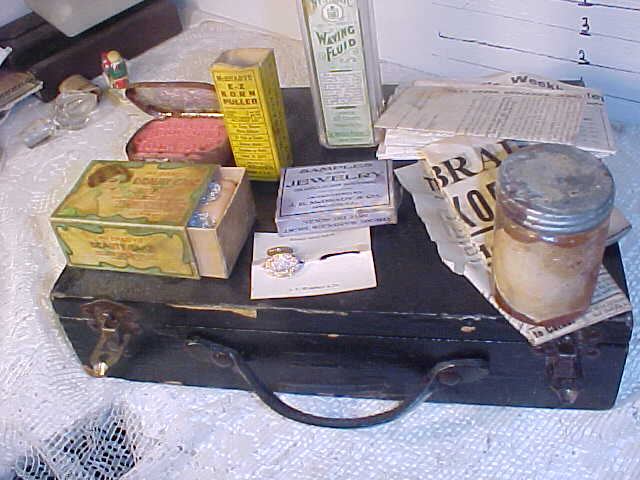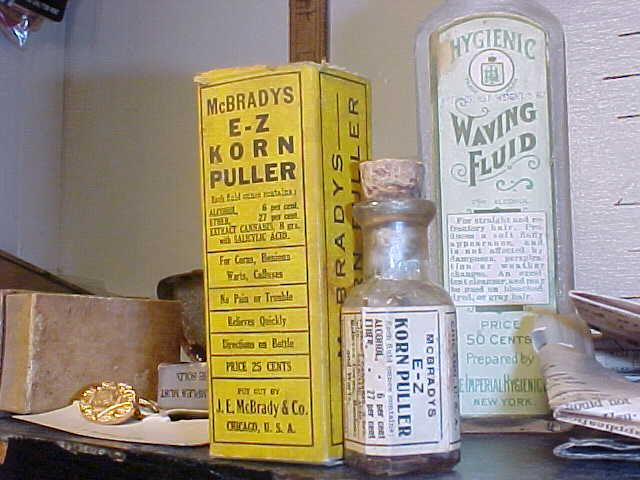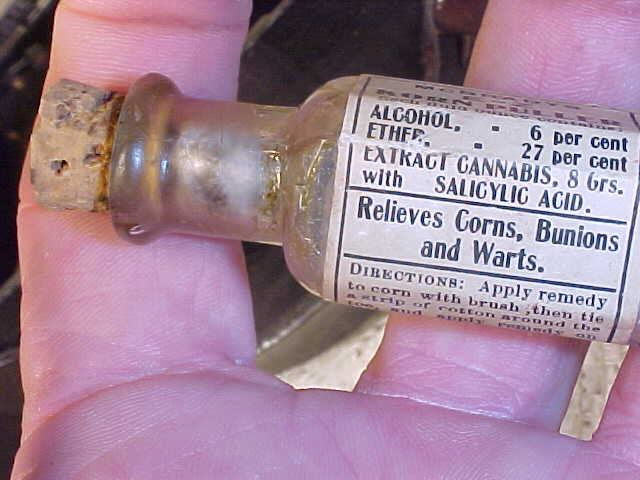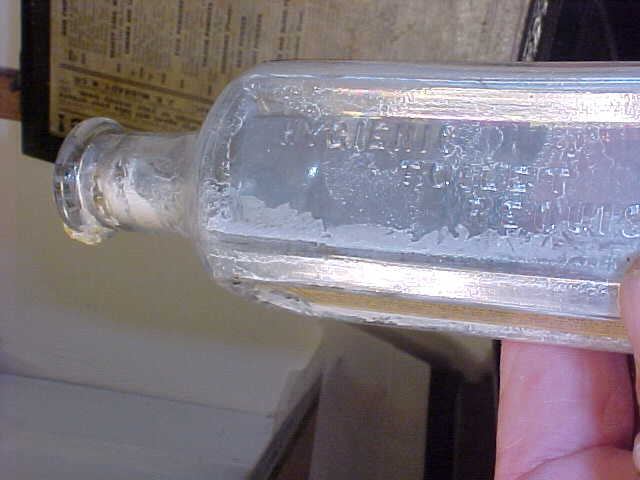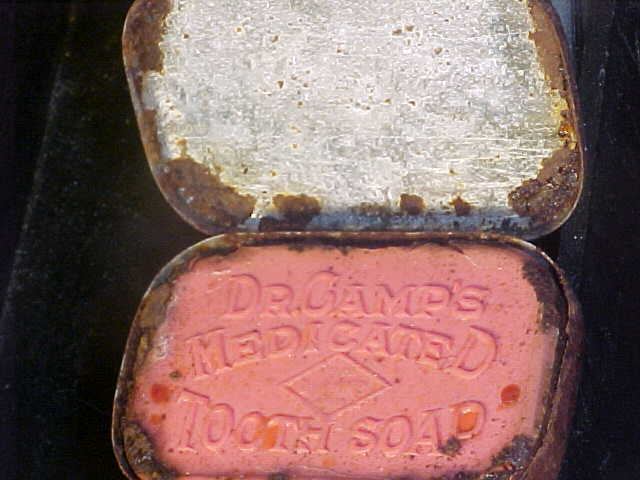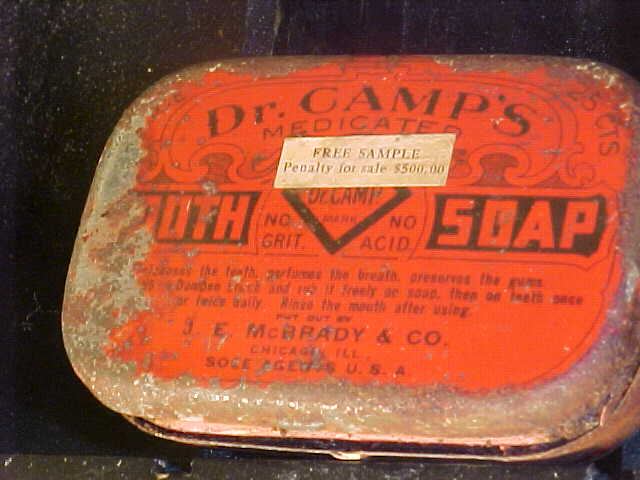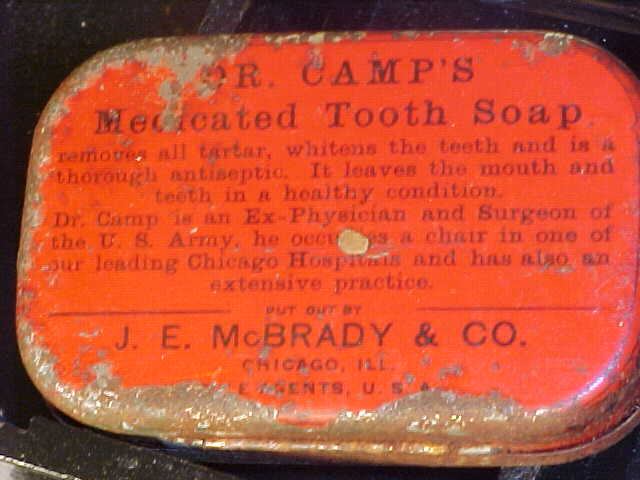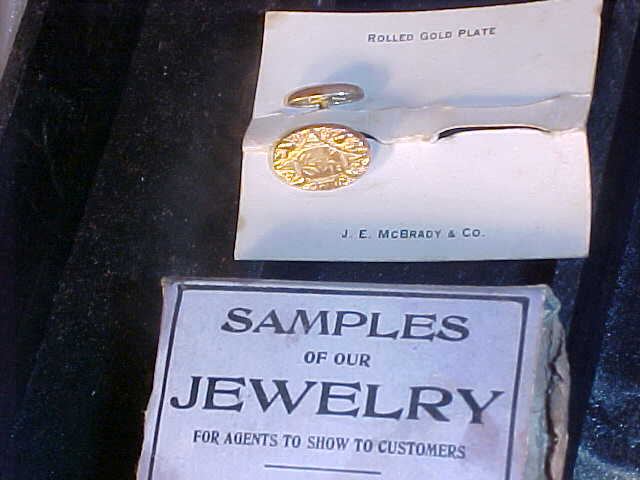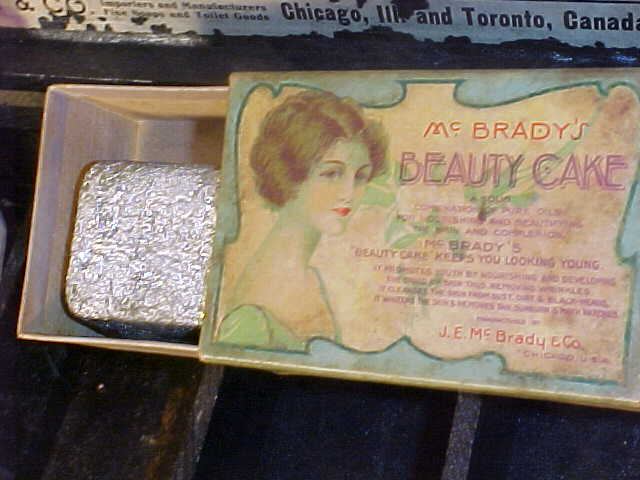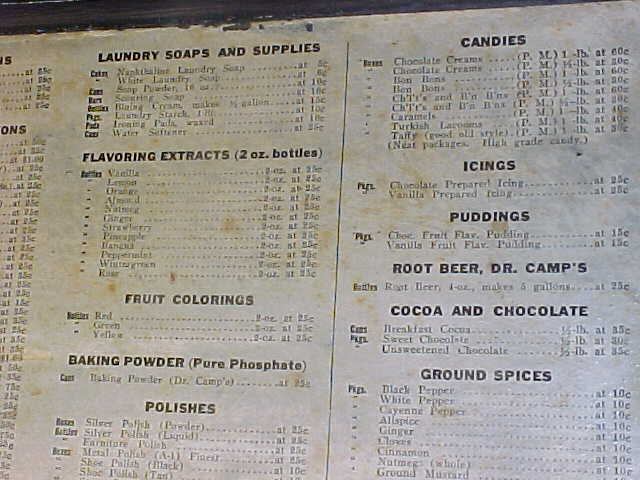 TRAVELING SALESMAN SAMPLE KIT
Technically one can say that as only one of the products (the corn remedy) contains Cannabis, we should see it as that and nothing more. However, to do that is to throw away most of its historical significance. Its story, its value is to be found as being part of a sales kit, not as a stand-alone product.

But here in lays the problem, this book deals with antique cannabis products NOT sales kits, or doctors sample bags. Thus (at least this product) finds its way into this Chapter.

WOOD BOX -- DR. SAMPLE KIT
this auction is for a traveling salesman sample kit. Kit includes
1. McBrady beauty cake cardboard box with original beauty cake inside. Picture of Victorian lady on front.
2. A Dr. camp's medicated tooth soap tin with original soap inside. Put out by McBrady & co. free sample penalty for sale 500.00 on a sticker.
3. Samples of our jewelry for agents to show customers. there is a ? cuff link rooled gold plate. j.e. McBrady & co. in a cardboard box with one flap missing and staining.
4. McBradys e-z corn puller cardboard box with a blown-in-the-mold bottle inside with contents and label. on label on bottle there is alcohol 6% ether 27% extract cannabis, 8 grs with salicylic acid. etc... Bottle and label in great condition, box flap is missing with staining.
5. Embossed bim bottle hyginec toilet requisites. on other panel embossed Imperial Hygenic Co. New York. on front label is hygienic waving fluid for straight and refractured hair. produces a soft fluffy appearance, and is not affected by dampness, prespiration, or weather changes. an excellent cleanser, and may be used on bleached , dyed, or gray hair. price 50 cents. On back label is directions for use etc.. There is some contents and corkstopper.
6. There is some testimonials too.
7. There is a glass jar with metal cover with label (but can not read) with contents. The carrying case is a dovetailed wooden box with a leather cover, carrying strap and metal hinges and snaps. Some of the leather is coming away from the box. Box is very solid and all calsps are solid.


---
---





WANT TO KNOW MORE:
=====================
Due to space / download time considerations, only selected materials are displayed. If you would like to obtain more information, feel free to contact the museum. All our material is available (at cost) on CD-Rom format.


---
---

BACK TO
CHAPTER 25