THE ANTIQUE CANNABIS BOOK
Chapter 26 - (2nd Edition)
COMPOUND MEDICINES
Chapter 26
NEUROSINE COMPOUND:
---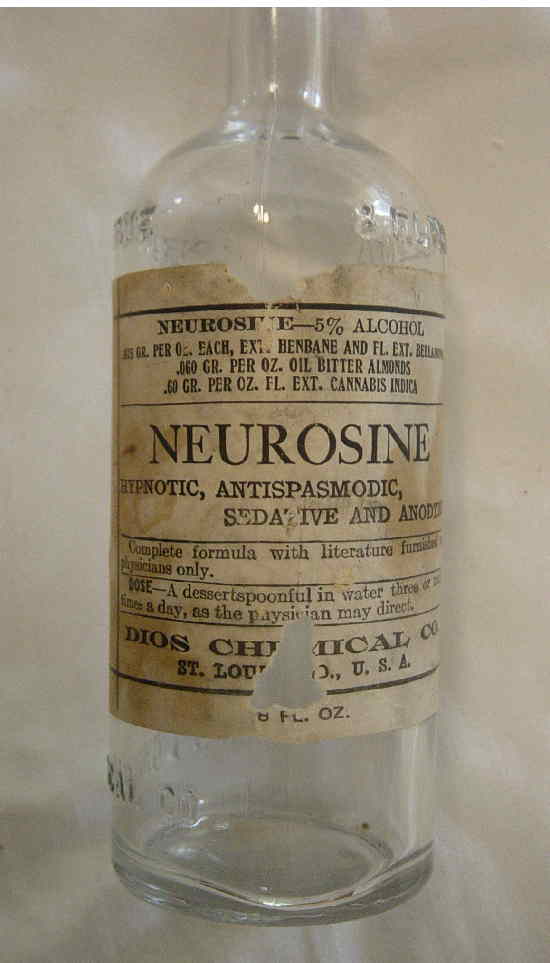 In the case of the above pictures, note the difference between the ingredients as shown. Before and After the AMA's campaign against Shotgun Drugs.



NEUROSINE COMPOUND
Surprisingly enough, as a museum we've haven't been able to locate very many "Shotgun Medicines" which contained Medical Cannabis.

The concept itself wasn't all that bad, and to this day doctors still use the concept (prescribing multiple drugs at once), when they don't exactly know exactly what's wrong or have no way of performing the proper tests. However, in terms of actual Shotgun Drugs, as one could guess the AMA had a fit about it.

This is one of the few "Shotgun Drugs" making use of Cannabis that we've been able to find. As can be seen it's NOT a quack medicine, but its not standard either. The idea is that one of the included ingredients would fix what-ever it was that was ailing you, and the others won't kill you. -- Again the AMA didn't like that approach -- not one bit at all.

According to JAMA (Journal of the American Medical Association):
Neurosine, . . . . , put out by the Dios Chemical Co., St. Louis. Neurosine is said to contain, in each fluidounce "Bromid of Potassium, C. P. 40 grains, Bromid of Sodium, C. P. 40 grains, Bromid of Ammonium, C. P. 40 grains, Bromid of Zinc 1 grain, Extract Lupulin 32 grains, Cascara Sagrada, fl. ex. 40 minims, Extract Henbane .075 grain, Extract Belladonna .075 grain, Extract Cannabis Indica .60 grain, Oil Bitter Almonds .060 grain, Aromatic Elixirs." No physician would think of prescribing all of the drugs in Neurosine for any one condition. The Dios Company urges the use of this nostrum for a host of conditions and without due consideration of its potent constituents. Not content with recommending the promiscuous use of this already too complex mixture, the Dios Co. advises physicians to combine it with other drugs. . . . . (Jour. A. M. A., Jan. 9, 1915, p. 165).
---

WANT TO KNOW MORE:
=====================
Due to space / download time considerations, only selected materials are displayed. If you would like to obtain more information, feel free to contact the museum. All our material is available (at cost) on CD-Rom format. Please contact: antique_andy@catholic.org


---
---