MEDICAL CANNABIS


A SHORT GRAPHICAL HISTORY
THE EARLY CHURCH



---
POPE EUGENIUS IV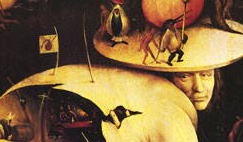 ---

POPE EUGENIUS IV Two Letters on the Pressing Danger 1434-37
Pope Eugenius IV (1431-47) was an austere and devout man whose pontificate was troubled by his bad relations with the Council of Basel and his opposition to the antipope Felix V. During his pontificate, the ecclesiastical reform movement which had been begun in Bohemia by John Hus had turned into a major civil war, and the city of Rome itself was troubled by rebellion and opposition to the pope. It was in the particularly troubled early years of his pontificate that Pope Eugenius turned his attention briefly to the problem of witchcraft, a question that troubled him particularly because of his intense interest in genuine piety and the reform of the clergy.

Latin texts in Hansen, Quellen, pp. 17-18. Tr. E.P.

A Letter to the Inquisitor Pont s Fougeyron, 1434
Among many heretics there are found also many Christian and Jewish magicians, diviners, invokers of demons, bewitchers [carminatores], conjurers, superstitious people, augurs, those who use nefarious and forbidden arts, through whose efforts the Christian people, or at least a numerous and simple-minded part of them, are stained and perverted.

A Letter to All Inquisitors of Heretical Depravity, 1437
The news has reached us, not without great bitterness of spirit, that the prince of darkness makes many who have been bought b the blood of Christ partakers in his own fall and damnation, bewitching them by his cunning arts in such a way that these detestable persuasions and illusions make them members of his sect. They sacrifice to demons, adore them, seek out and accept responses from them, do homage to them, and make with them a written agreement or another kind of pact through which, by a single word, touch, or sign, they may perform whatever evil deeds or sorcery they wish and be transported to or away from wherever they wish. They cure diseases, provoke bad weather, and make pacts concerning other evil deeds. Or, so that they may achieve these purposes, the reckless creatures make images or have images made in order to constrain the demons, or by invoking them perpetrate more sorcery. In their sorcery they are not afraid to use the materials of Baptism, the Eucharist, and other sacraments. They make images of wax or other materials which by their invocations they baptize or cause to be baptized. Sometimes they make a reversal of the Holy Cross, upon which our Savior hanged for us. Not honoring the mysteries, they sometimes inflict upon the representations and other signs of the cross various shameful things by execrable means.
---

WANT TO KNOW MORE:
=====================
Due to space / download time considerations, only selected materials are displayed. If you would like to obtain more information, feel free to contact the museum. All our material is available (at cost) on CD-Rom format.
CONTACT PAGE


---
---