ANTIQUE CANNABIS BOOK
HISTORICAL
CANNABIS MEDICINES
The 3rd Edition of "The Antique Cannabis Book" -- Last Update; Dec 2013
---
MENTHOLATED COUGH BALSAM
---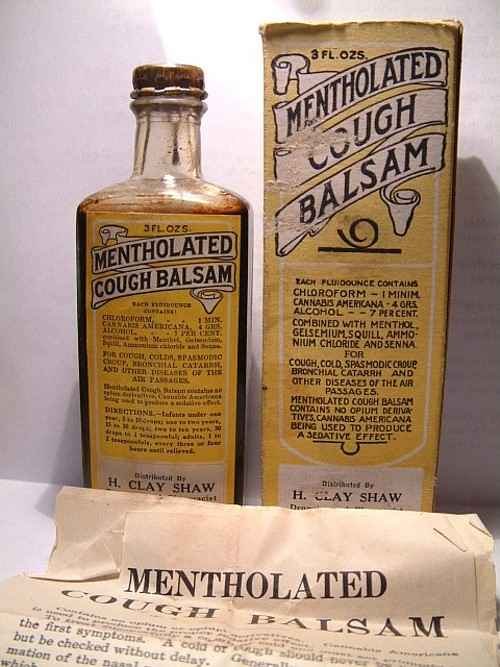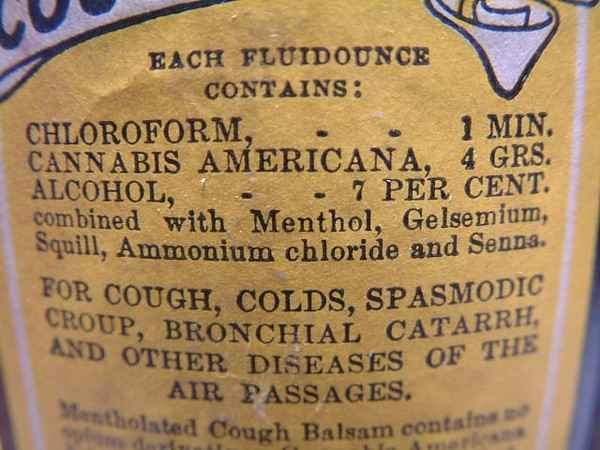 MENTHOLATED COUGH BALSAM
As per an Internet auctioneers write-up:

We have for sale an early 1900 bottle of Cough Balsam, labeled, and boxed. (This item is never to be taken the medicine has gone bad and would be poison now so sold as an old quack medical collectible only) (The bottle will be shipped empty NO CONTENTS because it contains Cannabis) The bottle is a machined made, cork lipped with a wire bail top lid. It stands 5"1/4 tall. Includes the box and paper flyer information about the product.

The label states for Cough, Cold, Spasmodic Croup, Bronchial Catarrh and other diseases of the passages. Mentholated Cough Balsam contains no opium derivatives, Cannabis Americana being used to produce a sedative effect. Guaranteed to be old and all Original.

MUSEUM NOTE: OPINIONS WERE THOSE OF THE AUCTIONEER. The manufacturer was H. CLAY SHAW.
---
WANT TO KNOW MORE:
=====================
Due to space / download time considerations, only selected materials are displayed.   If you would like to obtain more information, feel free to contact the museum.   All our material is available (at cost) on CD-Rom format.  
CONTACT PAGE


---
---
---