ANTIQUE CANNABIS BOOK
HISTORICAL
CANNABIS MEDICINES
The 3rd Edition of "The Antique Cannabis Book" -- Last Update; Dec 2013
---
BALSAMIC COUGH ANODYNE
---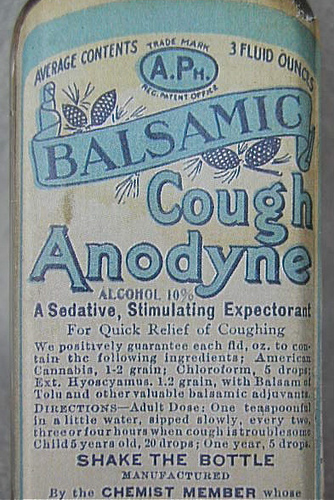 BALSAMIC COUGH ANODYNE
As per an Internet auctioneers write-up:

CANNABIS SATIVA in anodyne, NYC/pharmacy/apothecary This preparation is noteworthy for a few reasons. The inclusion of the word AMERICAN with cannabis is unusual and defines the original contents as derived from "CANNABIS SATIVA, grown in the southern United States and collected while flowering." The other noteworthy ingredient is Hyoscyamus - a known narcotic and a hypnotic in infants. The bottle measures 5.75 inches high. This label and the bottle contents are not original. Balsamic vinegar has been put in the bottle to represent the contents. I'm offering this as an example of a highly unusual, strictly American preparation.


---
WANT TO KNOW MORE:
=====================
Due to space / download time considerations, only selected materials are displayed.   If you would like to obtain more information, feel free to contact the museum.   All our material is available (at cost) on CD-Rom format.  
CONTACT PAGE


---
---
---