ANTIQUE CANNABIS BOOK
HISTORICAL
CANNABIS MEDICINES
The 3rd Edition of "The Antique Cannabis Book" -- Last Update; Dec 2013
---
TOLUBIN COUGH & PAIN REMEDY
---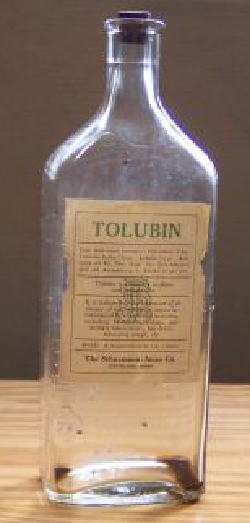 TOLUBIN COUGH & PAIN REMEDY
As per an Internet auctioneers write-up:

Cannabis Cough & Pain Remedy! Schuemann-Jones Co
This is one ENORMOUS bottle...godzilla-sized! I believe it held 32ounces....holy cow!
Bottle is scored on back (ounces)--the numbers are embossed. There's some small bubbles in glass--very thick and heavy clear glass! I'm guessing it was manufactured by Owens Illinois because Illinois is embossed in circle at base of bottle.

Approximately 11inch tall x 4inch x 2inch. The label is a little stained and has a couple of nicks, but is completely legible and overall good condition. The bottle is empty....there's a little "sticky" residue on outside of bottle and I'm leaving "as is" because I don't want to damage label.

TOLUBIN:
Each fluid ounce contains: chloroform 4 min. Cannabis Indica 7 1/2gr Lobelia 7 1/2 gr. antimony and Pot. Tart 1/8gr Syr Tolu Mentholated and Aromatics q.s. alcohol 10 per cent

Tolubin is a valuable anodyne and expectorant. It is indicated in the treatment of all disease of the respiratory organs accompanied by coughs and dysponea, including bronchitis, asthma, pulmonary tuberculosis, hay fever, whooping cough, etc.

The Schuemann-Jones Co; Cleveland Ohio

I have seen cannabis used in remedies for pain, but never for cough medicine!!! Not only is this a terrific collectible in great shape....it's UNIQUELY HUGE!!!! Enormous!!!


---
WANT TO KNOW MORE:
=====================
Due to space / download time considerations, only selected materials are displayed.   If you would like to obtain more information, feel free to contact the museum.   All our material is available (at cost) on CD-Rom format.  
CONTACT PAGE


---
---
---