ANTIQUE CANNABIS BOOK
HISTORICAL
CANNABIS MEDICINES
The 3rd Edition of "The Antique Cannabis Book" -- Last Update; Dec 2013
---
KILAKOFF COUGH SYRUP
---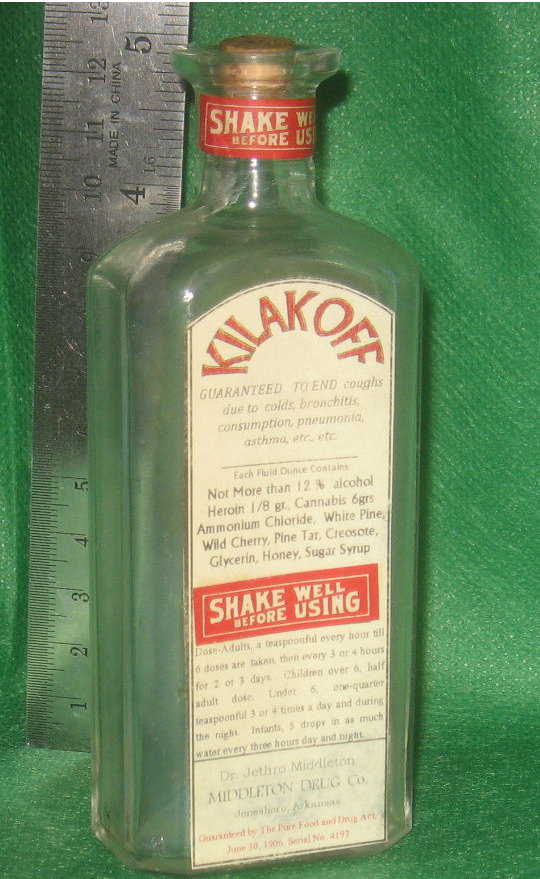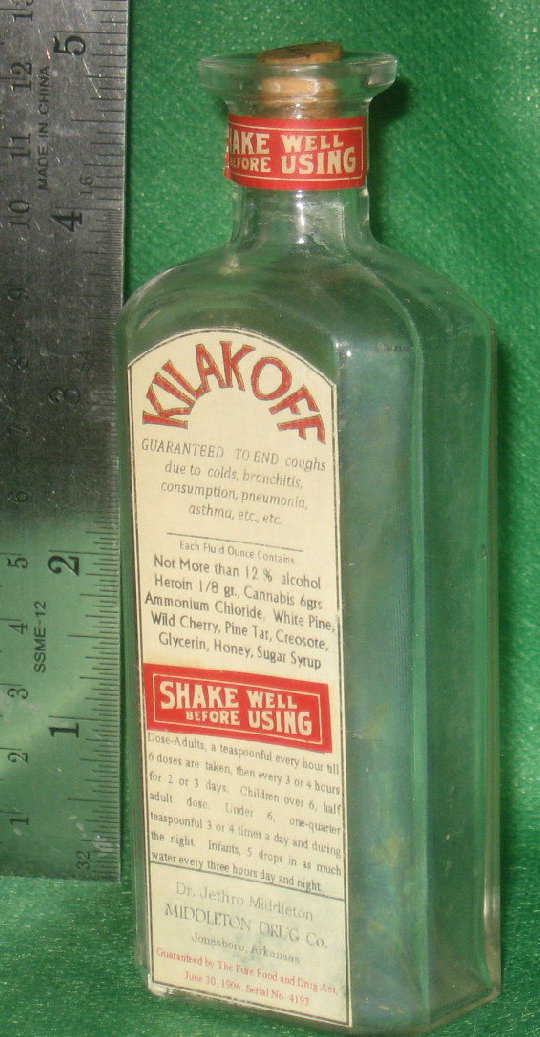 KILAKOFF COUGH SYRUP
As per an Internet auctioneers write-up:

EMPTY 1906 Dr Jethro Middleton Drug Co Kilakoff Cough Syrup w/ Heroin & Cannabis
Dr. Jethro Middleton, Middleton Drug Co, Jonesboro, AK

'Guaranteed by the Pure Food and Drug Act, June 30, 1906, Serial No 4191'

"Guaranteed to END coughs due to colds, bronchitis, consumption, pneumonia, asthma, etc...." (After the passage of the 1906 ACT, a company could only use the word "CURE" IF they could prove their product was able to cure the affliction. This syrup was 'guaranteed to END'........as opposed to CURE....as a result!

Each Fluid Ounce Contains: 'not more than 12% alcohol, Heroin 1/8gr, Cannabis 6grs, ammonium chloride, white pine, wild cherry, pine tar, creosote, glycerin, honey, sugar, syrup'.......

approx 5inch x 2 inch x 1 inch......

This bottle is EMPTY. NO CONTENTS.

They had another version of this syrup that contained chloroform instead of heroin, and I'll be listing one of those, as well.


MUSEUM COMMENT
Here we have yet another product that contained "Heroin," thus making it a candidate for our section on "Medicines we ALL wish had never been made in the first place." Also a correction: At one time (late 19th century) the term "Cure" and "Treatment" were used interchangeably. It would only be until the early 20th century that the words began to have a different meaning. BUT STILL a BAD MEDICINE IS A BAD MEDICINE and just because it once contained cannabis DOES NOT make it a good one.



---
WANT TO KNOW MORE:
=====================
Due to space / download time considerations, only selected materials are displayed.   If you would like to obtain more information, feel free to contact the museum.   All our material is available (at cost) on CD-Rom format.  
CONTACT PAGE


---
---
---