ANTIQUE CANNABIS BOOK
HISTORICAL
CANNABIS MEDICINES
The 3rd Edition of "The Antique Cannabis Book" -- Last Update; Dec 2013
---
WARDLE BROTHERS COUGH SYRUP
---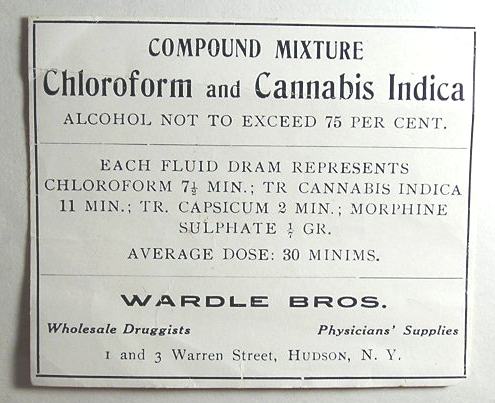 WARDLE BROTHERS COUGH SYRUP
As per an Internet auctioneer's wording:
DRUGGIST LABEL from the Early 1900's, WARDLE BROS. Hudson NY From what appears to be from the 1910's and possibly the 1920's from Wardle Bros., Hudson, New York, Wholesale Druggists, Physicians' Supplies, Some of the labels says "Wardle Bros. Prescription Pharmacy, E. Clifford, Hallenbck -- George W. Woolsey, Props." This label is in very good to excellent condition, and are not reproductions to the best of my knowledge. They are from an estate. -- The photo (see picture) of the label, which is larger than life. This label measures 3" x 2-1/2". It has a crease running through the words "Chloroform and Cannabis Indica:" A couple of the corners also have small creases. There are a couple of very small tears along bottom edge.


---
WANT TO KNOW MORE:
=====================
Due to space / download time considerations, only selected materials are displayed.   If you would like to obtain more information, feel free to contact the museum.   All our material is available (at cost) on CD-Rom format.   Please contact: antique_andy@catholic.org


---
---
---