THE ANTIQUE CANNABIS BOOK
Chapter 3 - (2nd Edition)
CENSORED MEDICAL STUDIES
MOTION PICTURE FILM CENSORSHIP
Harry Anslinger's Canadian Connection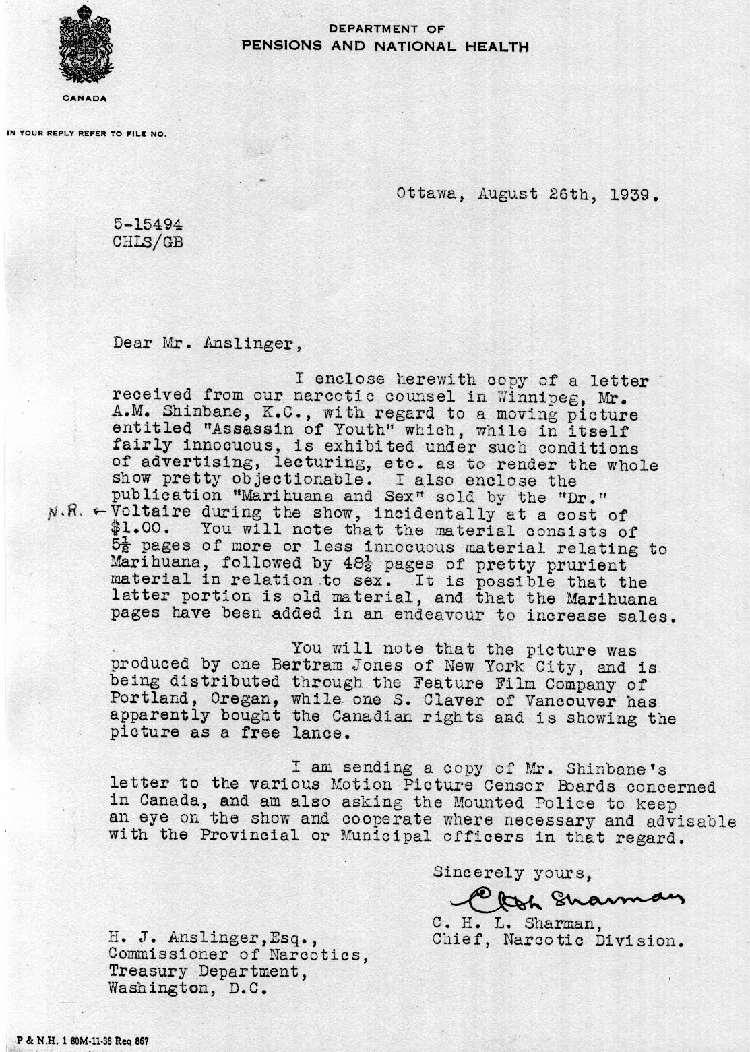 NOTE --
All original documents obtained via the National Archives (College Park, MD.)

All documents have been doctored for reduced download time, if needed feel free to ask for scans of original copies.
---
WARNING – Due to the age, plus conditions of the original documents, some transcriber errors have no doubt been made. Please make references to the originals for legal purposes.
---
DEPARTMENT OF PENSIONS AND NATIONAL HEALTH
CANADA
Ottawa, August 26th, 1939.
5-15494
CHLS/GB

Dear Mr. Anslinger,
I enclose herewith copy of a letter received from our narcotic counsel in Winnipeg, Mr. A.M. Shinbane, K.C., with regard to a moving picture entitled "Assassin of Youth" which, while in itself fairly innocuous, is exhibited under such conditions of advertising, lecturing, etc. as to render the whole show pretty objectionable. I also enclose the publication "Marihuana and Sex" sold by the "Dr." N.R. Voltaire [1] during the show, incidentally at a cost of $1.00. You will note that the material consists of 5 ½ pages of more or less innocuous material relating to Marihuana, followed by 48 ½ pages of pretty prurient material in relation to sex. It is possible that the latter portion is old material, and that the Marihuana pages have been added in an endeavour to increase sales.

You will note that the picture was produced by one Bertram Jones of New York City, and is being distributed through the Feature Film Company of Portland, Oregan, (sic) while one S. Claver of Vancourver has apparently bought the Canadian rights and is showing the picture as a free lance.

I am sending a copy of Mr. Shinbane's letter to the Various Motion Picture Censor Boards concerned in Canada, and am also asking the Mounted Police to keep an eye on the show and cooperate where necessary and advisable with the Provincial or Municipal officers in that regard. Sincerely yours,

C.H. L. sharman,
Chief, Narcotic Division.

H.J. Anslinger, Esq.,
Commissioner of Narcotics,
Treasury Department,
Washington, D.C.
---

WHO WAS Col. C.H.L. SHARMAN,
[the following is taken almost directly from the following website -- http://www.rcamuseum.com/English/Great%20Gunners/sharman.htm]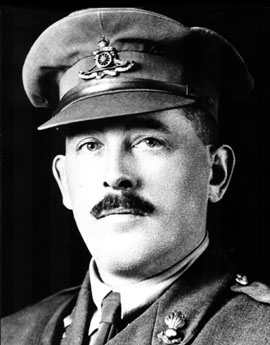 Born in South Woodford, England, in Dec. 1881 and died in Ottawa on 15 May 1970.

He was educated at St Lawrence College and passed the first examination of the incorporated Law Society. His youthful attention was drawn to the New World. He joined the North West Mounted Police (NWMP) in 1898, serving in the Klondike, gaining promotion to Sergeant.

He left to join the British army fighting in South Africa, for a time. Returning to Eastern Canada and a position with the Department of Agriculture , he was appointed a Provisional Lieutenant in the 2nd Battery, Canadian Field Artillery in April 1906.

At the outbreak of the First World War, (now) Major Sharman was seconded to the Canadian Expeditionary Force and assigned command of the 1st Brigade's 1st Battery. He was wounded and subsequently placed on convalescent leave in Canada. Promoted to Lieutenant-Colonel in July 1916, he returned to France to command the 4th Brigade, etc.

Returning to civilian life and the civil service, he later served as Chief of the Canadian Narcotic Service 1927-1946, was Canadian delegate to the Opium Advisory Committee 1934-1946, acted as Chairman of the United Nations Narcotic Commission 1946-1947 and worked as a member of the United Nations Drug Supervisory Committee 1948-1953. He retired in 1958.


===========
FOOTNOTES:
[1]- Here we are sure that Dr." N.R. Voltaire is actually Dr. Eugene E. Voltaire. The original title of his book being "Love Life: The Truth and Secrets of Human Sex Relations" [Self published – era 1920's] - 616.9 V93. According to ancestry .com , He died on Aug 8, 1943 in Seattle somewhere at the age of 52.



---

WANT TO KNOW MORE:
=====================
Due to space / download time considerations, only selected materials are displayed. If you would like to obtain more information, feel free to contact the museum. All our material is available (at cost) on CD-Rom format.
CONTACT PAGE

---
---