THE ANTIQUE CANNABIS BOOK
Chapter 3 - (2nd Edition)
CENSORED MEDICAL STUDIES
MOTION PICTURE FILM CENSORSHIP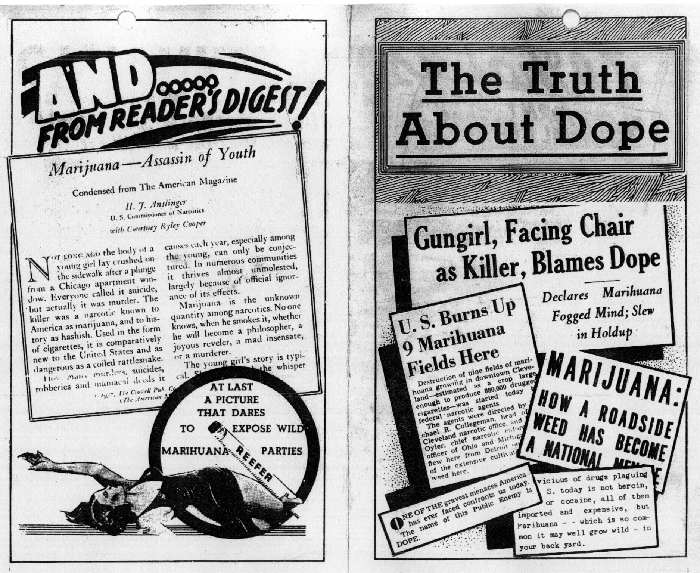 [Picture source DEA records, National Archives – College Park, Md]
---
MOTION PICTURE FILM CENSORSHIP
HARRY ANSLINGER
The Bureau of Narcotics (aka the D.E.A.) and the
CANADIAN CONNECTION


PAGE 1
Censorship in the Movies
Much has been written on the subject already, here we will allow the words of C.H.L. Sharman (Chief of Canada's Narcotics division), as well as those of Harry Anslinger (America's first Drug Czar) to speak for themselves.




LETTER TO Harry Anslinger from Canada's Chief Narc, one C.H.L. Sharman, requesting help in censoring an American made film showing in Canada.




The REPLY letter from Harry Anslinger (who looks a lot like Mussolini ) to Canadian Chief Narc Sharman, advising him on how to implement motion picture censorship.




Race and MOTION PICTURE FILM CENSORSHIP --- Racist Right Wing Censorship in the failed War on Drugs




An AFTERWARDS --- Some words about Lindesmith and Dr. Eugene E. Voltaire (author of "Marihuana and Sex").




---

WANT TO KNOW MORE:
=====================
Due to space / download time considerations, only selected materials are displayed. If you would like to obtain more information, feel free to contact the museum. All our material is available (at cost) on CD-Rom format.
CONTACT PAGE


---
---