THE ANTIQUE CANNABIS BOOK
Chapter 3 - (2nd Edition)
CENSORED MEDICAL STUDIES
MOTION PICTURE FILM CENSORSHIP
Harry Anslinger's Canadian Connection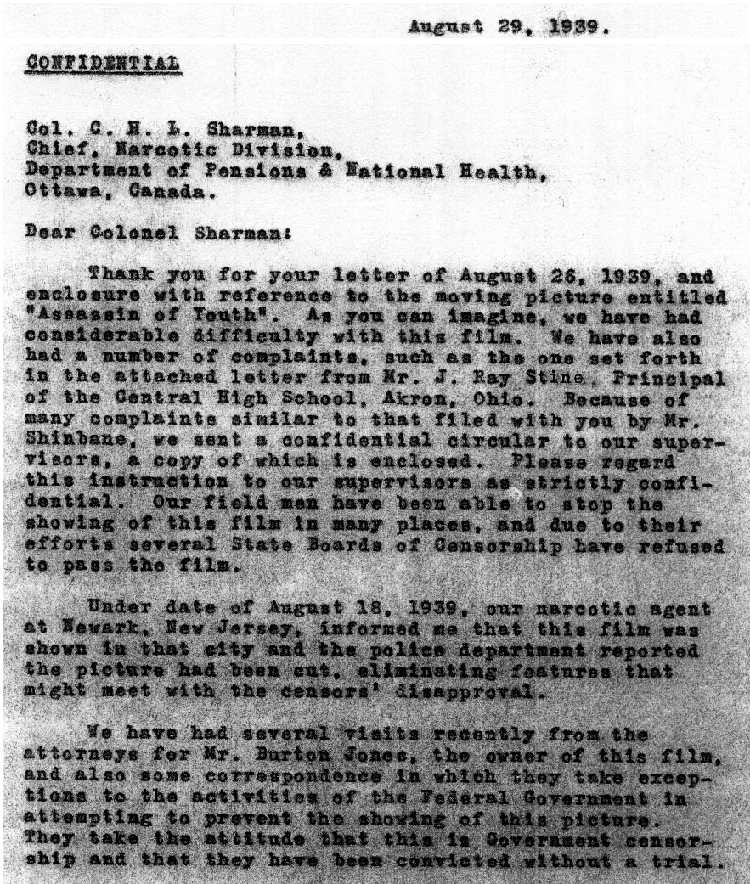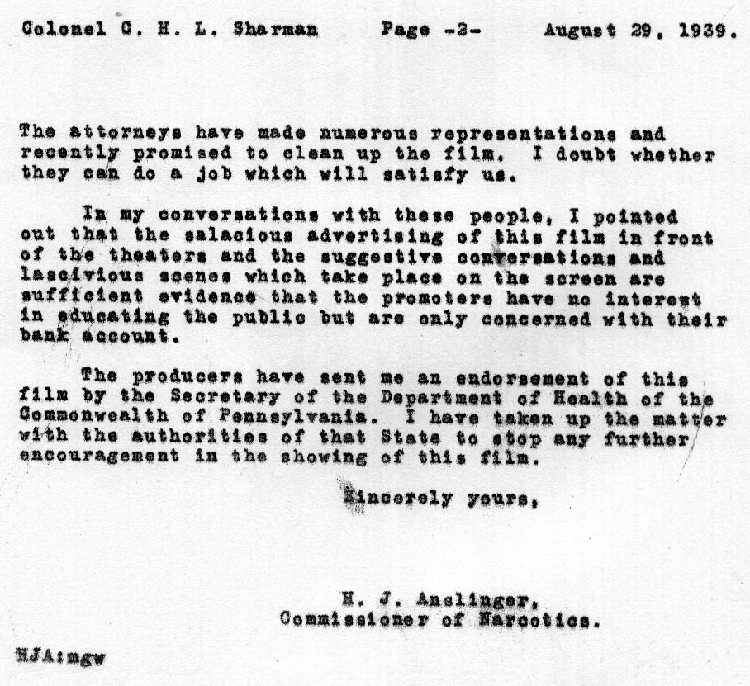 Anslinger's Reply Letter


NOTE --
All original documents obtained via the National Archives (College Park, MD.)

All documents have been doctored for reduced download time, if needed feel free to ask for scans of original copies.
---
WARNING – Due to the age, plus conditions of the original documents, some transcriber errors have no doubt been made. Please make references to the originals for legal purposes.
---
August 29, 1939
CONFIDENTIAL

Col. C.H.L. Sharman,
Chief, Narcotic Division,
Department of Pensions & National Health,
Ottawa, Canada.

Dear Colonel Sharman: Thank you for your letter of August 26, 1939, and enclosure with reference to the moving picture entitled "Assassin of Youth". As you can imagine, we have had considerable difficulty with this film. We have also had a number of complaints, such as the one set forth in the attached letter from Mr. J. Ray Stine, Principal of the Central High School, Akron, Ohio. Because of many complaints similar to that filed with you by Mr. Shinbane, we sent a confidential circular to our supervisors, a copy of which is enclosed. Please regard this instructions to our supervisors as strictly confidential. Our field men have been able to stop the showing of this film in many places, and due to their efforts several State Boards of Censorship have refused to pass the film.

Under date of August 18, 1939, our narcotic agent at Newark, New jersey, informed me that this film was shown in that city and the police department reported the picture had been cut, eliminating features that might meet with the censors' disapproval.

We have had several visits recently from the attorneys for Mr. Burton Jones, the owner of this film, and also some correspondence in which they take exceptions to the activities of the Federal Government in attempting to prevent the showing of this picture. They take the attitude that this is Government censorship and that they have been convicted without a trial.

The attorneys have made numerous representations and recently promised to clean up the film. I doubt whether they can do a job which will satisfy us.

In my conversation with these people, I pointed out that the salacious advertising of this film is front of the theaters and the suggestive conversations and lascivious scenes which take place on the screen are sufficient evidence that the promoters have no interest in educating the public but are only concerned with their bank account.

The producers have sent me an endorsement of this film by the Secretary of the Department of health of the Commonwealth of Pennsylvania. I have taken up the matter encouragement in the showing of this film. Sincerely yours,

H. J. Anslinger,
Commissioner of Narcotics.
---

WANT TO KNOW MORE:
=====================
Due to space / download time considerations, only selected materials are displayed. If you would like to obtain more information, feel free to contact the museum. All our material is available (at cost) on CD-Rom format.
CONTACT PAGE

---
---