THE ANTIQUE CANNABIS BOOK
Chapter 14 - (2nd Edition)
VETERINARY REMEDIES
DR. HESS COLIC REMEDY: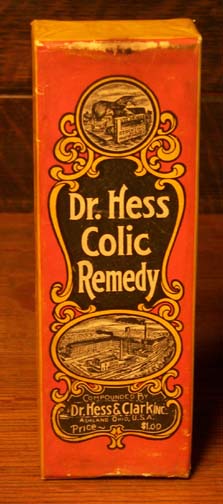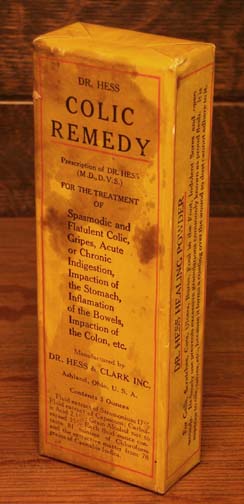 DR. HESS COLIC REMEDY
"DR. HESS COLIC REMEDY" Compounded by Dr. Hess & Clark Inc. Ashland, Ohio, U.S.A. Box measures: 6 3/4" by 2 1/4" by 1 1/4" Within this unopened box is a bottle of colic remedy for farm animals. The front of the box quotes original price to be $1.00. The ingredients sound poisionous and include the following: Fuid extract of Stramonium, fluid extract of Capsicum, Carbolic Acid, Grain Alcohol not to exceed 55%, Chloroform, and last but not least, the extractive matter from 78 grains of Cannabis Indica. You want to make your donkey kick, give him a dose of this. The condition of the bottle is unknown as the packaged box has never been opened. When I shook the box I could hear the bottle move back and forth. Sounds good. The condition of the outer package is excellent with only minor staining to the paper, a small section of the paper on the bottom has come off about one and a quarter inch by a quarter inch. All in all a great collectible bottle of remedy ---Wording is that of the auctioneer - Era unknown.

---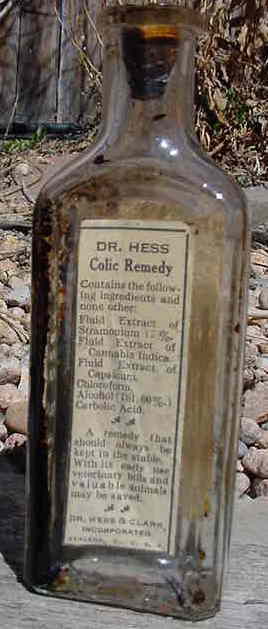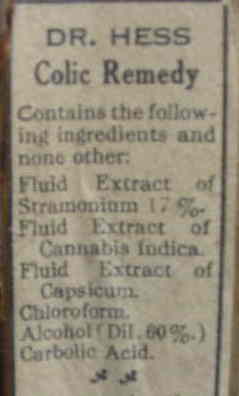 Labeled Veterinary Bottle, Dr. Hess, Cannabis -- Unusual early veterinary bottle for Dr. Hess' Colic Remedy from Dr. Hess & Clark, Inc., Ashland Ohio. Bottle has both front and rear labels with directions and ingredients listed. Front label shows moderate soiling and is missing a small portion of the lower left corner, but the part showing "Cannabis Indica" as an ingredient is intact and easy to read. The rear label is 100% intact and attached but loose (buyer can re-glue if desired) and again lists "Fluid Extract of Cannabis Indica" as the second ingredient. Below the ingredient listing it states "A remedy that should always be kept in the stable. With its early use veterinary bills and valuable animals may be saved." Clear glass bottle is just over 6" tall and is embossed "Dr. Hess & Clark" on one indented side panel and "Ashland, O., U.S.A." on the other. Original cork is in place but the bottle is empty with some dried content residue. Neat early vet medicine with Cannabis Indica listed on both the front and rear labels.


---

WANT TO KNOW MORE:
=====================
Due to space / download time considerations, only selected materials are displayed. If you would like to obtain more information, feel free to contact the museum. All our material is available (at cost) on CD-Rom format.
CONTACT PAGE


---
---