ANTIQUE CANNABIS BOOK
HISTORICAL
CANNABIS MEDICINES
The 3rd Edition of "The Antique Cannabis Book" -- Last Update; Jan 2014
---
MEDICAL HEMP SEED OIL
---
HEMP SEED, J.E.C.F. HARPER & Co: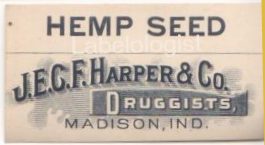 [ Hemp Seed Label ]


As per an Internet Auctioneers sales write up:
"HEMP SEED, J.E.C.F. HARPER & CO, DRUGGIST, MADISON, IND (Indiana)
An unusual label that dates to the very early 1900's. What is hemp? Hemp is cannabis. The word Hemp has been used to describe any durable plant that has been used since pre-history for many purposes. Cannabis is the most durable of the hemp plants, and it produces the toughest cloth, called `canvass.' Canvass was widely used as sails in the early shipping industry, as it was the only cloth which would not rot on contact with sea spray. Hemp was one of the very first crops planted at the Jamestown Colony in Virginia in the early 1600's. Today in the U.S., hemp (meaning the roots, stalk, and stems of the cannabis plant) is legal to possess. No one can arrest you for wearing a hemp shirt, or using hemp paper. Marijuana (The flowers, buds, or leaves of the cannabis plant) is not legal to possess, and there are stiff fines and possible jail terms for having any marijuana in your possession. The seeds are legal to possess and eat, but only if they are sterilized (will not grow to maturity.) Since it is not possible to grow the hemp plant without being in possession of marijuana, the United States does not produce any industrial hemp products, and must import them or, more often, substitute others. This label dates to the early 1900's when it was legal to grow your own!"
---
WANT TO KNOW MORE:
=====================
Due to space / download time considerations, only selected materials are displayed.   If you would like to obtain more information, feel free to contact the museum.   All our material is available (at cost) on CD-Rom format.  
CONTACT PAGE


---
---
---