ANTIQUE CANNABIS BOOK
HISTORICAL
CANNABIS MEDICINES
The 3rd Edition of "The Antique Cannabis Book" -- Last Update; Dec 2013
---
CANNABIS AND FEMALE AILMENTS
---
GENERIC HEMP SEED OIL
Because most people associated the Hemp or Medical Cannabis plant SOLELY with the flowering tops, many forget that the seeds also contain many medical qualities. Here, as the subject is female illnesses, we should simply make note that 'Hemp Seed Oil" has anti-inflammatory properties AND as it is an oil-ly substance, this made it a natural for female (internal) problems.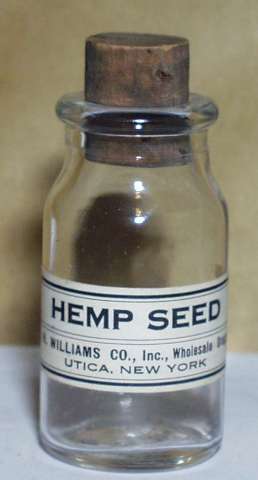 A.H. Williams HEMP SEED OIL
As per an Internet Auctioneers wording:

"Hemp Seed" (generic name) - Williams Co., Inc., Utica, New York: (see picture) sold in drug stores. (~1920) A wonderful bottle made by Owens Illinois in the 1920's and NEVER used. Found in a warehouse in Upstate New York, this bottle was made for A.H. Williams Druggists. The company went out of business in the thirties. Cork and label in excellent condition.

MUSEUM COMMENT: - This bottle held Hemp Seed Oil, NOT Hemp Seeds.


---
WANT TO KNOW MORE:
=====================
Due to space / download time considerations, only selected materials are displayed.   If you would like to obtain more information, feel free to contact the museum.   All our material is available (at cost) on CD-Rom format.  
CONTACT PAGE


---
---
---