THE ANTIQUE CANNABIS BOOK
Chapter 6 - (2nd Edition)
Cannabis Corn Remedies
HAYWOOD PAINLESS CORN REMEDY: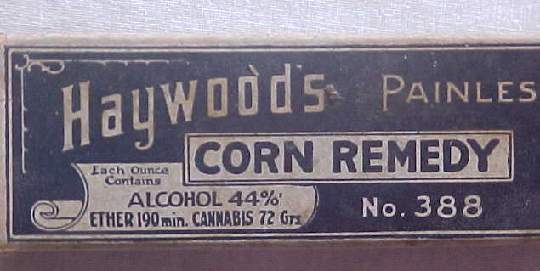 Haywood Corn Remedy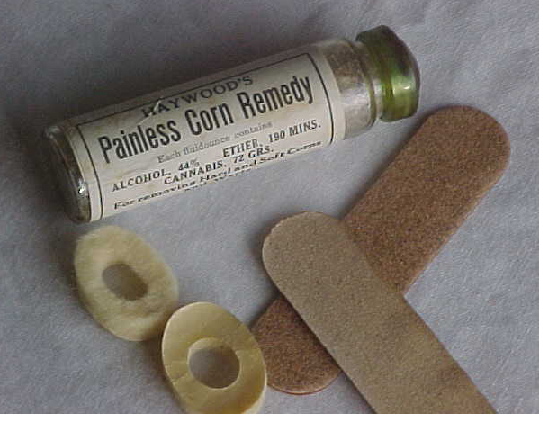 Haywood Corn Remedy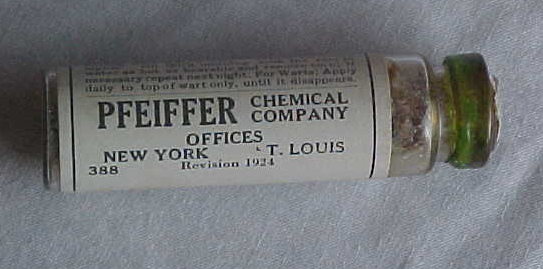 Haywood Corn Remedy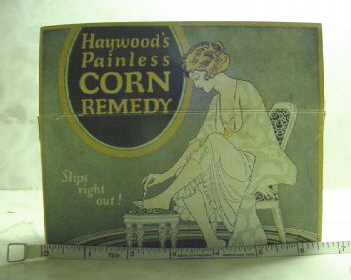 Haywood [Store Display]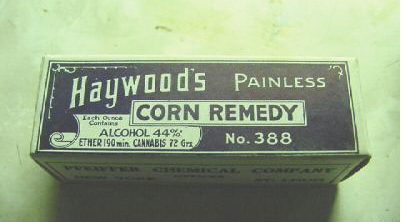 Haywood [Store Display]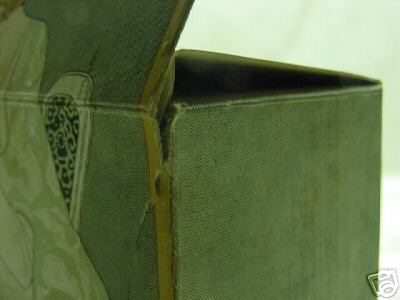 Haywood [Store Display])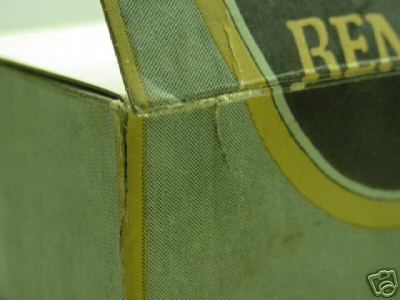 Haywood [Store Display]



HAYWOOD's Painless Corn Remedy
Cannabis Rare Hi Your looking at a very rare bottle of Haywood's Painless Corn Remedy. The size of this box is one inch by three inches. The contents of this box are two oval corn pads, instructions with an advertisement for Dr. Hobson's Eczema Ointment on the back, and two sandpaper boards for sanding off those nasty warts and one bottle with dried up contents it looks like there is a glass rod in it for application. The ingredients are alcohol 44%, ether 190 mins., and CANNABIS 72 grs. Yes the same stuff in marijuana. Why they used cannabis I don't know maybe to kill the pain. The box is in fair shape but there are some stains on it and the lid top has been torn off but is still there. --- Wording that of the auctioneer.

1930'S HAYWOOD'S STORE DISPLAY
-- HAYWOOD'S PAINLESS CORN REMEDY.
This display shows discoloring from age. It's really visible on the white areas, It looks like rust. I have no idea if it can be cleaned. There is wear on the edges of the display along the top edge. There is a small tears on the front top corners. (pictured) On the stand up piece the top corner has been bent over there is a crease there but this I'm sure can be repaired. The display measures 6 1/2'in long X 5 1/4"in when display is up 3 1/4"in when box is closed. Inside the box are 12 boxes of corn remedy they have signs of the rust spots on them also, other than that the contents are in good shape.


---

WANT TO KNOW MORE:
=====================
Due to space / download time considerations, only selected materials are displayed. If you would like to obtain more information, feel free to contact the museum. All our material is available (at cost) on CD-Rom format.
CONTACT PAGE


---
---