ANTIQUE CANNABIS BOOK
HISTORICAL
CANNABIS MEDICINES
The 3rd Edition of "The Antique Cannabis Book" -- Last Update; Dec 2013
---
BLISS NATIVE BALSAM
---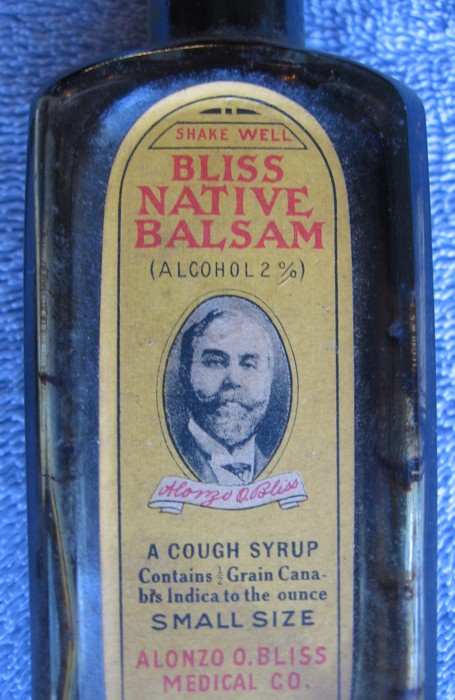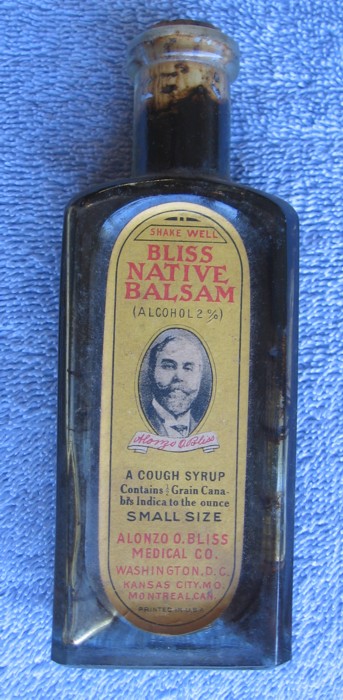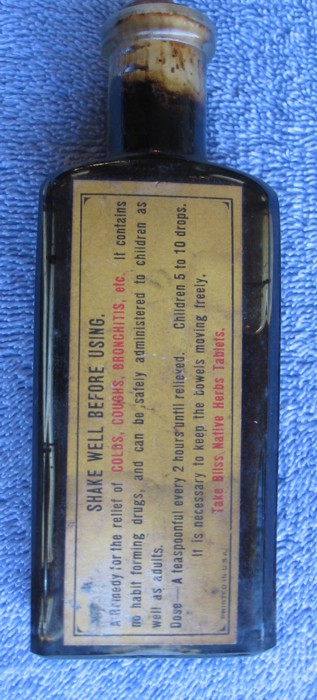 Bliss Native Balsam
As per an Internet auctioneers write-up:

Bliss Native Balsam Bottle, Color Portrait Label, Cannabis Indica
This bottle is being sold for its historical collectible value only, and any remaining contents are not to be consumed.
This week I will be offering several early labeled patent medicine bottles for products that contained cannabis or opium. I will gladly combine shipping if you win multiple bottles.

Early quack medicine bottle for Bliss Native Balsam from the Alonzo O. Bliss Medical Co., Washington D.C. Bottle has great front label with inset portrait of Alonzo O. Bliss and states "A Cough Syrup Contains ½ Grain Cannabis Indica to the ounce." Front label is complete and in good condition with nice colors and light age toning and soiling. This is the small size bottle measuring 4.75" tall. Pale aqua bottle is not embossed and is in excellent condition with no damage. Rear label is intact as well, and states that "It contains no habit forming drugs and can be safely administered to children and well as adults." Rare version of this popular early patent medicine.

LABEL READS:
SHAKE WELL BEFORE USING
A remedy for the relief of COLDS, COUGHS, BRONCHITIS, etc.   It contains no habit forming drugs, and can be safely administered to children as well as adults Dose – A teaspoonful every 2 hours until relived.   Children 5 to 10 drops.
Take Bliss Native Herbs Tablets.



---
WANT TO KNOW MORE:
=====================
Due to space / download time considerations, only selected materials are displayed.   If you would like to obtain more information, feel free to contact the museum.   All our material is available (at cost) on CD-Rom format.  
CONTACT PAGE


---
---
---