ANTIQUE CANNABIS BOOK
HISTORICAL
CANNABIS MEDICINES
The 3rd Edition of "The Antique Cannabis Book" -- Last Update; Dec 2013
---
SYRUP TOLUHERAS
---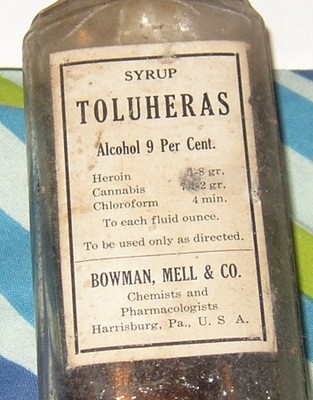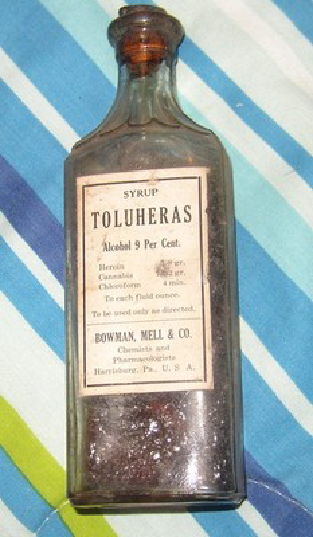 SYRUP TOLUHERAS
As per an Internet auctioneers write-up:

BOWMAN MELL & CO. - TOLUHERAS SYRUP BOTTLE
CANNABIS HEROIN CHLOROFORM 9% ALCOHOL MAGIC ELIXIR!
An empty 6" tall Bowman, Mell & Co. Toluheras Syrup bottle with main ingredients being heroin, cannabis and chloroform, nice cocktail. Throw in 9% Alcohol as label reads, this elixir just gets better. Original cork is intact, raised letters on back near top seem to read 3iv. Bottle's in great condition, no chips, cracks anywhere.

MUSEUM COMMENT
YES, NOTE THAT one of the ingredients is indeed HEROIN. Which makes this bottle a strong candidate for our "CANNABIS MEDICINES THAT WE ALL WISH HAD NEVER BEEN" section. And please, for those young people out there; -- Just because a medicine once had Medical Cannabis DOES NOT MEAN that it was a good medicine.



---
WANT TO KNOW MORE:
=====================
Due to space / download time considerations, only selected materials are displayed.   If you would like to obtain more information, feel free to contact the museum.   All our material is available (at cost) on CD-Rom format.  
CONTACT PAGE


---
---
---